How Freelancers & Graphic Designers Can Make the Most of Downtime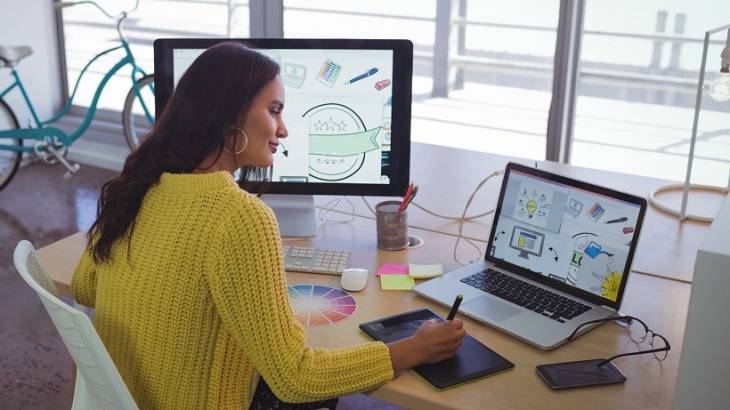 Like other career fields with attractive opportunities for freelancing, the graphic design sector is a robust industry that is increasingly growing in importance during the digital revolution currently underway. Graphic design entails creating visual content using pictures and typography to communicate specific messages and meet specific needs.
Companies and individuals (big and small alike) want to invest in their brands and visual style is a core factor for them. Any time spent scrolling through everything the internet has to offer is far more likely to be captured by eye-catching visuals than even by the most carefully crafted and targeted copy, which is where the role go graphic designers comes into play.
For those creative professionals who excel at graphic design and know how to present their services attractively to prospects, there's a lot of money to be made. According to the US Bureau of Labor Statistics (BLS), the mean annual wage for graphic designers was $64,500 as of May 2022, while the mean hourly wage is about $31.
However, as you might expect, supply has crept up to meet demand, and there may be more graphic designers around than ever before — particularly freelance graphic designers. Job Outlook of graphic designers, is still projected to grow 3% from 2021 to 2031, with about 24,800 job openings for graphic designers projected each year, on average, over the decade.
Some freelance graphic designers have top-notch reputations and can charge hefty sums for projects. Others are just getting started launching graphic design business and looking to prove themselves. The waters are further muddied by the part-timers: the people who have some basic graphic design skills and hope to occasionally supplement their income streams.
Even if you're the best of the best when it comes to graphic design, the sheer number of skilled graphic design professionals in the market today, and the nature of freelancing itself, almost guarantees you'll have some downtime from time to time. You might choose that downtime on occasion, particularly when you don't want to work too hard all the time.
However, regardless of whether downtime is optional or inevitable, it is not a good idea to let downtime when there is less work become wasted time. Downtime can still be productive.
4 Tips to Be Productive and Make the Most of Downtime
Here are some handy tips and effective ways graphic designers can use downtime more productively, so you squeeze more value from your downtime as a freelancer:
1. Learn to use new tools
One of the most useful thing for any freelancer and graphic designer to do during downtime is work on improving their skills. The better you get at what you do, the more you can raise your rates, and the easier you'll find it to secure a steady flow of work.
A graphic designer who primarily works using Adobe tools like Photoshop and Illustrator might benefit from also dabbling or practicing in the Coral suite, for instance. There's a lot of overlap, naturally, but you may discover CorelDRAW better for some things in graphic design.
Additionally, we all fall into repetitive patterns sometimes, and graphic designers and other freelancers are no different. It's easy to find one way of achieving a particular effect — even if it's somewhat slapped together — and keep using it in perpetuity.
Downtime can be used to enroll for new skills training online and or practicing new graphic design methods that may in fact turn out to be more efficient and/or more effective, such as learning graphic design skills that involve macro designs, illustrations, and elements.
2. Produce graphic design material/educational courses to sell
When you have in-demand freelance skills, providing them for a fee isn't the only way to monetize them. You can also profit from teaching others to do what you do.
Since it isn't specific actions that make you an expert freelancer (it's the totality of your expertise, your creativity, and your work ethic), you can show people how to do things in graphic design like cut out original backgrounds, people out of pictures or create convincing rain effects without divulging anything that might threaten your own career opportunities.
Moreover, there are various services online that make it easy to distribute whatever training course or materials you create. I suggest checking out some Teachable reviews (with the one at LearningRevolution.net being particularly enlightening) to see how it works and form an idea of whether it might fit your purposes.
The bulk of the work, though, will lie in producing graphic design materials - be they video tutorials, written guides, or even podcasts - that can grab attention to sell or offer in training courses.
3. Network in relevant communities
Networking will always be significant and beneficial for graphic designers and other creatives. During downtime, networking can be a worthwhile activity that opens many doors and opportunities you might otherwise have missed.
It isn't always the most skilled applicant who gets the high-value graphic design job. Trust is a vital element in landing a job, particularly on key projects. And it's hard to trust someone you don't know. This is why networking will always be significant.
When you finish a job, stay in touch with your clients. Look for opportunities to attend meetups and other relevant events with them. This will foster a positive relationship with them, and it may expand your reach by brining you into contact with your clients' friends, colleagues, and more.
Moreover, freelancers who focus on honing their skills and abilities can improve their business, but you should still not ignore networking. Use your downtime to network and engage with other graphic designers. More than ever before, this can be done online. Sites like Reddit and Dribbble host rich conversations about everything from negotiating with clients to setting rates.
By networking and participating in relevant freelance communities, you can glean valuable insight from fellow peers and use your different styles for mutual benefit by agreeing to recommend each other for jobs that better suit members of your network.
4. Plan your finances
Lastly, every freelancer of every kind needs to know how to plan and manage their finances. You can use your downtime to look into your financial state, plan your money, and ensure everything is in order, including future financial plans.
It's tough to deal with inconsistent incomes as a freelancer, which makes planning your finances all the more important. What would happen if a vital industry hiring you and other freelance graphic designers tanks for some reason and demand for graphic design suddenly flat-lines?
You need to plan and have a financial contingency plan to endure bumpy freelance rides without hitting the point of total disaster. Fortunately, the internet is packed with financial management guides, many of which are geared towards freelancers. Look for financial planning resources online and offline, learn all you can about proper financial management, and commit to building up your savings and creating a sound spending plan during your downtime to cover inconsistent incomes.
If you have a good financial management strategy and a solid spending and savings plan in place, you'll thrive as a freelancer and enjoy a relatively stable freelance life, even during hard times or when job opportunities are scarce.
That being said, don't put all your downtime towards productivity. You need to ensure a healthy work-life balance, where you allocate enough time to relax and recharge as well. This will help you to avoid health issues as a freelancer, while also ensuring you have time for family and friends to build stronger personal relationships.
So, yes, use your downtime to also plan a healthy work-life balance and schedule in activities that improve your physical, emotional, and mental health, including physical exercises and workouts.