A Perfect Gaming Setup for Pro Gamers: Key Considerations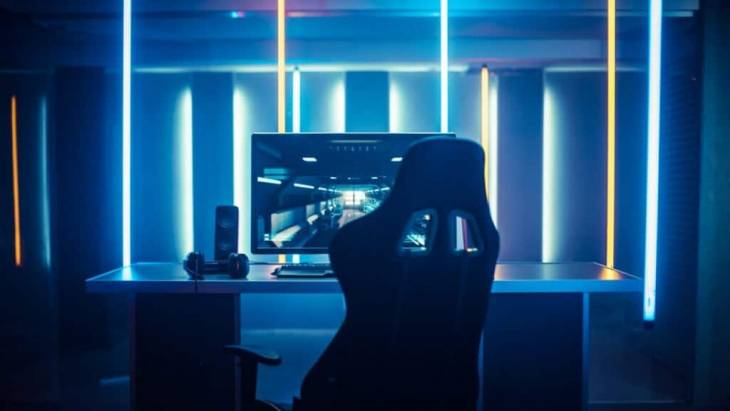 A high-end eSports gaming setup.
As gamers queue in line at video game stores to buy a new PlayStation 5 or Xbox Series X, which of course, are super-hot items right now, you may want to create a new gaming setup.
Of course, gaming setups can be challenging and pricey too. And if it's for pro gamers, well, we all know it can cost quite a bit to get the perfect setup.
Performance remains a topmost priority for any video game setup and no budget ever seems sufficient to cater for this aspect of gaming.
However, often pro gamers bring their own touch of flair and personality to the setup, which matters when the gamer has a limited budget and wishes to maintain distinctiveness and personalization.
And with the rise of platforms offering live gaming coverage, getting your PC gaming setup right is critical if you are a pro gamer looking to broadcast live coverage of gaming events/tournaments or your own gameplay.
Pro Gaming Rise
Gaming for a living may look unrealistic and sounds like a teenager's dream. But today, esports is gaining tremendous popularity around the world, and thousands of adults worldwide are raking in six figure earnings from playing games.
Just like people tune in to their televisions to watch their favorite pro sports teams play each other, people all across the world also love tuning in to watch pro gamers play each other in competitive matches, making esports one of the fastest growing industries in the world.
One thing to take note of is the viewership of esports when compared to that of traditional sporting events. Esports viewership is surprisingly higher and awareness continues to grow steadily and may, perhaps, one day be comparable to traditional sports.
According to Newzoo's 2020 Global Esports Market Report, the total esports audience will grow to 495.0 million people in 2020, a year-on-year growth of +11.7%. Mobile esports drove a huge spike in 2019, with emerging markets like Southeast Asia, India, and Brazil at the forefront of this growth.
Global esports revenues will grow mainly from media rights and sponsorship. In 2020, $822.4 million in revenues—or three-quarters of the total market—will come from media rights and sponsorship.
For pro gamers, sponsorships, tournaments, events, streaming – there are numerous ways for them to not only earn a living, but also enjoy the activity as well. All you would need to get started is an awareness of the industry, hard work to hone your skills, and the right equipment.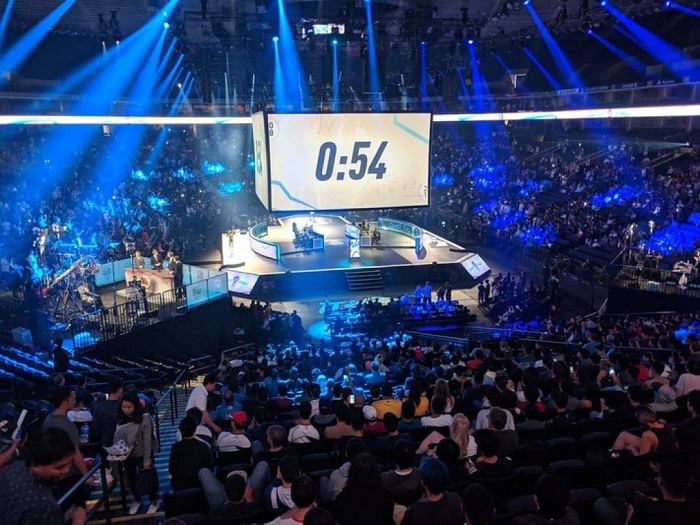 An eSports crowd of spectators watching a pro gaming tournament.
Important Considerations for Pro-Level Gaming Setup
Some of the important considerations for a pro-level gaming setup include:
1. Minimalistic design
With the choices available today, it is natural to go overboard. However, it's always advisable to go for the minimalistic approach when building a gaming setup.
Trust me, less is more. It means you will have less clutter, less to manage, and fewer products to spend money on. All this should be exciting to you.
2. Cable management 
Cable management is king when it comes to creating clean, envious gaming PC setups. It allows for a clutter-free desk and helps create a killer work/gaming environment.
3. Function 
To create a truly premium build, make sure everything on your desk justifies its place.
You don't want items to be stacking up and cluttering your gaming setup that don't have any real meaning or purpose.
4. Theme 
What is the main desired look of the build? Do you want to replicate a white-themed build, or perhaps an RGB-centric build?
Decide exactly what 'look' you're going for and then base as many gaming component peripheral and furniture purchases around that desired look.
5. Budget
The quality of your gaming setup shouldn't have to be dictated by your budget – but it's important to note that if you want to go for a triple monitor, enthusiast-grade 2080 Super + 9900K PC gaming setup, for example, it will be unrealistic to do it on a shoestring budget.
Be realistic with what you can afford and build the gaming setup around that. 
Bonus tip: If you want to save money on your gaming setup, look at buying used vs new. This applies mainly for desks, chairs, and furniture (Ikea especially) – where you can often find preowned items with a huge discount on the retail price. 
One person's trash is another person's treasure, right?
Remember, Inspiration Is Your Best Friend
When looking to create a new gaming setup, if you're struggling for inspiration or just want to perfect the gaming setup before you pull the trigger on the purchase – just remember that you don't always have to reinvent the wheel.
Look at other PC gaming setups from the community and see if there is any other builds that you like, or perhaps take a design element you like from one gaming setup and one from another, to create your own unique, personalized gaming setup.
The possibilities are endless when it comes to building a PC gaming setup, but a good starting place is always to look for what is already out there.