Resilience of Print Forces Amazon to Open its First Physical Bookstore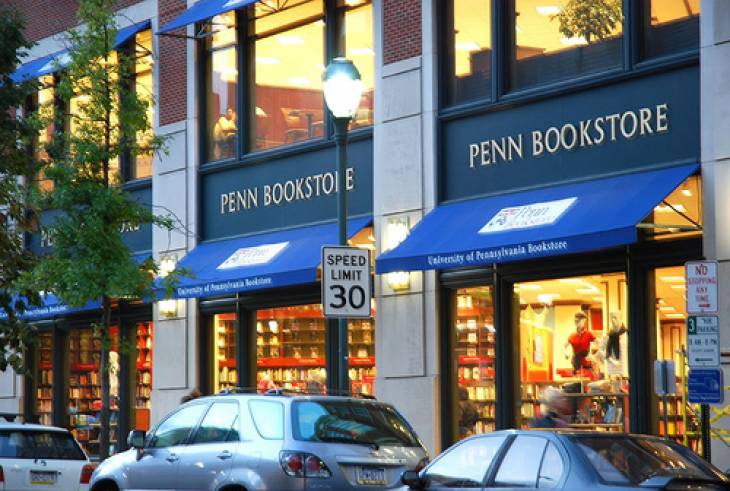 Earlier in the year The New York Times reported how five years ago the book world was in collective turmoil and panic over the uncertain future of print. Readers were opting for digital books rather than printed ones, and e-book sales soared up 1,260 percent between 2008 and 2010.  
Booksellers watched helplessly as more and more people used their stores to find titles they would later buy online. Not surprisingly, print sales dwindled, bookstores struggled to stay open, and authors and publishers feared that cheaper e-books would destroy the print industry and their businesses.
"E-books were this rocket ship going straight up," said Len Vlahos, a former executive director of the Book Industry Study Group, a nonprofit research group that tracks the publishing industry. "Just about everybody you talked to thought we were going the way of digital music."
But the digital apocalypse never came thanks mainly to a turnaround in consumer behavior. Despite earlier predictions that e-books would overtake print by 2015, digital sales have instead slowed sharply and the tune has changed.
E-book sales fell by 10 percent in the first five months of 2015, according to the Association of American Publishers, which collects data from nearly 1,200 publishers. Digital books accounted for around 20 percent of the market in 2015, roughly the same as they did a few years ago. Now analysts predict the print industry will "thrive" over the coming five years.
According to one report on US bookstores by market research firm IBISWorld, business will be good in the print industry over the next couple of years due to lower overhead costs and customer loyalty as more e-book adopters are returning to print, or becoming hybrid readers, who juggle devices and paper.
Evidently, print offers something Amazon doesn't: The instant gratification of owning an item the second you buy it, as well as the personal touch of a friendly, knowledgeable sales clerk.
Independent bookstores, which were battered by the recession and competition from Amazon, are now showing strong signs of resurgence—proof that print has weathered the tidal wave of digital technology.
Print is far from dead.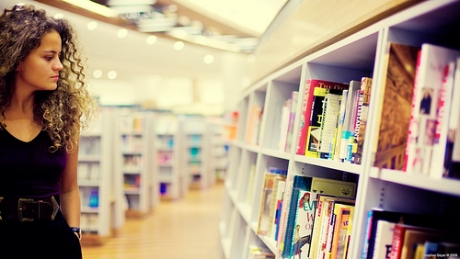 Book lover scouring the shelves for titles. Photo by Stephan Geyer/Flickr
Resurgence of print
According to the report on The New York times, The American Booksellers Association counted 1,712 member stores in 2,227 locations in 2015, up from 1,410 in 1,660 locations five years ago. Publishers have poured money into their print infrastructures and distribution to capitalize on the declining popularity of e-books.
Penguin Random House has invested nearly $100 million in expanding and updating its warehouses and speeding up distribution of its books. It added 365,000 square feet last year to its warehouse in Crawfordsville, Ind., more than doubling the size of the warehouse. Hachette added 218,000 square feet to its Indiana warehouse late last year, and Simon & Schuster is expanding its New Jersey distribution facility by 200,000 square feet.
"People talked about the demise of physical books as if it was only a matter of time, but even 50 to 100 years from now, print will be a big chunk of our business," said Markus Dohle, the chief executive of Penguin Random House, which has nearly 250 imprints globally. "It's a very simple thing; only books that are on the shelves can be sold," Mr. Dohle insists.
With consumer tidal waves changed and the digital side of business leveling off, even Amazon now seemingly feels it has no option than to venture into the print world.
Amazon's new physical bookstore in Seattle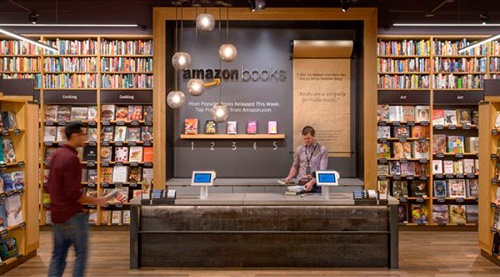 Amazon.com got its start two decades ago selling books online. Now it has confirmed it will open its first-ever brick-and-mortar store at Seattle's University Village, an upscale shopping complex north of downtown Seattle where companies like Apple, Microsoft and Verizon also have stores.
The company sent a letter to customers with details about the 7,400 square-foot bookstore that it named "Amazon Books." In the letter, Amazon Books VP Jennifer Cast says the store is a "physical extension of Amazon.com."
Open Monday through Saturday from 9:30 a.m. to 9:00 p.m. and on Sundays from 11:00 a.m. to 6:00 p.m., the store will feature both traditional books and e-reading devices such as Kindles, Fire TV, and the Echo.
To decide which books to stock, the store will rely on Amazon.com's customer ratings, sales data and popularity on Goodreads. Book displays will feature each book's Amazon.com customer rating and review with the cover facing out, rather than the usual way of shelving with spines out.
The irony in Amazon opening a physical store is not lost to bookstore owners, book lovers and industry observers who often view Amazon as the enemy. The e-commerce powerhouse has spared no effort in building up its profile as the largest online retailer in the U.S.
Amazon has gone so far as to undercut physical retailers on price, helping shutter bookstores from coast to coast. And now the company turns round and opens its first physical bookstore, wanting a piece of the pie. Guess it's true what they say: "If you can beat them, join them."