Freelancers Will Take Home Half of Companies' Dollars in 5 Years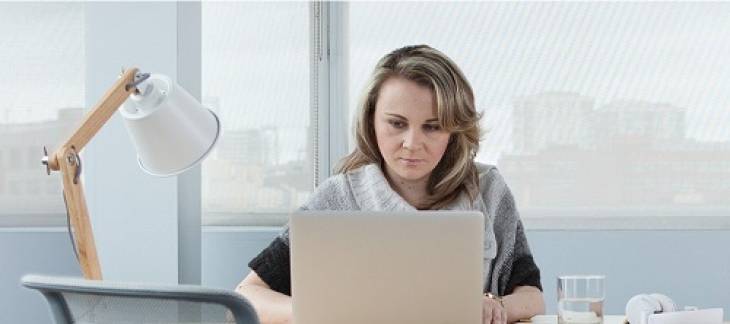 Demand for freelancers is still growing rapidly. So much so that in the next few years more than 50% of companies' billed dollars are expected will divert to freelancers. Market data company Statista projects that 86.5 million freelancers will exist in the U.S by 2027 and will make up just over half of the total U.S. workforce.
According to similar data from freelancing website Upwork in its "Future Workforce Report," pre-pandemic, businesses expected that in five years 38% of their remote workforce would be fully remote. In 2021, they expected 58% would be fully remote in five years. Today, more businesses rely on freelancers and other specialized contingent workers.
"Businesses are scrambling to adapt and keep up with the rapid pace of change in our world. In just a few years, a third of the skills needed in the workforce will be brand new. Traditional models of hiring no longer provide the agility businesses must have to access in-demand skills when and where they're needed," Upwork CEO, Stephane Kasriel, said in a 2017 press statement.
With a new set of challenges emerging each year, including economic uncertainties and increase of The Great Resignation, more companies are investing in freelance talent to address the challenges.
"A majority (56%) of hiring managers that engage independent talent say they have increased utilization of independent talent over the past 12 months and will continue to increase their use of freelancers," says Upwork in a subsequent 2022 report. "There is no sign of that trend letting up."
More Companies Are Investing in Freelance Talent
Despite concerns that A.I. will significantly impact jobs, freelance workers are more hopeful than fearful, according to a 2023 report by another popular freelance marketplace, Fiverr. As many as 78% of business leaders told Fiverr that they are more likely to hire freelancers than full-time employees because economic conditions are currently uncertain.
As more companies turn to freelancers, skilled freelance talents (including marketers, developers, customer support, and IT experts) can expect good times ahead. Unlike other sectors, freelancers feel financially secure with pursuing independent work despite economic uncertainty, having earned $286 billion in the U.S in 2022 - a nearly 10% increase compared to 2021, according to Fiverr.
But, freelancers must proactively re-skill every two or so years to remain viable in the current employment marketplace. Upwork's Workforce Report 2022 reveals that companies and hiring managers are not hiring just any freelance talent. Instead, they are looking for highly-specialized independent talent to provide access to specialized skills and help them innovate.
Of those mangers who hire freelancers, 85% say working with independent professionals allows them to access talent with specialized skills or expertise, while 79% agree working with independent talent has enabled their business to be more competitive, cost-efficient, and innovative.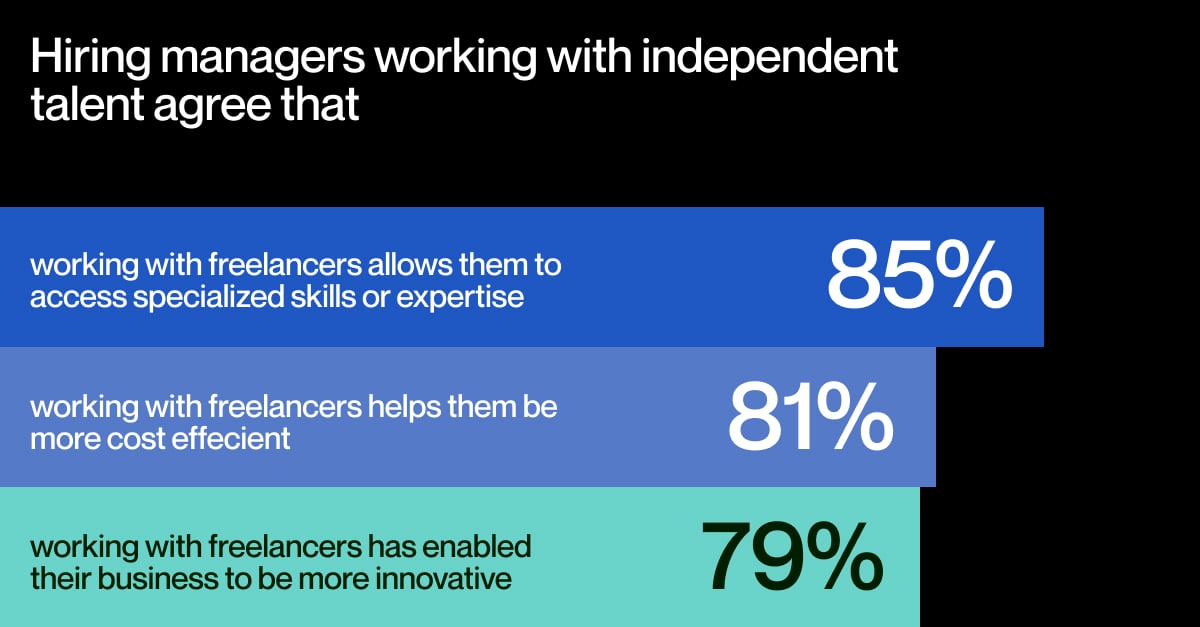 Evolving Trends Driving Freelance Demand
Technology and economic uncertainties are driving this push toward freelancer hires, particularly for remote digital workers. Fewer than 10% in Upwork's earlier surveys of marketing managers said location is important to a new team member's success, and 78% reported having someone on their team who works a significant portion of their time remotely.
Of those hiring managers surveyed, 74% said companies that don't evolve hiring practices will be at a competitive disadvantage. And 55% of marketing managers revealed freelancers will be part of their long-term hiring strategy.
Companies are seeing more value in integrating skilled freelancers into their strategic planning to address emerging challenges. Upwork has predicted marketing teams, in particular, will consist of leaders and specialists only, including 50% freelance talent. 
If you are a freelancer or aspiring to become an independent worker, take note of this trend and develop your freelance skills and expertise to thrive in the employment marketplace of the future.
For businesses, beyond potentially helping companies meet their goals more nimbly, freelancers can also be a cheaper alternative for businesses looking to tighten their budget and withstand current economic turmoil.