These Flower Ideas Will Add Color, Warmth, and Creativity to Your Parties & Events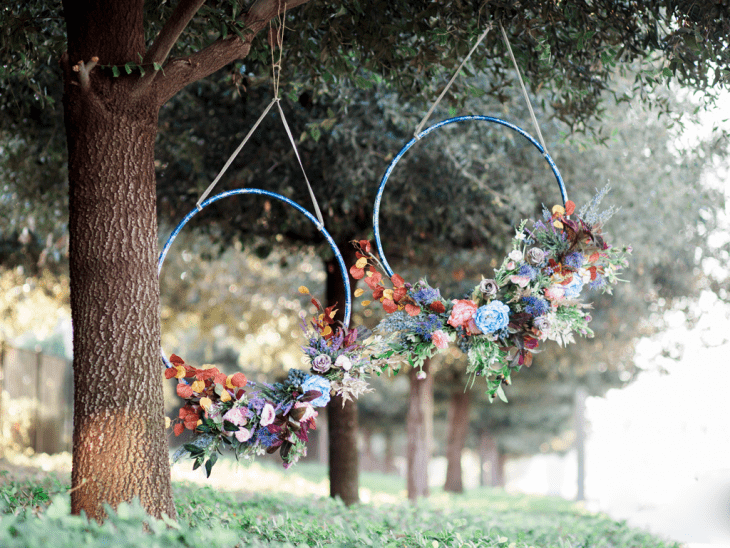 DIY Hoola Hoop Wreath : Photo: Pinterest.
Whether it is a birthday, anniversary, wedding or office celebration, these joyous occasions and parties are associated with fun, food, and laughter. But what about the preparations?
Organizing and preparing any type of party, event and celebration can create havoc in our minds for sure. But it also gives a healthy workout to our creative mind and physical body as well.
The FlowerCompany.ca gives us insights to make a party or event a colorful occasion full of joy – transformed into a beautiful wonderland with flowers.
Flowers Promote Aesthetics and Well-Being
No matter the occasion, beautiful flower arrangements convert a place into a glorious, aesthetically pleasing environment.
Scientific studies reveal that adding flowers to a room does a lot more than simply enhance the room's aesthetic appeal. The presence of flowers also triggers happy emotions, heightens feelings of life satisfaction, and affects social behavior in a positive manner far beyond what is normally believed, according to behavioral research conducted at Rutgers University.
In another study from the University of North Florida on The Impact of Flowers on Perceived Stress Among Women, researchers noted that it is now both intuitive and scientifically known that adding elements of nature, like flowers, to interiors promotes people's health and well-being, as well as significantly alleviates daily stress.
"Our findings are important from a public health perspective because adding flowers to reduce stress does not require tremendous effort to generate a meaningful effect," said Largo-Wight, Ph.D., Associate Professor of University of North Florida's Department of Public Health, and lead author of the study. "When life seems to be in a constant state of frenzy, flowers can provide us with a much-needed moment of calm," added Erin Largo-Wight.
The same study from the University of North Florida looked at the impact of flowers on workflow and productivity and found some huge positive results for both men and women working in office environments. This was further evidence that flowers and plants can stimulate us to have more creative ideas, cooperate more efficiently, and generate a sense of joy and comfort.
The addition of flowers, say, at a birthday party can certainly be enhanced with simple yet beautiful flower arrangement ideas that never go out of style.
Ideas for Creative Flower Arrangements
Here are some of the best floral arrangement ideas for a party or other event:
Letter Monograms with flowers: This is a very trendy and creative arrangement. It gives the vibrant vibes of freshness and greens. Flowers are arranged in a way to create letter monograms, giving it a marvelous touch.
Wall of flowers: The whole center wall is covered with flowers. One can always select a mix and match of different flowers and accessories complementing each other - presenting unique flower wall decors as well.
Blend of Balloons and flowers: Another idea is the blend of balloons and flowers. The use of flowers and balloons is a trend for birthday parties. Pastel shades of balloons and bright flowers can make your party setting perfect.
Flower decor as numbers: One can also use flower bouquets and decorations arranged in the shape of numbers. Like monograms of letters, a placement in the shape of numbers can be used with lots of green bases to accentuate a party or other celebration. It can be placed as a turning age initial at a birthday party.
Hula hoop flower wreath: A ring decorated with flowers, looping in half part and showing off the other. This is another elegant arrangement for birthdays and wedding parties and can be prepared even in a moment's notice. It enhances the decor and ambience of the decor significantly.
Types of Flowers for Last-Minute Party Preparations
Flowers are always a good choice for organized celebrations, whether at home or in the office. Flowers never get old and make for great additions for a beautiful party.
Here are some of the flowers you can add to birthday preparations for your inspiration:
1. Roses
The rose is arguable the most popular flower. There are over 300 species of roses, varying from different shades of red, yellow, and white to choose from.
Roses have acquired a cultural significance with their beauty and inviting fragrance. And roses are associated with love, purity, and in some cases, confidentiality, so they are a great addition for most celebrations and events.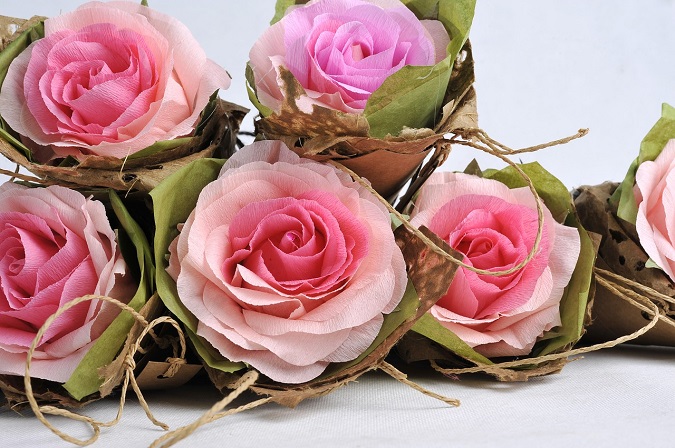 2. Asters
Asters are starry shaped flowers with vibrant colors. They bring beauty to late summers and autumns, also spanning shades of white, blue, and purple.
Aster flowers symbolize faith, love, and wisdom. They are also used as birthday decorators depicting charm and patience.
3. Ranunculus
Ranunculi are cool-season flowers and companions to the spring. They have paper-thin petals and are very beautiful to the eye.
The color range of ranunculus flowers varies from cream, pale yellow, orange, pink, apricot, burgundy, and red.
Ranunculi symbolize charm and are called people dazzlers too.
4. Orchids
Orchids are wet tropical flowers, with about 25,000 species and each species having its own unique look that you can pick for different events.
Orchids are long bloomers, easy to care for, and readily available. They are associated with fertility, love, sexuality. In various cultures, orchids are also associated with symbols of love, birth, and elegance.
Orchids are a great gift for new parents and décor for parties celebrating love.
5. Sweet peas
The sweet peas are flowers with a seductive fragrance. They are of a climbing nature, making a very beautiful decorative arrangement with its vivid color shades, ranging from red, blue, white, pink, and lavender.
Sweet peas bloom in early summer and symbolize blissful pleasure. They make for great Thank you, Goodbye and Fair well/departure flower gifts.
Additionally, due to their sweet fragrance, sweet peas are used for decorations as well.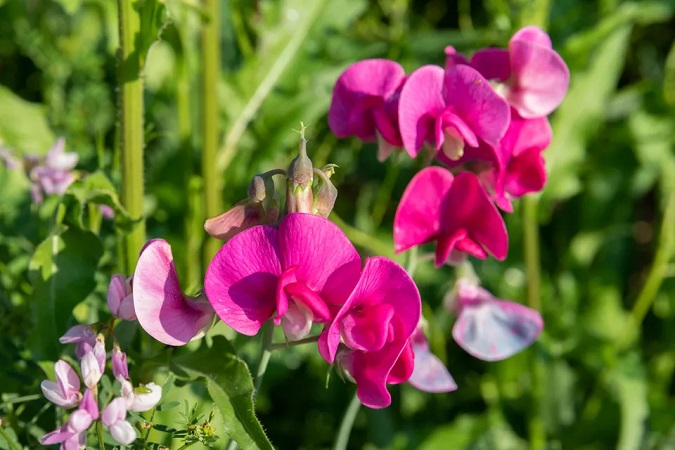 6. Lisianthus
Lisianthus flowers are great for showing appreciation. Colors vary from white to pink, blue and violet, as well as bicolors too.
These flowers have delicate thin petals and oval-shaped leaves, which magnify the beauty of any event.
The lisianthus represents respect, love, acceptance, and calming thoughts.
7. Heliconias
Heliconias are vibrant, bright, and breathtaking flowers with brilliant bracts. A bract is a leaf structure at the base of the flower.
Heliconias are also known as lobster claws or "parrot flowers" because of their beak-like "bracts."
Their color ranges from orange to yellow, pink, green, or a combination of these colors, which can liven up an event and bring more color to parties.
8. Freesias
Freesias are the flowers of friendship and love between two dear friends.
In earlier times, freesias were used as a sign of trust, and that is something that is still prevalent in many cultures today.
Freesias depict innocence, thoughtfulness, and sweetness. They make a perfect part of the décor at friends' parties.
9. Poms
Poms are perhaps the most adorable and cute of the bunch in this list. Round and spray, the flower's growth has given them the name of spray mums, as well.
They allow for completeness of holiday bouquets and represent a long-lasting friendship and non-romantic love.
Poms also symbolize birth and rebirth and are given as thoughtful presents for new parents. They are also loved by brides and make for great wedding floral décor.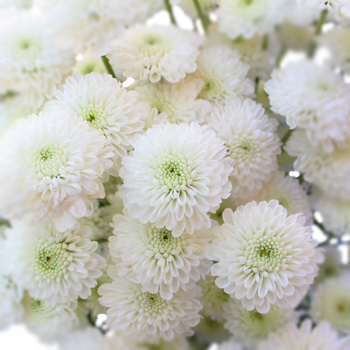 White Button Pom. Photo:
10. Snapdragons
Sapdragons bloom in cool weather from the base all the way up, which enhances their marked beauty and intensely saturated colors more.
These flowers are named after their flowers, which resemble the shape of a dragon's mouth when laterally squeezed. Children love to squeeze them to make the "dragon" open and close its mouth.
Sapdragons symbolize graciousness. They make an excellent addition to most party decor. They are also good cut flowers that last well over a week in water.
Conclusion
Flowers will always win people's heart, with their natural beauty and sweet scents. Celebrate your day and events with nature's gifts by incorporating flower arrangements.
As author Hans Christian Anderson is quoted saying, "Just living is not enough… One must have sunshine, freedom, and a little flower."