The Far-Reaching Impact of Tech & Digital Transformations in Business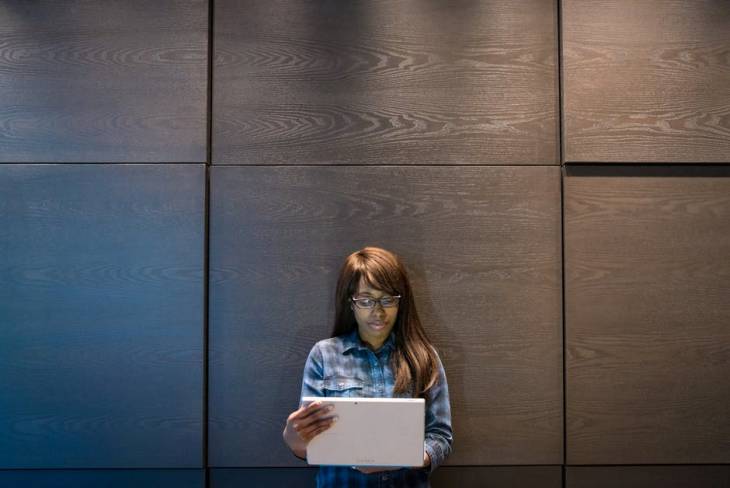 A global technological revolution has been taking place over the past few decades, giving rise to various business opportunities and paving the way for new ways of doing business.
Most businesses today, for example, are leveraging the power of digital marketing tools, artificial intelligence, and information technology to enhance their business operations. 
New innovations in smartphones and other smart technologies have also been a turning point for many businesses. They are helping businesses of all shapes and sizes to improve their processes into more efficient, seamless, and location-independent operations.
Technology has also transformed the way individuals lead their lives. It has presented various business opportunities and scopes for entrepreneurs and creatives to engage online, plan their business strategies, and collect and analyze useful data more effectively.
While technology has brought many benefits, it is not without its share of issues, such as the real threat that AI technology will take away people's jobs, rendering them redundant.
However, the overall benefits and impact of technology far outweigh the cons.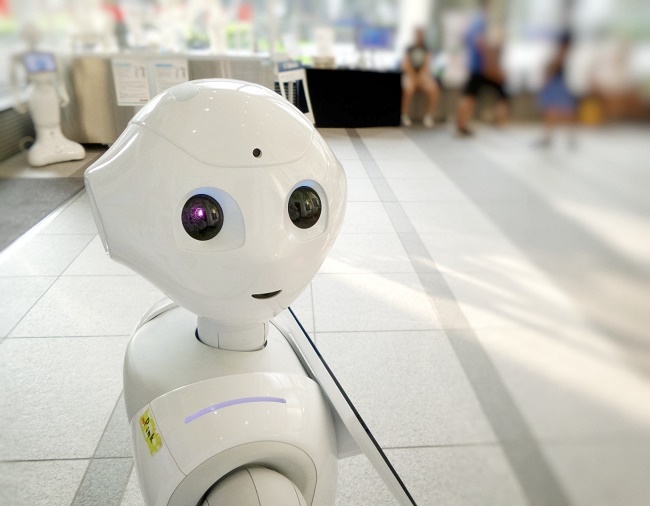 Changing Business Realities Brought by Technology
Technology has completely changed people's capacities and living standards in unexpected ways. This powerful impact of technology can be seen clearly in the business world, where a digital transformation in taking place enabling businesses in ways previously not thought possible.
Most businesses today are in the process of a digital transformation, the adoption of digital processes and tools to achieve strategic business goals. They are using software tools and social media platforms to increase their reach and offer exceptional customers experience. 
According to data aggregated by SCORE, the nation's largest network of volunteer and expert business mentors, 77% of American small businesses use social media to facilitate key business functions including sales, marketing and customer service.
Meanwhile, nearly eight in 10 (79%) of companies are currently in the process of a digital transformation, although the vast majority of them (90%) are facing unique and significant obstacles to success, per a recent AppDirect Digital Economy Report, 2019.
This widespread digital transformation is powered by technology and the internet. It is now inescapable for any business that wants to achieve success in today's business landscape. You cannot afford to overlook new technology and a digital transformation in your business.
"Only businesses that have digitally transformed will survive over the next five years," says 69% of U.S. executives and IT professionals surveyed by AppDirect, adding that "their customers are already demanding more digital products and services."
Challenges of Adopting New Technology in Business
Among the challenges cited by many businesses looking to adopt modern technology and achieve a digital transformation, which they need to overcome, include:
Budget challenges for investing in new technology that enables seamless commerce
Challenges integrating with third-party applications and services
Organizational issues as new tech involves significant changes in how things are done
Cybersecurity concerns when implementing digital enablement technologies
Challenges updating legacy systems necessitated by the new tech and innovations
Lack of digital literacy, and
Shortage of skilled workers and technicians.
"The digital economy is complex and the bar for success is high. Companies not only have to put digital at the center of every dimension of their organization, but every element must work together seamlessly," says Dan Saks, President and Co-CEO of AppDirect. "This holistic approach, which we call Multi-Dimensional Commerce, is the clearest path to success."
In order to overcome the challenges and achieve a complete digital transformation, notes AppDirect, companies are turning to digital platforms and ecosystems.
If you are able to also leverage the readily available digital platforms and business ecosystems online, and adopt a digital-first strategy in your business, it can boost revenue anywhere from 23% to 34%, according to insights from the 2018 IDG State of Digital Business Transformation.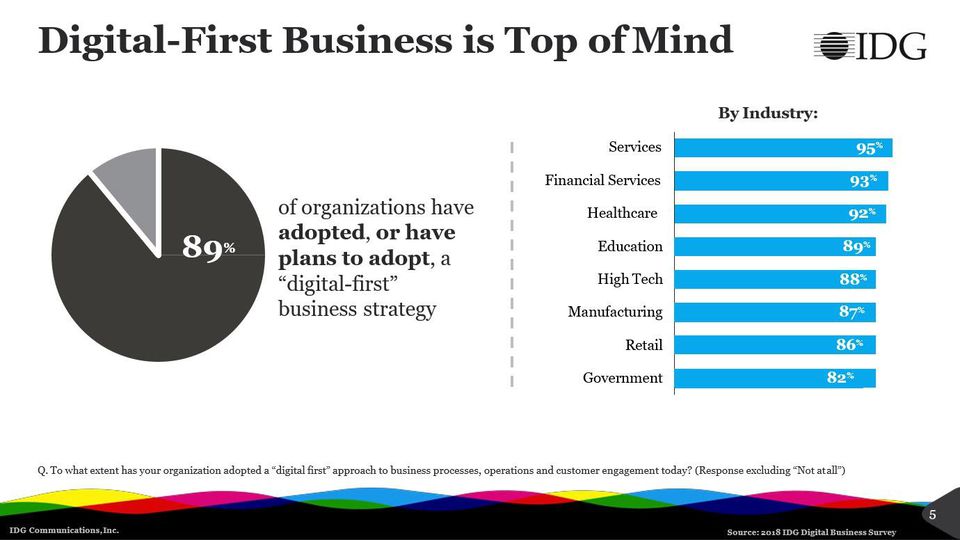 IDG's 2018 State of Digital Business Transformation.
Positive Impact of New Tech & Digital Transformation
Adopting a digital-first strategy has many benefits, having already transformed the working environment of many businesses today. Employees can now spend a huge amount of their time working remotely, while on the road, or at home.
Thanks to modern technology and the digital transformation, the way businesses carry out meetings has also changed greatly. Now, there is no need to drive long distances to attend meetings. New tech has made seamless teleconferencing a reality.
Business documents can be digitized and made paperless, and you can secure and store all of your essential documents in the cloud for safekeeping.
Businesses have also integrate online chat technology to automate sales and conversions, and for constantly communicating with team members and business website visitors.
Nowadays, entrepreneurs do not need to have brick-and-mortar offices for their businesses, because they can easily operate from virtual offices using tablets, smartphones, and laptops.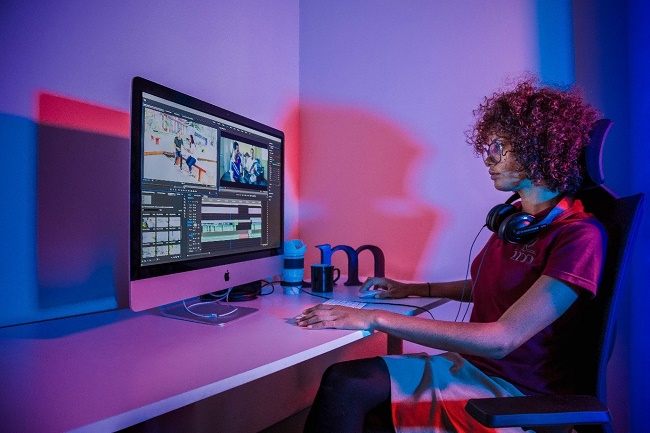 Business Processes and Activities Impacted by Technology
No doubt technology has impacted a myriad of business activities. Let's quickly look at which business activities and processes have been most affected by technology.
1. Security
Businesses, big and small, are using technology to develop solid busines security plans and secure their work environments for smooth business operations. Internet-connected servers have been set up to preserve sensitive data and also securely manage consumer information.
Various types of security applications and software are available in the market these days that are intuitive and user-friendly to guard against cyber-attacks.
And many business owners and entrepreneurs are hiring developers to build software for their business with advanced features, creating a thriving professional niche and industry.
2. Operating Costs
Technology has also helped businesses to reduces business costs to a very large extent. For example, businesses and entrepreneurs can easily sell their products and services online, hence removing the need to have a physical storefront and associated costs.
In the last few years, the cost of launching a business has reduced greatly, because entrepreneurs can launch a business from anywhere and there are many openings for freelance and side gigs to support this effort. Entrepreneurs can easily find software that handles all the functions of their business and remote workers to effectively help with tasks.
Advance software and applications enable businesses to automate back-office functions like accounting, payroll, and record-keeping. Mobile applications allow businesses to interact with their customers and team in real-time.
You can even hire developers to develop custom applications for recording daily expenses that you can easily sync this automatically with accounting software available at the office.
Overall, the ease of doing business facilitated by technology reduces a lot of hustle and costs, improves efficiency, and saves a huge amount of time, which can be utilized for other tasks.
3. Employee Productivity
Businesses are using technology to create office spaces that increase productivity, with applications and software that help employees to work more collaboratively, speedily, and effectively, and also helps them process more information than they would be able to manualy.
Moreover, some business software and applications can be implemented to handle repetitive tasks and free up human labor in the business for other functions. This can save on the cost of running the business as you may not need to pay labor costs.
Technology can also enable you to improve employee working conditions and motivate remote workers with various benefits, stipends and efficient communication boosting productivity.
4. Communication Processes
Businesses are enhancing their communication mediums and channels by implementing the latest software tools and application in their business.
From seamless business website blogs, to user friendly messaging apps, live chat boards, and emails, these technologies are facilitating better interactions and improving business communications with customers, colleagues, and partners.
Availability of effective digital communication methods enables businesses to deliver their message to a broader market, and also receive and respond to feedback promptly from customers when they use these effective communication methods.
Inter-office communication tools can also be improved through electronic communication methods. For example, if you implement social intranet software in your business, then your employees will get a platform through which they can update and access internal contracts and documents easily. They can also share relevant data with other departments instantly.
With these enhanced digital communication tools and business tech, you can also reach potential consumers easily via their mobile devices.
5. Customer Outreach
The internet and social media platforms have also opened up new ways for businesses to interact with their customers more directly.
Now business can more easily reach customers anywhere in the world and engage with them freely as never before. Using various social media platforms, mobile apps, and web tools, businesses can easily post their business content to attract customers towards their business.
And the best part about the power of many of these new media and social platforms is that businesses do not have to pay anything or a huge amount for posting updates.
There are paid advertising options for customer outreach via email, social media, and even influencer marketing, but these are often cheaper and more effective than traditional outreach methods via print media and magazines.
Conclusion
Gone are the days when businesses used to stick to particular old models for performing various activities of the business. Now, businesses are stepping up their digital transformation and aligning themselves with modern technology and new ways of doing business.
Many businesses have achieved success in their digital transformation, and are leveraging technological  changes to expand their business and gain an edge in the market. You must not be left behind in adopting technology and a digital-first strategy if you also want to succeed.
Globalization and new technology is having a big impact on business activities. Jump on the technology bandwagon to futureproof your business and get the best of what tech has to offer.