How Blockchain and IoT Boost Logistics and Supply Chain Management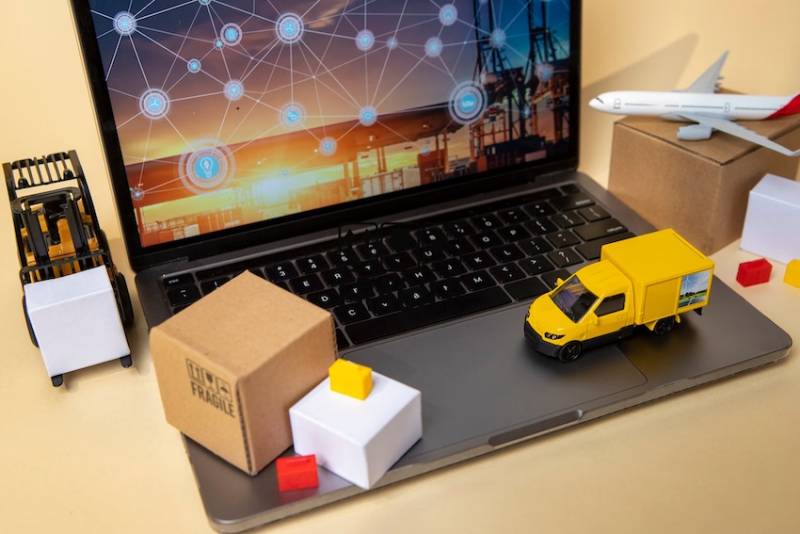 Today, more than ever, companies need to digitize critical processes to achieve maximum client satisfaction and effortless technical management.
And, when it comes to logistics and supply chain management (SCM), blockchain and IoT are some of the best technologies to achieve these goals.
Blockchain provides benefits such as increased transparency, improved security, and better optimization of processes, leading to improved customer satisfaction.
But that is not all that blockchain and IoT technology can do to improve logistics and SCM.
Blockchain Benefits for Logistics
Blockchain technology can facilitate trust between the participants of the shipping process and provide access to up-to-date information. This guarantees that all parties have the same circumstances and transmit accurate data.
Integrating blockchain technology may enhance such operations as:
Key Ways Blockchain Impacts Logistics and SCM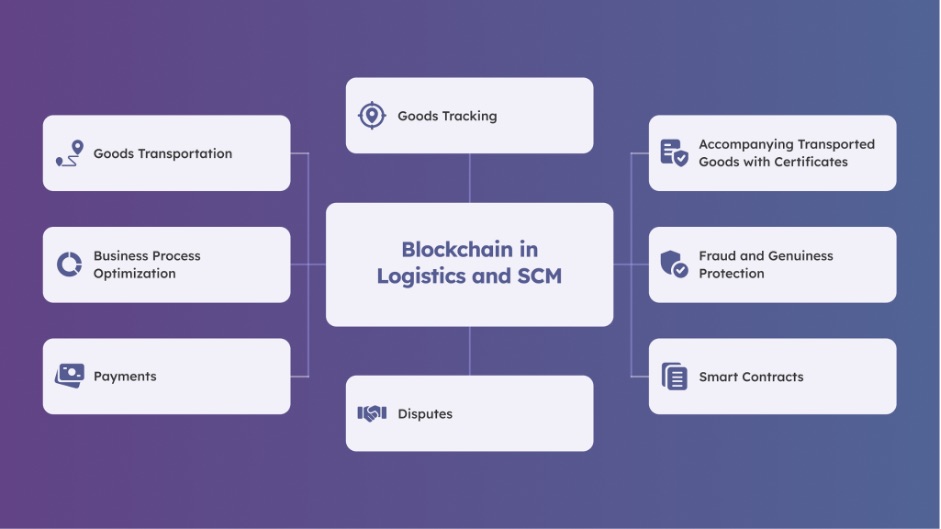 Blockchain in Logistics.
Let's explore in more details some examples of blockchain's impact on logistics and supply chain management…
1. Resolving documentation problems
Container transportation involves complicated document management, which can be labor-intensive and time-consuming. As a result, international shipments are particularly at risk.
For example, a company needs to get at least 30 permits to ship goods from Western Europe to East Africa. At the same time, the company is exposed to such risks as document loss, fabrication, and human errors.
However, blockchain solutions offer answers to these issues—they can complement the existing software of all supply chain participants and provide a faster and safer way to process documents.
2. Monitoring goods provenance
Buyers are increasingly concerned about the authenticity and source of products. Blockchain helps to simplify goods' verification to meet these demands.
For example, counterfeiting is a severe issue for the pharmacy. Moreover, tracing the medicines' origin is critical because it directly affects patients. Blockchain technology can deliver transparency in the entire supply chain. Using barcodes and automatic identification, the technology makes manipulating product documentation or distributing counterfeit drugs very challenging.
Source traceability is also essential when dealing with high-value goods such as jewelry. All the necessary certificates should accompany the cargo, but they aren't protected from loss or falsification. Blockchain can facilitate the definition of an item's provenance and increases its transparency.
3. Control of food supplies
Foodborne infection outbreaks pose a significant challenge. Merchandisers must determine the origin of the dangers and quickly eliminate them from the point of sale. However, these operations can take weeks and lead to lower consumer confidence. Tracking the supply chain using blockchain significantly simplifies this process.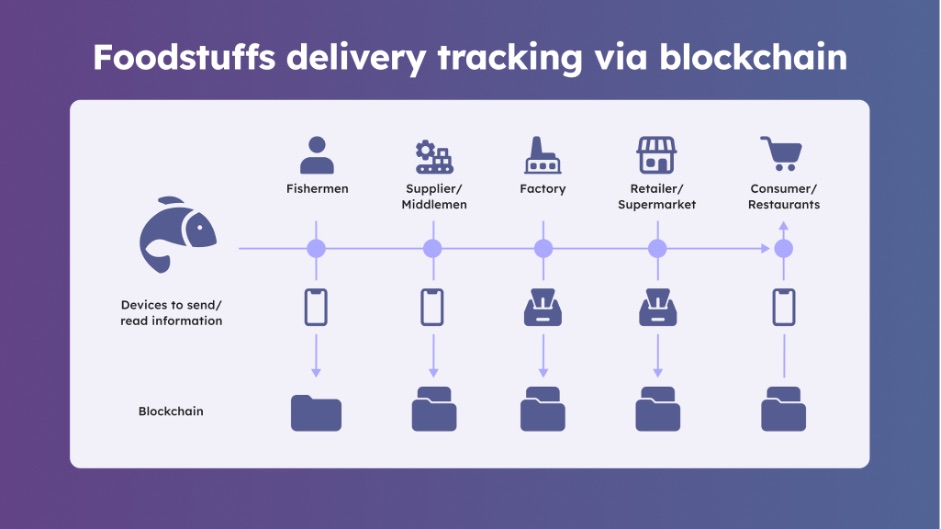 Food supply control with blockchain.
For example, Walmart has developed a system of blockchain-based food tracking in cooperation with IBM. This improvement touched on barcode and auto-identification technologies, which had been used previously.
The updated software allowed vital data such as source, expiration date, production, shipment, and lot number to be saved in the blockchain and received in real time by all participants in the network.
Leveraging the Internet of Things in Logistics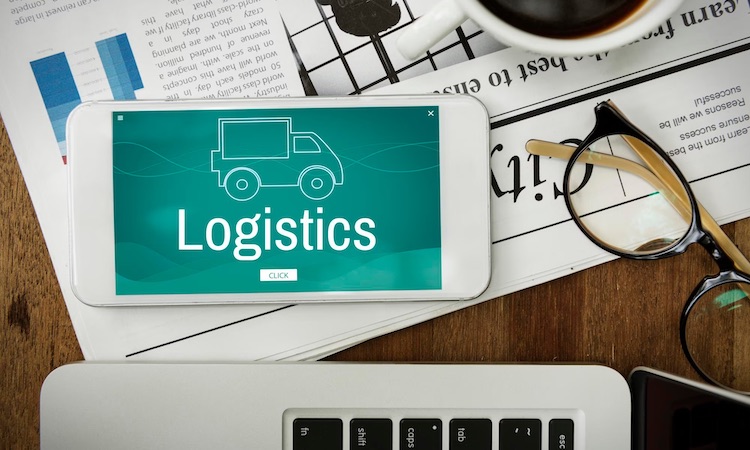 The Internet of Things (IoT) connects physical endpoints and exchanges collected data with specialized software. It also provides more efficient information processing that does not require additional human involvement.
The IoT system uses data related to physical objects, mainly transported items and containers. Thus, IoT solutions can encompass and optimize a variety of business operations.
As such, the Internet of Things is closely tied to supply chain management. It bring several benefits for logistics including:
Simplifies interaction among supply chain participants
Allows you to track product locations and notify customers of delivery times
Streamlines fleet management
Enables you to monitor the routine of each driver
Automatically manages data on storage and shipping conditions
Key Ways IoT Impacts Logistics and SCM
Let's explore in more detail some instances of supply chain management improvements using the Internet of Things…
1. Enhanced fleet management
IoT technology can significantly improve fleet operations by collecting all crucial data, analyzing it, and sending it to dispatchers.
The Internet of Things uses GPS sensors, accelerometers, sensors that detect fuel spending, tire pressure, etc., and allows to:
Select the safest routes
Monitor trucks for timely repairs
Monitor each driver's performance, etc.
By processing all this information, companies can increase the overall efficiency of the entire fleet, lower costs, and increase profits.
2. Enhanced route optimization
Another significant advantage of IoT implementation in logistics is optimizing routes. The system allows you to monitor the geolocation of each truck and choose the most optimal way for it, considering road conditions and the number of stops. GPS trackers are used for this purpose.
In addition, warning systems are used, which notify the driver and the dispatcher of unexpected situations, such as traffic jams or accidents, and allow them to change the route considering these circumstances.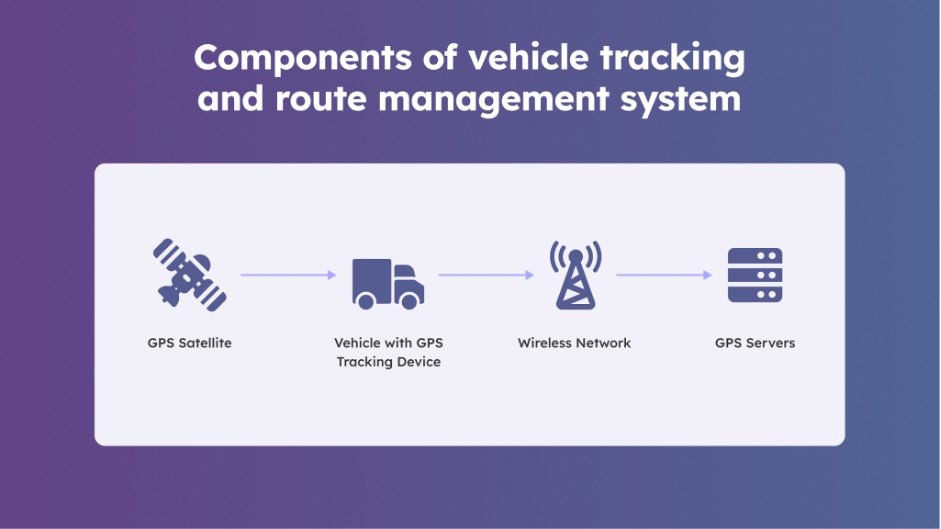 IoT route optimization.
Logistics managers increasingly rely on the Internet of Things to plan and monitor delivery schedules. This technology has many business advantages, such as identifying and rectifying delays.
3. Decreasing Fuel Consumption
An IoT-based fuel control system integrated into fleet management can help reduce fuel costs by 10% or more. This is possible using sensors such as Engine Control Modules (ECM) and GPS trackers, combined with analytical software, which track data such as fuel levels, consumption rates, time and locations of refills, and drainage volumes.
In that way, IoT can solve issues such as:
Minimizing excessive fuel usage
Increasing transparency in cost management
Simplifying fuel reporting
Combing IoT and Blockchain in Logistics and SCM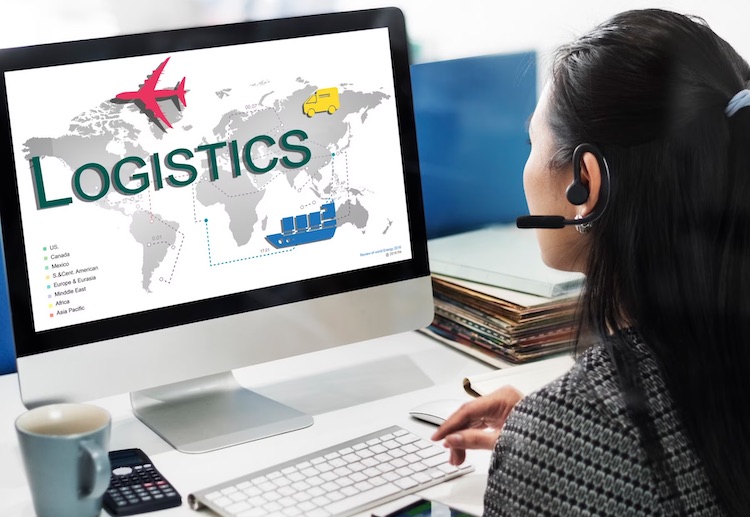 Now that you're familiar with the main applications of these technologies, you should also know that blockchain IoT in logistics is often integrated simultaneously.
An approach to combine the two technologies allows IoT to collect data and transmit it via blockchain more efficiently and securely.
Distributed Ledger Technology (DLT) provides legal certainty and control over the critical characteristics of goods in transport and storage. In this way, combined software solutions give companies such opportunities as:
Fast and efficient IoT device communication
Secure payments using smart contracts
Maximum transparency of the supply chain
Minimal risk of data loss or spoofing
In Conclusion
Logistics and supply chain management processes can benefit greatly by incorporating innovative technologies such as IoT and blockchain. By incorporating blockchain and IoT into the supply chain, businesses can maximize transparency, security, and efficiency.
Both technologies and digitalization also cut costs, increase efficiency, and maximize business profits. So, to boost your business operations and get the most out of the latest technological revolutions, find a reliable software vendor to help you build an IoT and blockchain solution for your business' logistics and supply chain management.