Plague Inc.: Video Game Eerily Similar to Reality Cashes in on Coronavirus Pandemic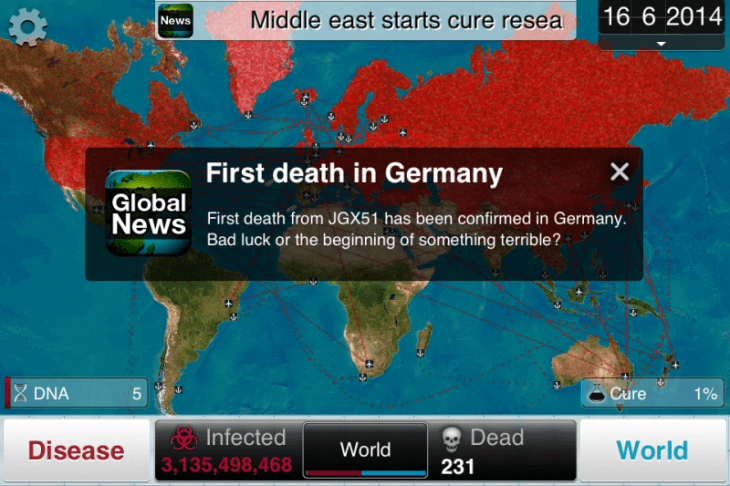 A video game concerning a world-ravaging pandemic that eliminates fifty percent of humanity fired to the top of Apple's App Store in China at the same time as three cities there were actually taken into lockdown to stop the spread of the coronavirus.
Plague Inc., which was first launched in 2012, is a strategy game in which players select the role of creating a pandemic. They have to advance their virus, stabilizing infectiousness, lethality, as well as exposure in order to succeed at infecting and killing as many people as possible before humanity invents and releases a remedy.
According to the analytics company AppAnnie, it is was the most-downloaded paid-for game on iOS in China, and also the 6th most-downloaded paid-for app on the whole. The game has also risen to the top of the charts in other nations as well, including the UK, US, South Korea, Japan, and Italy.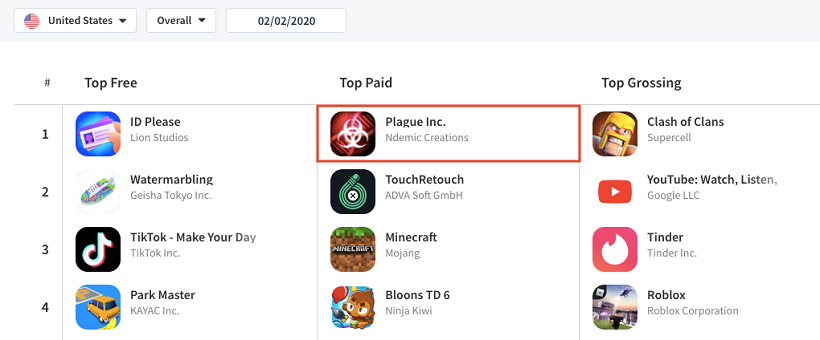 US App Store Top Charts with Plague Inc. as #1 in Top Paid. Source: App Radar ASO Tool
Ever since Plague Inc. was released eight years ago, whenever there is a breakout of disease, its creators see a rise in both hardcore fans and regular people playing the game as they seek to find out even more about how diseases spread.
Keshav Mittal, a student in India, said playing the game gave him some insight into how viruses spread, but he also said he felt self-conscious. "I was afraid to play it in public, because it felt wrong."
This is not the first time that real-world events have increased sales of a video game. Besides, Plague Inc., the owner of the website that hosts the 2008 disease simulation Pandemic 2 has also said that game had spiked during the coronavirus pandemic.
Susan Arendt, another player who lives in North Carolina told the New York Times she appreciated how Plague Inc. demonstrated the spread of a disease from one country to another, often via infected airline passengers.
"The education Plague Inc. provides helped me take the coronavirus threat seriously since the beginning," she said of her experience playing the game before Covid-19. "I know how easy it is for disease to spread, because I've made it happen."
Disease Simulation Games Spike During Covid-19
As the coronavirus continues to spread around the world, the creators of Plague Inc. have reminded people that, while their video game is eerily similar to what's happening with COVID-19, it is just a video game. They urge every player to keep in mind that Plague Inc. is a game, not a scientific model. The current coronavirus outbreak is real and impacting a large number of people.
Despite the reassurances, earlier in the year the high strategy and terrifyingly realistic simulation game about viral outbreaks, in which players have to try to contaminate the whole world with a dangerous virus, was removed from the China App Store for what authorities said was including "content that is illegal in China as determined by the Cyberspace Administration of China."  
While it is not clear if Plague Inc.'s removal was linked to the ongoing coronavirus outbreak that China is facing, the game's creators contend that many people have found out more about the intensity of the new coronavirus outbreak in the world by playing the simulation game.
"Plague Inc.'s educational importance has been repeatedly recognised by organisations like the CDC and we are currently working with major global health organisations to determine how we can best support their efforts to contain and control COVID-19," notes the video game creators on the company's website.
Educational Value of Video Games
Video games have been described as a type of cultural expression and proponents of this art form see it as a creative way to make sense of the world. For some individuals, even scary simulations and films are a way to deal with issues like anxiety, and they say video games can be that, too.
Because health crises happen from time to time in the world, outbreak-themed video games have existed for years and remain very popular today. Plague Inc. has seen surges in player interest throughout previous crises, including the 2014-2016 Ebola outbreaks in West Africa. It has attracted more than 130 million players since its release, according to its annual report card.
The game's makers are quick to preempt the notion that they are profiting from the suffering of people and the coronavirus pandemic in particular. Instead, they claim that the video game company sees an increase in players whenever a major outbreak takes place, "as people seek to find out more about how diseases spread and to understand the complexities of viral outbreaks."
"We specifically designed the game to be realistic and informative, while not sensationalising serious real-world issues," the UK-based company notes on its website.
Plague Inc. advises players to get their information about infectious diseases [and the coronavirus, in particular] directly from regional as well as worldwide health authorities. The company also backed its sentiments with an announcement in March pledging to donate a quarter-million dollars to organizations fighting Covid-19.