Facebook Influencer Marketing: How to Get It Right without Overshooting Your Budget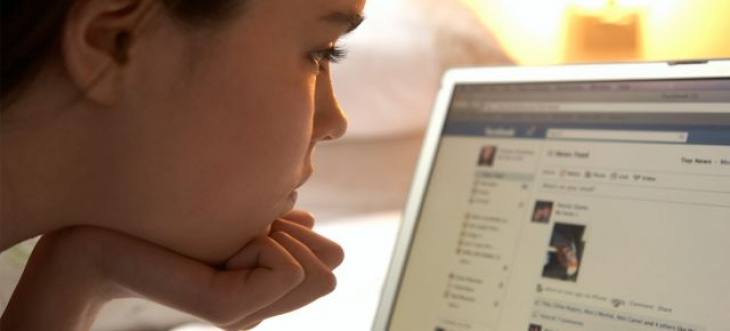 Facebook has made many changes to their news feed algorithm over the years. It's CEO and Founder Mark Zuckerberg earlier this year announced that the social media network will focus on surfacing posts from friends and family in the news feed to "bring people together" over brand posts. As a result, content from brands and business Pages were put on the backburner.  
It comes as no surprise that organic reach on Facebook has gone downhill fast. In fact, according to Digiday, organic reach is downright dead. What that means is that only a handful of your business Page followers get to see your posts, which presents a major challenge to small businesses and creative entrepreneurs. You now have to pour more of your marketing budget into paid posts to reach an audience on the giant social media platform and compensate for lost organic reach.
Does that mean Facebook has driven the final nail in the coffin for brands with tight budgets?
Not exactly, because you still have the option to use influencer marketing to reach those audiences.
Power of Micro-Influencers to Reach Audiences
Influencer marketing is a great way for startups and creative businesses like yours to compete with the big brands that have deep marketing budgets. In this article, we'll look at some of the best strategies to maximize the returns on your Facebook influencer marketing on a tight budget.
Very often, when people hear the word, "influencer," they think of internet celebrities with millions of social media followers. However, an influencer is any person who has a greater than average audience reach and has the power to influence the opinions of their followers.
Regular people who happen to be experts in a niche or industry, in fact, often provide more engagement than celebrities. According to a study by Markerly, influencer size does matter, but no in the way you might expect, because there is a clear downward correlation between follower sizes and engagement.
As an influencer's follower total rises, Markerly notes, the rate of engagement (likes and comments) with followers decreases. Those with less than 1,000 followers on instagram generally received likes on their posts 8% of the time, while users with 10 million+ followers only received likes 1.6% of the time.   

The study highlights that micro-influencers (those people with social media accounts having 30,000 or fewer engaged followers) offer the best combination of reach and engagement. Their impact is much better when compared to bigger influencers with millions of followers.
The best part of it all is that micro-influencers don't cost nearly as much money to promote something for you to their more engaged audience as celebrities.
Say you want to hire a famous sportsperson to promote your brand. You'll need thousands of dollars to pay that celebrity to promote your products. On the other hand, micro-influencers charge way less and will likely bring you better results.
Now that you understand the power of micro-influencers, let's take a look at the best strategies to find the right influencers and get the maximum returns on your Facebook influencer marketing campaigns.
Find the Right Facebook Micro-Influencers
Remember that the more in-tune you are with the pulse of your own audience or potential customers, the easier it is to find the right micro-influencer(s) for the job at hand.
While searching for micro-influencers to promote your brand or products on Facebook, consider the following key factors:
Does the audience which the influencer has and your brand intersect?
Are the influencer's values similar to or related to those of your brand?
How does the audience react to the influencer's posts? Do they just click the like button, or do they go further and leave their comments?
Start your influencer search using Facebook's search bar. Search for suitable targets who regularly post about your niche, and who have a dedicated audience.
Next, evaluate the list of influencers Facebook brings up in search results after you enter your target keywords in the search bar.
While creating your potential list of influencers to contact, make sure to keep an eye on audience size, as well as engagement levels. For instance, if a person has 20,000 followers on Facebook, but gets only 100 or so likes, there's a possibility that they bought fake followers to attract businesses.
Look for influencers who get the highest engagement rates from their audience. If you are curious about the formula Facebook uses to calculate engagement rates on posts, check out the pictorial below to see how Facebook calculates posts engagement, according to The Online Advertising Guide: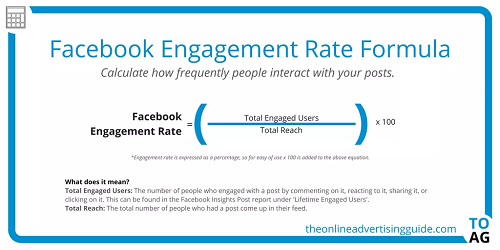 In this case, engaged users refer to the number of people who clicked anywhere on the post. And the post reach refers to the number of people who saw the post.
You can use this formula to evaluate and rank your potential list of micro-influencers based on their engagement rates. And after you've launched your campaign, you need to further evaluate the reach to determine overall performance of influencers you're working with.
Alternatively, you can use influencer Marketing software like Grin to track individual Facebook influencer performance and post engagement rates more effectively. The goal here is to identify the top-performing influencers so you can reach out to work with them for future campaigns. Doing this research will help you further optimize the use of your budget for only the most effective influencers.
Execute Facebook Influencer Marketing Like a Pro
Now that you've identified the right influencers, it's time to get started with your actual marketing campaign. Let's take a look at some of the best tactics for influencer marketing on Facebook that won't break the bank.
Best Tactics for Influencer Marketing on Facebook
1. Get Influencers to Do Live Videos
Regular Facebook videos are not as effective as they once were. Live videos is what's trending right now. In fact, according to a report by Facebook, users spend 3x more time watching live videos when compared to regular videos. So, ask influencers to promote with Live videos where possible.
Besides, what better way to get your influencers to connect and engage with your target audience than by going Live?
Here are a few ideas for Live videos you can create with influencers:
First time using a product
Unboxing videos
Tutorials on how to use the product
Store visit
Opinions (both pros and cons) of the product
Ask-me-anything sessions
The popular beauty brand, Sephora, for example, invited influencers Christophe Robin Paris and Jen Atkin for a 30-minute Live video session. The influencers answered questions from viewers about the latest beauty products, makeup trends, and other beauty tips.
The casual format and rare opportunity for the audience to interact with these influencers was a great hit. The duo made sure they highlighted Sephora's products throughout the video.
2. Cross-Promote on Social Media Platforms
If you're already promoting or using influencers to promote your products on other platforms like Instagram, Twitter, and blogs, you can ask Facebook influencers to promote the same content on their channels. This is a great way to boost the performance of your campaign without spending extra money.  
The content is already there, and the influencer just shares it on their Facebook Page. According to a case study by Scrunch, cross-promoting on different platforms is an extremely effective way to improve engagement rates as well as campaign reach on the cheap.
Fashion influencer Song of Style, for example, wrote a blog post titled "Here's Where You Can Get Luxury Designer Handbags Under $500" that promoted the eBay Authenticate program she uses.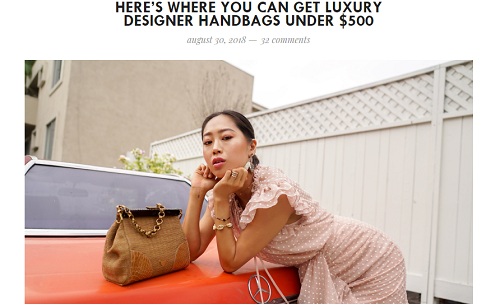 Image Source: Song of Style
She also created an Instagram post to promote the program.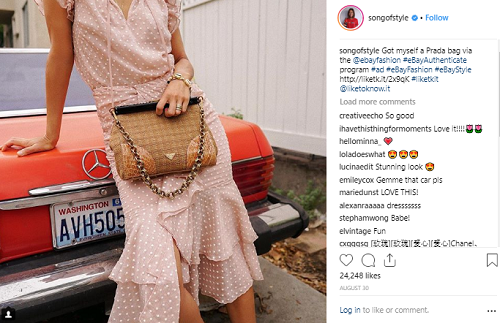 Image Source: Instagram
And of course, she also promoted the program on her Facebook page.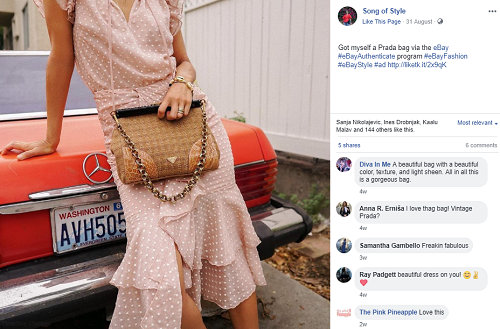 Image Source: Facebook
That's an example of smart cross promotion across different platforms.
3. Highlight a Social Cause
Social cause marketing is one of the biggest tools in the arsenal of digital marketers today. When people see that your brand is standing up for a good cause, it helps to humanize your brand and makes them feel like you care. People become more emotionally connected with and loyal to your brand.
According to a study by the Haas School of Business, a whopping nine out of 10 millennials will switch from their favorite brands to another brand simply because the latter supports a cause they believe in. This shows you the power of cause marketing for winning over loyal fans.
When you add influencers to the cause marketing mix, you can further enhance the impact of your Facebook marketing campaign and get stellar results.
For their latest charitable initiative, Walmart partnered with seven Instagram influencers in a smart and noble cause marketing campaign. The retail giant pledged to donate $0.90 to Feeding America for every like, share, or comment received on #FightHunger posts.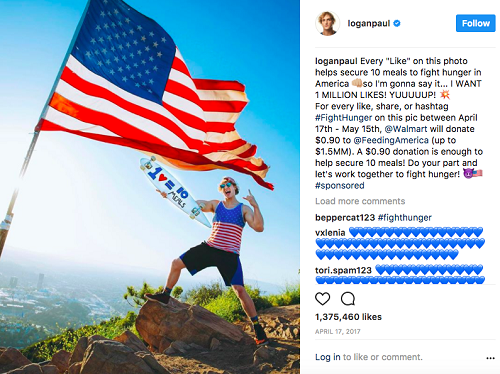 Image Source: Mediakix
By partnering with influencers like Liza Koshy, Rosanna Pansino, and Logan Paul, they generated an engagement rate of 23%. Walmart ended up raising $1.5 million for Feeding America. Not too shabby.
4. Host Contests and Giveaways
Another effective strategy to promote your brand without emptying your marketing budget is to get your influencer to host a giveaway on their Facebook page.
Giveaways have the potential to go viral and improve the reach of your brand among your target audience. According to a study by HubSpot, brands see an average increase in fans by 34% when they run contests and giveaways on Facebook.
People stand a chance to win the product being promoted or other gifts and freebies by commenting, liking, and/or tagging other friends. This is a great way to increase your reach and engage your target audience.
FoxyBae, a popular hair-styling products brand, provides a good example of how to execute this strategy. The brand partnered with influencer Sarah Nourse, a popular YouTuber and fashion blogger. The influencer helped promote the brand's latest 3-in-1 hair wand with a giveaway.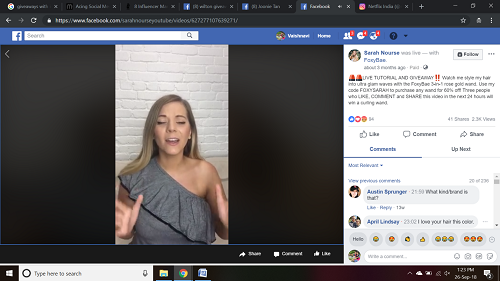 Image Source: Facebook
5. Tell Stories via Facebook Videos
Video content consumption is still on the rise. According to an estimate by Cisco, videos will account for 82% of all internet traffic by 2021. This is a massive increase from the 76% in 2016.
These numbers show that video marketing is here to stay. In fact, using videos to tell your brand's story is an excellent way to engage and connect with your audience on Facebook. And, when you get influencers to be part of your video storytelling, you add to the credibility and trust that boosts success.
Sprint, for instance, partnered with influencers like Megan Rapinoe to create Facebook videos telling stories that boost the brand's image. You can do likewise and reap excellent results too.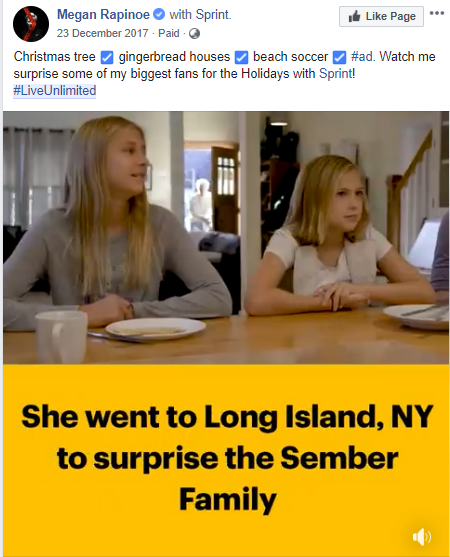 Image Source: Facebook
Wrapping It Up
Influencer marketing is a powerful way to get maximum ROI from Facebook marketing, without blowing your budget. We hope this guide helps you find the right influencers to work with. The strategies above will certainly help you launch a successful marketing campaign, even on a tight budget.