How to Ensure Your Studies & Education in a Foreign Country Is Positive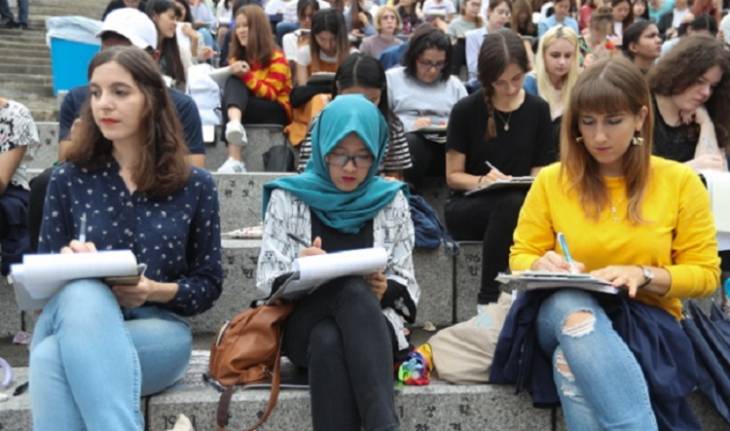 Foreign students take part in a Korean-language essay contest at Yonsei University in Seoul, ahead of the Oct. 9, 2017 Hangeul Day. Hangeul is the Korean alphabet. Photo: Yonhap.
The number of students studying abroad has grown steadily over the last 25 years. According to the Organization for Economic Cooperation and Development (OECD), nearly 4.3 million students are enrolled in university-level education outside their home country.
When you study abroad, you'll be taking advantage of a tremendous opportunity to experience different cultures. You'll learn and expand your knowledge of other societies and languages, and thus improve your prospects in globalized sectors of the labor market.
"Beyond its social and educational effects, studying abroad has a considerable economic impact," says OECD. "For host countries, enrolling international students can not only help raise revenues from higher education, but can also be part of a broader strategy to recruit highly skilled immigrants."
To make sure you have as good of a time as possible studying abroad, it's important to plan ahead for the experience. Here're some essential tips to help you have a positive learning experience as you pursue your education and studies in a different country:
1. Register with Your Embassy in That Country
If you are a US citizen and plan to study in Canada or another foreign country, for example, you should take the time to contact the U.S. embassy in that country.
Let them know you'll be living in that nation and ask about emergency contact information. If you do get into trouble in a foreign country, this will ensure you'll know who to call.
Additionally, the embassy can help you find out about discounts and resources that are available to U.S. students attending universities in that country. By taking advantage of as many resources as you can find, you'll save money on your spending budget.
2. Learn About Your New Home
The internet makes it much easier for students to plan their experiences abroad by providing the tools to research any country's customs, laws, communities, and public services. You can use Google Maps to explore the city before you get there so you'll be less likely to get lost.
Online research can also help you learn about the amenities that will be available on and around your university's campus. This is also a good way to learn about restaurants, attractions, and entertainment in the city.
By the time you arrive in your destination city, you should already be familiar with it.
3. Stick with a Friend
The ideal situation is to find a friend who is also interested in studying abroad so that you can share the experience. If you can bring a friend along, you'll have someone to go with you on excursions to explore the city.
In general, the buddy system helps people stay safer in unfamiliar environments, and this can work well when you're staying in a foreign country. If you go alone, you should look for a friend in your new city who will be willing to show you around.
You might even be able to find a sponsor or pen pal in the city before you arrive by looking online. Just be sure to take the usual safety precautions in meeting your new friend for the first time. Meet in public, let someone know where you're going, and keep your cell phone with you.
4. Create an Actionable Budget
At home in the U.S., you might be able to get away with a monthly budget, but as you live in a foreign country, it's better to create a weekly budget. The shorter time frame will help you keep a closer account of your income, savings, and expenses.
Before you create your first budget, you should look over the details of your school program to find out what expenses are included. This will help you avoid paying for expenditures that are already covered.
In creating your budget, account for entertainment and the little extras, such as your morning cup of coffee, to ensure the budget is accurate. You should also set aside one day to review and adjust your budget each week to help you keep a tighter grasp of your financial situation.
5. Maintain a Personal Journal
Keeping a journal is a good idea for many reasons. It is a way to record your experiences as a foreign student so you can share your memories with your family and friends upon returning home. It will also provide you with a record in case you want to look something up in the future.
Imagine you happened upon an antique store and wanted to return to it when you had more time. Writing about it in your journal will help you find it again. In this way, your journal can help you enhance your experiences as you study abroad.
You can keep a handwritten journal or use your blog as an online journal, but you should write in your journal each day regardless of the form you use.
As you start making your travel plans, it's also a good idea to develop the habit of watching the news. Making yourself more aware of current events will help you avoid traffic jams, public protests, and areas that could compromise your safety.
In doing all those things, you'll have a much more enjoyable experience abroad.