The Best Cocktails You Can Safely Enjoy Without Intoxication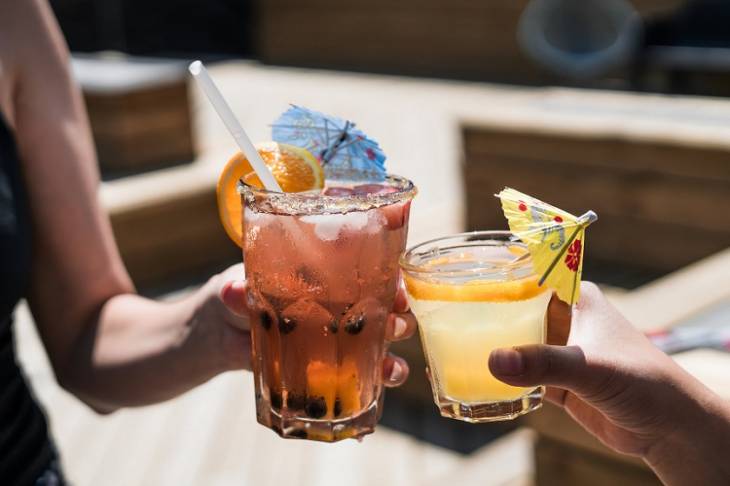 Drinking sparkling wine or whisky may be your routine habit, but there are some standard cocktails with low alcohol content you should consider for your health.
Most of us are aware of alcohol's health risks, including higher stroke chances, high blood pressure, heart and liver disease, cancers, depression, and anxiety.
You may give in to the social demands of drinking, but how safe are the quantity in your glass and the frequency you crave for?
While it may be a challenge to drink less, there are specific lower alcohol options to beat the summer heat and give you a tolerable kick.
Get your frosted glass and some lemon zests as we take you through some safe cocktails you can have without the fear of intoxication.  
1. Mojito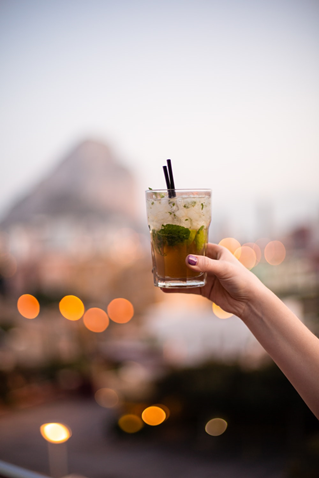 Mojito gives you lime deliciousness and the freshness of mint and ginger. This refreshing Cuban drink is rum-based and a perfect poolside and beachy cocktail.
Mojito was a favorite drink of renowned author Ernest Hemingway—a suitable hint for literature-lovers. You can enjoy your Mojito and other cocktails for the slight kick it delivers without getting you officially drunk.
Ingredients
2 oz white rum
0.75 oz lime juice
0.5 oz simple syrup
3 mint leaves
Club soda (optional)
Preparation
Put mint leaves and all other ingredients into a shaker. Add ice, shake, strain, and pour the chilled contents into a highball glass. Top with club soda. Mix 2-3 drops of CBD oil. Garnish with mint and enjoy the earthy flavor of your CBD-infused Mojito.
2. Aperol Spritz
High on refreshment and low in alcohol, the Italian Aperol spritz has been a crowd-favorite since the 1800s. This easy summer cocktail is a pre-dinner snack-friendly drink, mostly garnished with a green olive to ready your evening appetite.
Aperol spritz is a sociable drink that's still going strong since its origin. Bubbly going and bitter, this summer apéritif slowly developed, first substituting water with bubbly soda water, then supplementing the flavors with liqueurs.
Ingredients
Aperol (equal parts)
Cinzano Prosecco (equal parts)
Soda splash 
Preparation
Combine all the ingredients in a wine glass, mix ice and gently stir. Serve this quarantine beverage with a garnish of orange slices. 
3. Mint Julep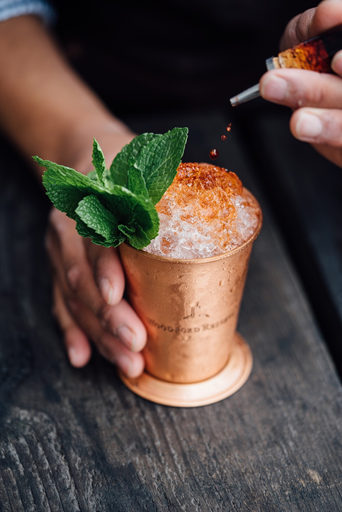 Whether it is your Derby Day party needs or your traditionalist classic approach, a Mint Julep will happily fulfill your safe cocktail cravings.
Whet your whistle with bourbon, mint, and syrup, and give your sports excitement a new twist. Sip a Mint Julep in a copper cup or an old-fashioned glass to relish the experience more.
Ingredients
2 oz bourbon
0.25 oz simple syrup
8 mint leaves
Preparation
In a mint julep cup, mix the mint leaves and syrup. Now add bourbon and crushed ice and keep stirring till the cup reaches frost level. Garnish it with crushed ice and mint sprig and serve.
4. Bloody Mary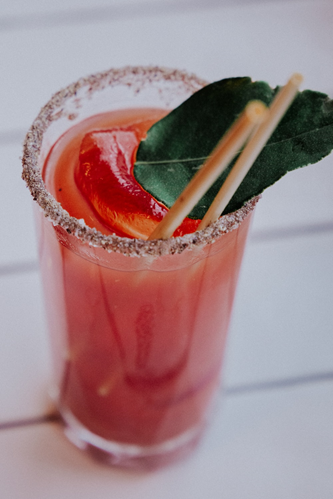 The uncanny name Bloody Mary is a low-alcohol cocktail, perfect for brunch or any other time of day.
The original version has seven ingredients: vodka, tomato juice, black pepper, celery salt, lemon juice, Tabasco, and Worcestershire sauce. It nicely combines savory spices and vegetables and fruits for a dash of health.
A highball glass is the right way to drink Bloody Mary, one of the few socially accepted cocktails for early morning.
Ingredients
4 ounces of tomato juice
2 ounces vodka
2 dashes of Tabasco sauce
2 dashes Worcestershire sauce
2 teaspoon horseradish (prepared)
1 lemon wedge
1 lime wedge
1 pinch paprika
1 pinch ground black pepper    
Celery salt  
Garnish items (parsley sprig, green olives, celery stalk) 
Preparation
Blend tomato juice, Tabasco and Worcestershire sauce, horseradish, and celery until smooth. Now add lemon and lime juice, salt and pepper, and blend. Do your variations depending on your preference for citrusy or spicy notes.
Add vodka to stabilize the mix. Pour the cocktail preparation into a glass. Add ice and transfer it back and forth into another glass a couple of times to reach the perfect blend. Garnish with green olives, a lime wedge, and parsley and celery sprigs.
5. Cosmopolitan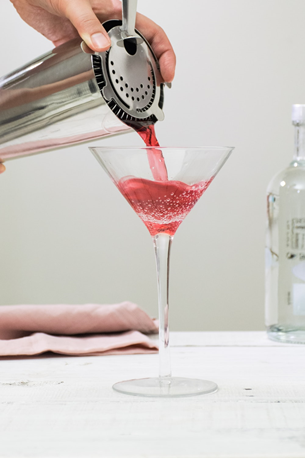 The classic cocktail Cosmopolitan is an ideal pre-or-during dinner drink. It has just one ounce of vodka, making it light on your senses.
A splash of soda works to lighten it even more. You can't miss out on the significant sugar from the sweet cranberry juice and the Cointreau or Triple Sec.
This cocktail uses fruit juices and simple syrup for a balanced taste. Substituting sugar with an artificial sweetener such as liquid stevia will give the Cosmo cocktail an artificial flavor.
Ingredients
1 teaspoon sugar
1 teaspoon water
1.5 ounces vodka
1 oz Cranberry apple juice 
½ oz fresh lime juice 
0.5 oz Cointreau or triple second  
1 teaspoon orange juice (fresh)
2-3 drops orange extract
Lime wedge or peel (for garnish) 
Preparation
Liquefy powdered sugar in water. Now combine the remaining ingredients in a cocktail shaker. Add ice and shake well. Post this, pour your Cosmopolitan in a martini glass and garnish with lemon peel or wedge.
Final Thoughts
Invite your friends and cousins for a weekend celebration over these low-alcohol cocktails. Keep your bar accessories clean and ready for a great time.