Alexis Davis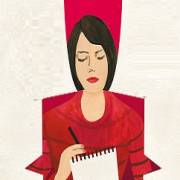 Alexis Davis is a journalist and senior staff writer at WebWriterSpotlight.com (WWS). She covers a wide range of topics for the publication, including trending business, health, and technology stories.
Alexis graduated from Vanderbilt University in 2004 with a bachelor's degree in Communications, and read English literature at University College London. She is an author of several creative and non-fiction works touching on women's issues, and is also part of the editorial team at WWS. Alexis is an advisory editor for WWS and various other online and offline publications and institutions.
Follow Webwriterspotlight.com on Twitter @writerspotlight and join the WWS email newsletter for more great stories from her.