Cycling Outdoors: How to Ensure Your Safety on Bicycle Trips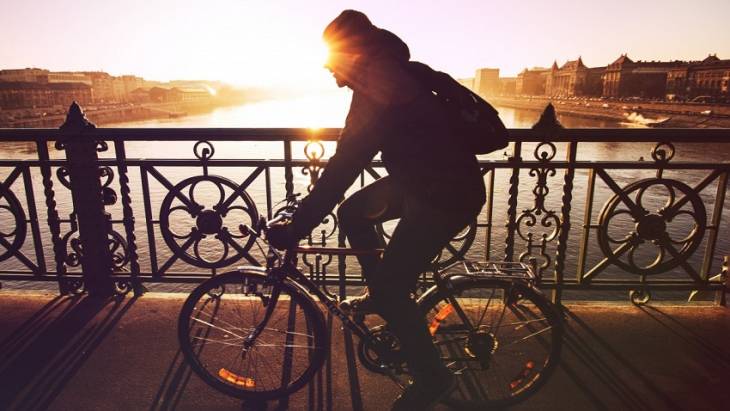 One of the best pleasures in life, which is recommended by health and fitness experts for your overall good health and wellbeing, is cycling. Cycling strengthens your heart and muscles, improves balance, and also helps with calorie-burning, among other benefits.
The American Heart Association recommends at least 150 minutes (2.5 hours) of heart-pumping physical activity per week for adults, and cycling can give you that. Another study by the YMCA showed that people who had a physically active lifestyle had a wellbeing score 32 percent higher than inactive individuals. If you're sedentary, cycling is a great physical activity to start.
However, before setting out on a cycling trip, there are many things that you should prepare for. The equipment, the loading on the bike, the route, everything should be reviewed. The risks associated with this activity are most of the time underestimated.
While you may not realize the small problems and risks associated with cycling until you are on the road, the risks do exist. That is precisely why you must prepare beforehand to ensure your safety and so that your travel by bike is both smooth and enjoyable.
So, what are some of the dangers associated with cycling? How do you prevent them? And what are the most effective solutions adopted by experienced cyclists for safety and enjoyment?
The Risks Associated with Cycling
The risks associated with cycling are present but are ultimately not greater than for other modes of transport. You should be aware of them so that you can mitigate them.
When traveling by bicycle, you will need to ensure your safety in several fronts, including:
On the road, and more specifically on the lanes shared with motorists.
In case of injury or accidental fall
To prevent the theft of your belongings or your bike
When you decide to bivouac
1. Cycling safety on roads
One of the most important places in which to stay safe is on shared roads where there is significant traffic. Depending on the culture of the inhabitants of the area and their perceptions of cyclists, motorists can be either more or less respectful towards you.
In general, where applicable, bicycle travelers should avoid large cities. Passages in urban areas are more delicate and tricky to navigate around.
If you must cycle in a city, avoid roads where you might come across a lot of trucks. Tracks being wider, they can quickly impede you and pose a greater risk.
In that case, opt for secondary roads instead. Even if secondary roads supplementing a main road can be less direct, they will allow you to move more freely and to hopefully enjoy the landscapes.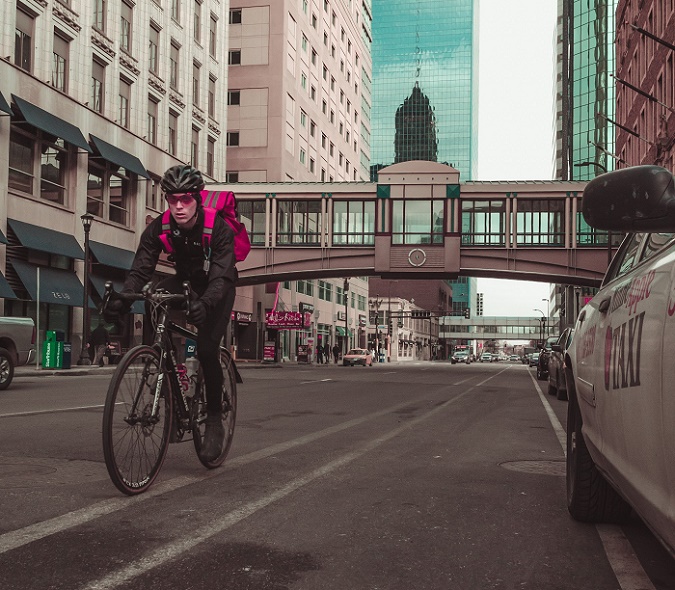 The countryside is often safer and a great source of rich encounters and exchanges with locals. Roads in countryside are also less traveled and therefore more pleasant.
Preparing your itinerary beforehand
To prepare your cycling route and know how to bypass the main roads, it is best to have a road map and or a GPS on hand.
On mobile, many location applications are effective, such as Maps.me, which allows you to download maps and follow your route offline. You can also use Bikemap to prepare your bike trip. It is always best to use two different planners to compare them and adapt your course according to what seems best to you.
Before you go, you can also find out about the town, city, or country you plan to visit. The web contains a lot of feedback from cyclo-travelers who may or may not advise you to travel to certain places.
For example, Norway, Spain, Austria, and Bali are reputed places for cycling, with locals respectful towards cyclists. On the other hand, the Croatian coast is often considered quite dangerous to travel around by bicycle.
Safety in the event of an accidental fall
Accidental falls can happen during a bicycle trip. But the speed being slower than is the case with other modes of transport, bicycle falls are often not too serious. That being said, use saddlebags as shock absorbers in the event of accidental falls.
Even if it is not always comfortable, the helmet must always be worn. It is an excellent protection that helps to avoid head trauma.
Gloves and goggles will give you an additional level of protection and comfort when cycling.
Moreover, it is always advisable to take out travel insurance in the event of a bad fall. This will cover your medical expenses in case of an accident and give your peace of mind that you are adequately covered when cycling outdoors.
2. Prevent theft
Theft is one of the biggest concerns of every bicycle traveler. Indeed, if your bike is stolen and you find yourself without your cycling gear, the journey can end abruptly.
The most common thefts often happen when you have badly secured your bike. On most saddlebags, it is often possible to install a small padlock to help prevent snatching.
Another difficulty when traveling by bicycle is that there are few really secure panniers in the market. The majority of them open without much difficulty when pronged.
However, you may still notice that passers-by outside the big cities are not very interested in what may be in your saddlebags. Many bicycle travelers leave their loaded mounts for a few hours at the edge of a beach without theft occurring.
Ultimately, to guard against theft, it all depends on the value of the goods you have inside and where you are located.
Avoiding snatching
When stopping for a run or a snack in a cafe, always situate yourself in a way that you have your bike in full view in front of you.
If your padlock is difficult to install and you are just racing, hang your helmet between the wheel and the frame. This way, if someone tries to ride your bike, you'll have time to react before they figure out where to unhook it.
As for the saddlebags, the safety precaution is more or less the same. Sometimes, a simple carabiner attached to your saddlebags can prevent rapid theft.
Avoiding theft in cities
In cities, cyclo-travelers generally favor hotels, guest houses or homestays. Your best bet as a cyclist is to avoid leaving the bike outside in any case, as this is where the risk of theft increases. If your accommodation does not offer a room for this purpose, ask to take your bike to your room. Generally, this is quite accepted.
Finally, you can opt to visit around cities on foot or at least without your saddlebags if you have a good padlock. Your walk and discovery of the city will also be pleasant on foot.
Protect your money and documents
Another important safety measure concerns money and your documents.
First, have a handlebar bag where you can store your papers and money. The latter can be removed with one click, so you can keep it with you at all times.
If you are in a foreign country and have a lot of cash with you, scatter it all over your saddlebags, which will allow you to limit loss in the event of theft or some other problem.
Finally, have at least a copy of your identity cards and important documents hidden somewhere else.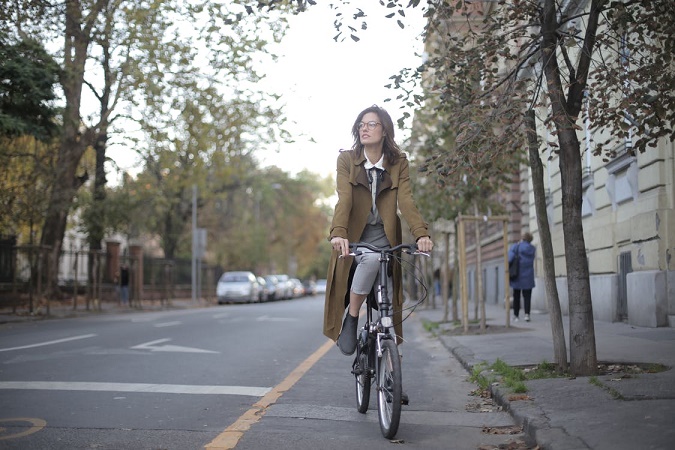 3. Safety during bivouacs
The bivouac, a temporary camp without tents or cover – a sort of improvised camp site, is often favored by bicycle travelers and long distant cyclists. This is because, if you spend chunks of time in the outdoors, you will know things don't always go as planned.
Occasionally, you may find yourself in a situation that you need to hunker down and get some rest for a few hours instead of trying to press on. That's when the bivouac, or "bivy" for short, comes in handy.
A good bivy can be pulled off just about anywhere. And it is easy and fan to bivouac when you find yourself in remote parts of your route far from it all, where there are no hospitality or tourist infrastructure to welcome you.
The bivouac involves little risk in the end if you follow the manufacturer's guidelines and respect some safety rules. Generally, a bivouac is set up in a place that's quiet, and far from the main roads where it can be difficult to sleep well with the hubbub of traffic.
Find a space that is safe and quiet to set up your bivy, if you ever need to do that. To avoid resistance from locals, show that you respect their area by not littering and polluting the environment. Better yet, ask them where you could set up your tent. You will be surprised at how ready locals are to help you.
Finally, if you fear there will be foot or vehicle traffic during the night, install a lock on your bike then put it under a tarpaulin just to be safe. Bring your most valuable things with you to the tent.
Practicing your bivouac skills voluntarily from time to time will help you be better prepared mentally and physically to handle the rigor of cycling, physical activity, and hone your outdoors survival skills for when it isn't an option.
In conclusion
Your gut is your best friend on any outdoors cycling trip. If your intuition tells you not to stay at any given place, heed to it. Practice good judgment always when engaged in outdoors physical activities. It will help you avoid many bad situations and stay safe.
So, are you ready to go on an exciting bicycle trip adventure? What are your tips for staying safe while cycling? What other tips for planning a bike trip would you share? Let us know in the comments section below.