Global Investors Hoping Xi and Macron Secure Better Business Ties Between China and EU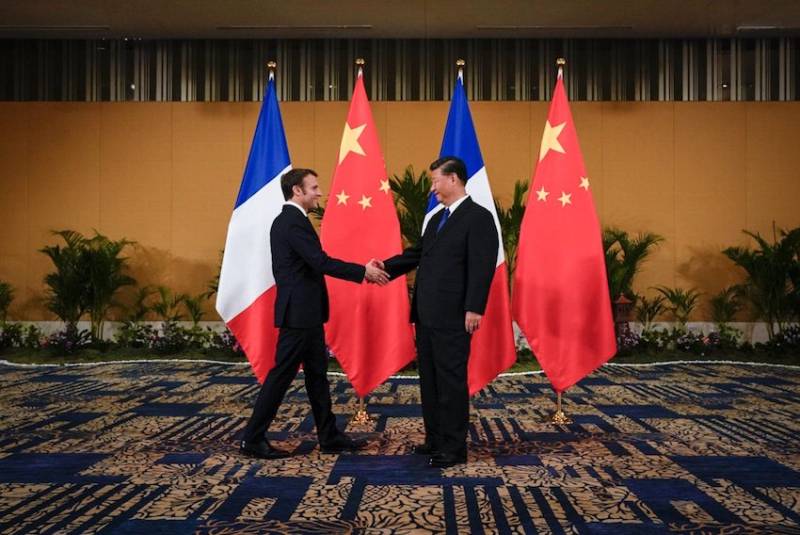 French President Emmanuel Macron shakes hands with Chinese President Xi Jinping. Photo: Emmanuel Macron on Twitter.
A state visit by French President Emmanuel Macron to China kicked off on Wednesday 5 April. The visit will also include European Commission President Ursula von der Leyen.
Macron will have extended face time with China's Xi - President of the People's Republic of China, and after formal meetings in Beijing on Thursday, the two national leaders will head to the southern city of Guangzhou for more talks.
Key themes said to be planned for discussion will be the Ukraine war, the climate crisis, renewable energy, and travel following the lifting of zero-Covid regulations by Beijing. 
"Geopolitical issues are at the top of the agenda for Macron's visit to Xi in China," says Nigel Green, CEO of deVere Group, one of the world's largest independent financial advisory, asset management and fintech organizations. 
"But as many top business leaders from France have also been invited along, and because Macron will meet with Chinese investors in Guangzhou, there are hopes that international trading relations will also be a major priority."
International trading relations a major priority for investors
Global investors are desperate for signs that Xi and Macron can secure better business ties between China and the EU.
The EU is already China's largest trading partner, and China is the EU's second-largest trading partner. 
In January 2021, the trade deficit was €14.6 billion. It reached a high of €36.0 billion in September 2022 before falling to €27.4 billion in December 2022.
Recent developments have "reignited" global investors' interest in the world's second largest economy.
"The break-up of Alibaba, the Chinese mega-conglomerate, in the last couple of weeks is, we believe, the start of a wave of enormous opportunities in China for investors from around the world," says the deVere CEO.
"It represents the end of Beijing-led regulatory crackdowns on various sectors, including tech, real estate and education, which have deterred foreign investors from China in the last few years."
Nigel continues:
"The cooling of corporate crackdowns, and Beijing seemingly becoming more pro-private enterprise, also coincides with the re-opening of the world's second largest economy following years of Covid restrictions and as the Chinese currency, the yuan, becomes more dominant in international finance."
Opening trade and investment opportunities in the world's second largest economy
Russia's Vladimir Putin has recently stated that his country is now in favour of using the Chinese yuan for oil settlements, rather than the US dollar. It's also been reported that Saudi Arabia is in talks with Beijing to use the Chinese currency, instead of the dollar for oil trades.
"Global investors are increasingly bullish on China and financial markets around the world are hoping for indicators of a strengthening relationship between the European Union (EU) and China during this important state visit," confirms Nigel Green.
A stronger relationship would lead to increased trade and investment between the two regions, creating new opportunities for businesses and investors in both regions, leading to access to new markets, and increased profitability and growth.
Stronger ties would also reduce uncertainty in financial markets, meaning a more stable and predictable environment for investors.
Nigel concludes:
"Global investors will be carefully analyzing the words and actions of Xi and Macron over the next few days in order to seize opportunities and sidestep potential risks."