WorkPad Partners with Flexi Offices to Launch Smart Viewing in Commercial Office Market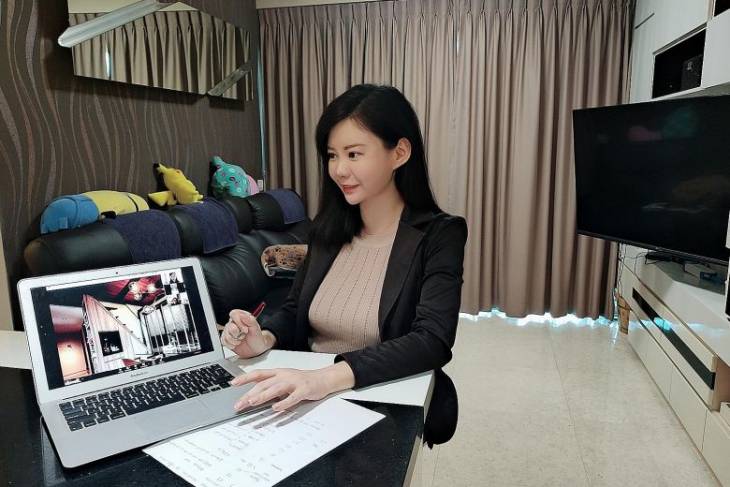 A property agent conducts a virtual viewing of a property for a potential buyer. Photo: Charlyene choo.
London based flex office provider WorkPad has added to it's suite of tools as it looks to service its rapidly expanding business with a partnership with Flexi Offices. The partnership sees the first ever roll out in the commercial property sector of the Smart Viewing platform.
Whilst the technology is being used in the residential sector with great success, it has not yet been employed in the commercial office market. WorkPad are the first to partner with the platform provider Flexi Offices to roll it out. 
Smart Viewing is an interface which combines a two-way video link and a presentation screen serving 360-degree virtual tours, videos, floorplans and static images. Viewings can be conducted from a desktop, tablet, laptop, or phone. 
The benefits are many. Through a time-efficient and informative virtual viewing, the client can view a long list of properties and rule out those unsuitable, whilst enabling a short list of preferred properties, ensuring in person viewings are saved for shortlisted properties only.
Multiple team members can view properties simultaneously, and preview properties for the ultimate decision maker. The time saved in travel is significant, and the remote viewing ensures a safe viewing in this time of COVID-19.
The landlord or office provider are present during the viewing – held through the invitation-only shared platform – enabling them to be on hand to guide a tour, answer questions, and negotiate as necessary during the viewing. Once in the viewing, the office provider can also toggle between properties, allowing for multiple viewing and discussion.
WorkPad CEO Edward Griffin said:
"Enabling our clients to have personal, virtual walk throughs, with almost instant access from the Smart Viewing platform, is a no-brainer. Partnering with Flexi Offices on this initiative once again puts WorkPad ahead of the game in the London serviced office market.

 

We've seen increased enquiries this year as businesses look for fast and flexible solutions. Smart Viewing will help us reach even more customers and secure our continued growth."
Michael Dubicki, Director of Business Development at Flexi Offices added: 
"The overall intent of Smart Viewing is to benefit all sides of the market. It acts as an effective shortlisting mechanism for clients and allows flex space operators to get in front of more customers, a win-win. The lead to deal cycle is streamlined and the conversion from physical viewing to transaction is greatly improved.

 

With increased adoption of tech in our niche, we see this as a natural evolution of the flex space sales cycle which will, in time, have scope to replace the first viewing process altogether. We are very excited to partner with WorkPad to prove the concept and make a solid impact on sales volumes."
WorkPad has previously partnered with some of London's biggest estates, including Shaftesbury, Grosvenor and Langham, and has to date specialized in short term, bespoke private office spaces – offering a mix of both a traditional lease and a private serviced office. Locations include Soho, Marylebone, Covent Garden, Bloomsbury and Fitzrovia in a portfolio of over twenty properties.
Meanwhile, WorkPad are among the first flex operators to offer a true fully customizable flexible offering, complemented by WorkPad's own in house design team to ensure a bespoke, attractive approach for tenants.
WorkPad also recently launched WorkPad HQ, aimed at bridging the gap between landlord and customers, and will see the WorkPad offer to extend to over 500,000 sq ft of prime central London office space.

You might also like...