Understanding VR and 360 Videos: How Your Business Can Benefit from Them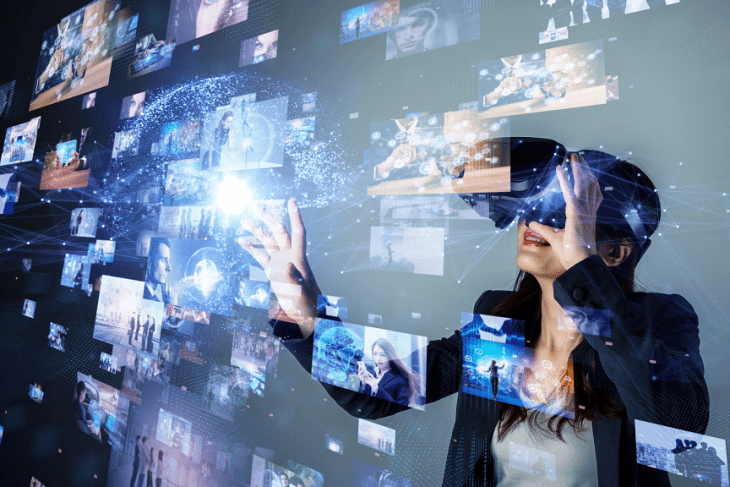 Virtual reality (VR) and 360-degree videos present mesmerizing and truly memorable experiences. They allow you to completely immerse in a virtual world where everything around you feels real.
Even though these are digitally constructed worlds, 360 video productions can take you to another sense of reality. The VR user can explore a complete 360-degree view of whatever it is they're looking at as if it were real. It is a virtual tour you experience as if you are physically present in a different dimension and in the same way or moment as others.
Not surprisingly, virtual reality is one of the fastest growing and dynamic technologies today that is also being integrated by businesses across sectors and the world. In 2018, the AR/VR market was valued at around $12 billion, and it is projected to rise to more than $192 billion by 2022.
The technology allows viewers to visualise computer-generated simulation of three-dimensional images or environments that can be interacted with in a seemingly real or physical way by a person using special electronic equipment – a feature that comes in handy for businesses large and small.
Brands use the tech to create immersive user experiences and users can see things in a much more detailed and precise manner. VR is especially helpful when it comes to planning and designing something that may require prior visualisation and product prototyping.
While there is a prevalent misconception that virtual reality is something very expensive, that is not entirely true. The cost of experiencing virtual reality is directly dependent on the variety of 360-degree view, and the advanced features that incorporated in it.
Recent technological advances have made VR more accessible. It has also led to an emphasis on the virtual reality experience itself, making the user experience details to the most intricate level.
Differences Between VR and 360 Video Productions
Many people consider virtual reality and 360-degree video productions to be the same. But these two techs are majorly different in a lot of aspects.
Virtual reality is completely digital and does not involve any form of filming or shooting. It is computer-generated or designed graphically and incorporated in the VR system that extends the virtual reality experience via VR headsets.
360 video productions, on the other hand, are dependent upon a lot of specialized video shooting and filmmaking. The entire video clip is done with the help of special cameras and multiple lenses that capture alternate frames at the same time.
Unlike traditional video cameras, which capture what is happening in front of them, 360 cameras capture everything happening in every direction at the same time. As such, 360° videos - which can be described as a form of virtual reality - can also create very immersive 3D visuals and environments.
360 videos can only be compatible with a variety of devices that support apps and that are built specifically for 360 compatibility viewing. For example, you can watch 360° videos on YouTube app or on the YouTube VR app available on most VR headsets.

The progression of 360 videos is premeditated and depends completely on the filmmaker. Viewers have no control over where the film goes or the end result of the content, environment or incident that they are experiencing. The content is fixed and cannot be altered; everything has to be experienced from the perspective of the film creator.
As 360 videos continue gaining popularity in the market and the advancement in the technology continue, it is expected that 360 videos will become more and more affordable and readily available to everyone without the supporting pieces of equipment.
Viewing and Accessing VR and 360 Videos
To experience a virtual reality video, one requires a headset. VR can be accessed from any location and any place as long as the headset is compatible with the viewing device.
360 videos can only be played from a compatible app or device, like cell phones and desktops. A 360-degree video is true photography from various cameras that are joined together to appear as a seamless complete content.
Depending on the device and the 360-degree video player, such videos allow the audience to appreciate not just what the filmmaker wants you to focus on, but also anything else that is part of the said environment in all directions.
When broadcasting a live feed of 360 recordings, such as a keynote, seminar, or other event, viewers are not restricted to only viewing the same images. They can see different views and extra details from different angles and viewpoints, offering a much richer experience than a normal video. 
Contingent upon the nature of the 360 video creation and broadcasting, and the manner in which things move on screen, in the middle and edges of where the cameras cover, you may observer more intricate details and subtleties as they cross this space.
A typical 360-degree video, however, won't have a comparative experience or feel that a veritable VR video will. You can move your head up, down, left, or right and yet with a traditional 360 video you won't by and large immediately feel like you're there.
360 video is not as immersive as VR. Standard 360 recordings are only three-dimensional images or surroundings put on a circular plan. You see everything around you, yet everything is level, at a similar profundity. Your mind recreates some profundity data from the size of items.
However, with VR, you immediately feel like that tree, car, animal, or whatever is shown is really close to you. You instantly feel like it is right there infront of you. It's uncanny.
Business Applications and Benefits of VR and 360 Videos
There are many applications and benefits of VR and 360 interactive VR-ready video, including:
Enhancing your customer experience. VR and 360 videos allow for a more immersive and focused shopping and viewing experience. For example, hotels can use VR and 360 interactive videos to allow potential customers to view rooms before booking.
You can also use VR and 360 videos for more immersive and interactive marketing strategies, including using more eye-catching and captivating 360-degree video advertising. Reports show that up to 70% of marketers who have used 360 videos say it has increased engagement for them.
Moreover, using VR and 360 videos lends itself to more advanced consumer and business analytics. You'll be able to get more data insights using these videos.
Besides, using VR and 360 videos helps to build customer loyalty. Research by Greenlight VR  found that more than half (71%) of adults feel that VR makes brands seem "forward-thinking and modern," and 53% said they'd be more likely to purchase from a brand that uses VR than from one that doesn't.
Recruiting new talents and suppliers. Using VR, it's now possible to conduct interviews with potential candidates that live in other cities or even countries – and still watch the person's reactions and body language as if that person is sitting in the same room with you.
You can also utilize 360 videos for security purposes in your business premises.
In conclusion
Businesses all around the world are now integrating technology to enhance their services and products. By integrating VR and 360 videos in your busines, you'll not only keep up with the times, but also compete more effectively in today's cutthroat market and digital world.
VR and 360-degree media content are here to stay.

You might also like...