Blissful Ways to Pamper Yourself at Low Cost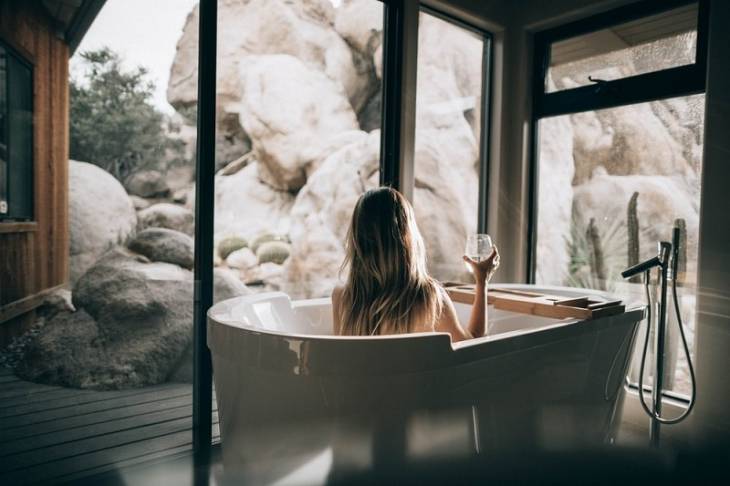 Pampering yourself doesn't have to mean pouring out the big bucks on fancy products or luxurious trips to the spa. You can indulge yourself without spending a fortune. And you don't even have to leave the comfort of your home.
Taking some "me time" contributes to maintaining a positive mindset. Relaxing and unwinding are essential to keep rolling and achieving your goals.
Practicing self-care can be inexpensive and still feel extravagant. Forget beauty treatments you can't afford, Groupons for massages or facials, and going to an overpriced spa.
You can indulge in a pampering session every day, without the hefty price tag. Here's how...
1. Have a DIY Spa Day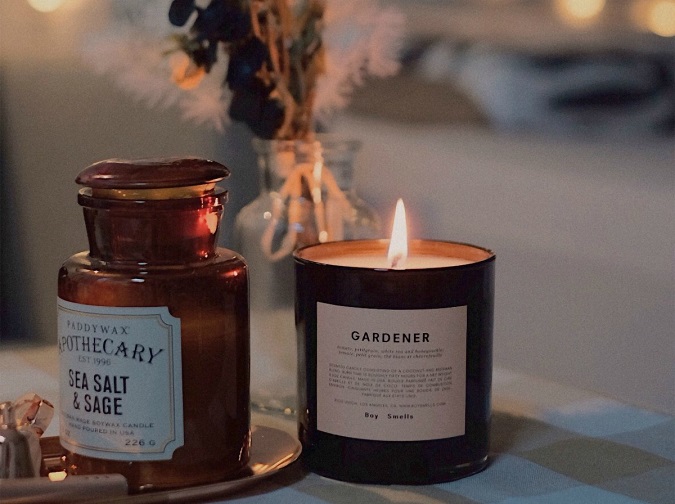 Indulging in rejuvenating spa treatments for an entire day will leave you feeling energized and relaxed. Professional spa treatments are on the pricier side. Still, with a bit of creativity, you can reap all the benefits without paying a visit to a wellness retreat.
Start with setting the mood by playing relaxing tunes. You can find spa-inspired music on YouTube or Spotify. Use soft dim lighting to create the right ambiance.
Of course, spa experience wouldn't be complete without the appropriate scents. Scents impact our mood, alter our emotions, and trigger our memories.
To get the best scented candles in the market, check the quality and the type of wax that's used. Beeswax and soy wax tend to burn longer.
2. Relax in a Luxurious Bath
Enjoying a long bubble bath while sipping on a herbal tea or infused water is a great way to start your pampering process. Instead of an expensive bath bomb, opt for Epsom salt that you can find in a local grocery store, convenience store, or pharmacy.
Epsom salt exfoliates the skin naturally, enhances blood circulation, reduces inflammation and water retention, and soothes sore muscles. Add a few drops of lavender oil to the salt for a spa-like experience.
After your long soak in a hot bath, perform a massage. There is a variety of suitable oils, from lightweight moisturizing ones to essential oil blends.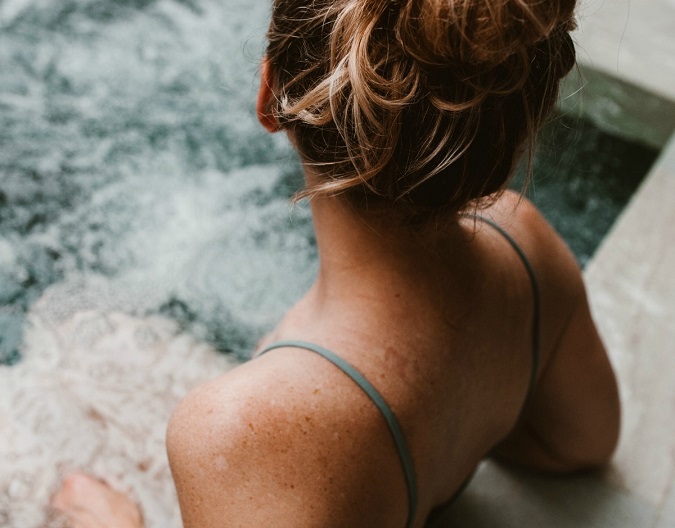 3. Give Yourself a Spa-Quality Facial
We don't have to deprive our faces of quality pampering even if we can't afford luxury skincare products. There are many amazing DIY recipes for beauty products.
Achieving spa-quality results isn't unattainable anymore. In the age of internet browsing online is all you need to find inexpensive and easy methods to give your face the star treatment.
You can quickly improve your skin tone and texture by steaming your skin for up to 10 minutes once a week. Steaming opens and cleanses your pores. Follow up with a chemical exfoliation to remove dead skin cells.
Chemical exfoliators are more effective and gentler on the skin than scrubs. And you don't have to spend hundreds of dollars - there are affordable options for less than ten bucks.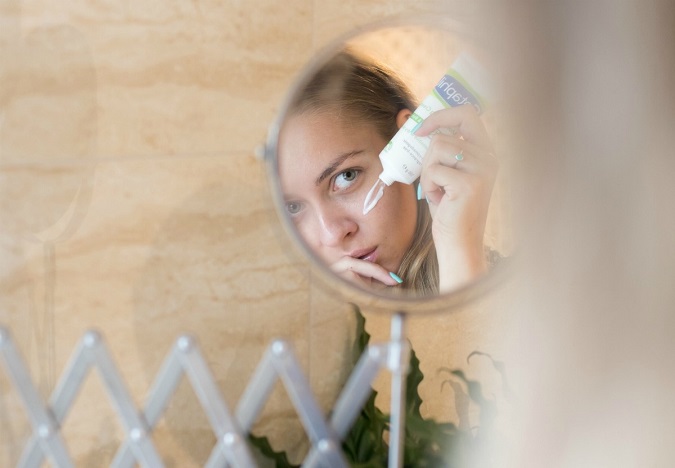 After you've done with the previous step, it is time for a moisturizing and calming face mask!
Mix avocado (1/3 to 1/2) with yogurt (2 to 3 tablespoons) and honey (1 teaspoon) in a bowl, apply to damp skin on neck and face and let it sit for 10-15 minutes. Rinse with warm water and enjoy subtle and hydrated skin.
4. Spend a Day (Or More) in Nature
Reconnecting with nature is a great way to refocus, feel serenity, and find inner peace. There is no need to travel far to explore the benefits of spending time outdoors. Explore your surroundings: if the beach is near – take a walk in the sand, and if there is a National Park nearby, make sure to pay a visit.
Don't be afraid to take your shoes off and walk barefoot. In essence, research has shown that it can reduce inflammation, increase antioxidants, and even improve sleep.
If this is out of your reach – you can still get your hands dirty while working in the garden or tending for your house plants. Studies have shown that soil bacteria activate brain cells to produce serotonin – one of the so-called "happy hormones."
Reviving our connection with nature can help us feel happier, healthier and more grounded. Merely being in a natural environment has wide-ranging health benefits, like a boosted immune system, reduced risk of chronic diseases, and reduced stress and anxiety.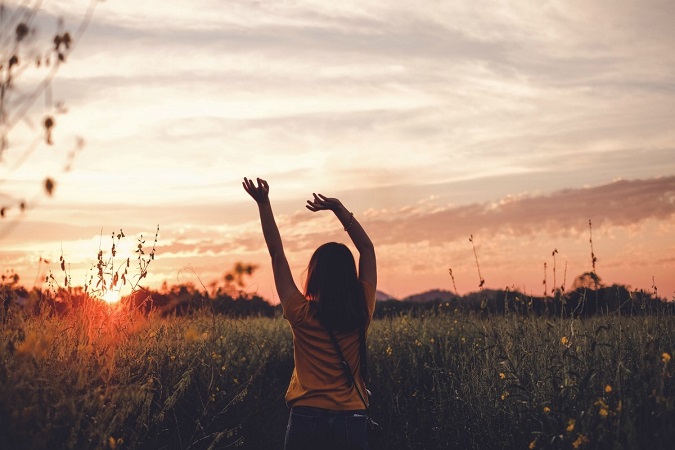 5. Practice Mindfulness & Meditation
To receive all the benefits of self-care, finish your pampering session at home with meditation. The positive effects of practicing meditation and mindfulness are numerous.
Reduced anxiety and stress levels, lower cortisol levels, more profound relaxation, and feelings of wellbeing are among the benefits or meditation that studies have documented.
Sitting for hours while having an "empty mind" can be difficult for beginners. Focus your awareness on an object of attention like repeating a single word (mantra), breath, or staring at a candle flame.
Focusing on your breathing is one of the easiest ways when starting with meditation sessions. Disregard intrusive thoughts and focus on staying fully present in the moment.
When you are starting, your meditation might last for just a few minutes, but don't get discouraged. You will gradually move to longer durations.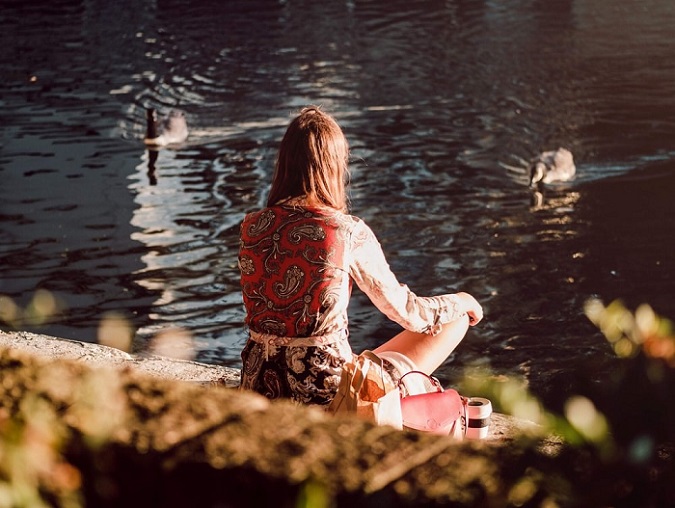 6. Step Into the World of Aromatherapy
Aromatherapy is a part of the holistic approach to health, practiced for generations due to the healing properties of certain scents. You can experience the healing aromatherapy scents by using essential oils, burning oils, or including a particular scent into your everyday fragrance routine.
To recreate a luxurious spa feel at home, use a diffuser, and place a couple of drops of lavender oil for a restful night's sleep or bergamot oil to reduce stress and anxiety. Lemongrass oil has a similar effect and promotes positive mood changes.
You can opt to put a few drops of your favorite oil into your bath too. For instance, vanilla scent promotes relaxation, so soak away and enjoy lovely fragrances while leveraging their benefits.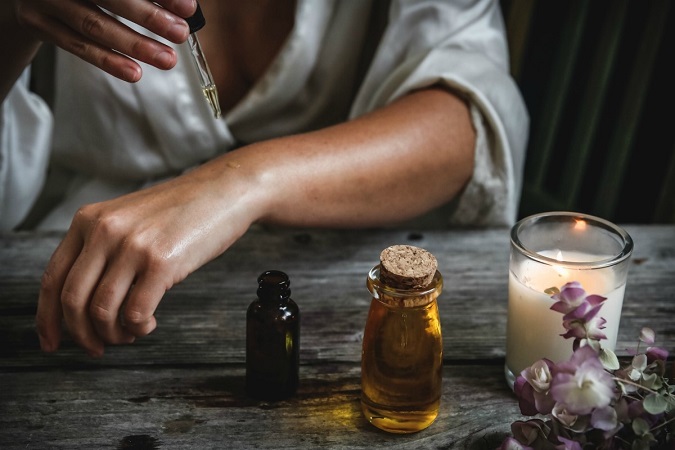 7. Spend a Day Having It Your Way
Set aside an entire day for "me time." Start the day at your favorite café, slowly sipping a cappuccino or your favorite fruit cocktail. Enjoy breakfast or brunch out, alone, or with your closest friends and family.
Treat yourself with a tasty dessert without the guilt. Dedicate this day for your enjoyment, and hedonism is obligatory.
If art is your thing, consider going to a museum or an exhibition and expose your senses to some pleasant visual stimuli. If the music relaxes you, find a place nearby that plays tunes you love, whether it is a jazz club or a night club rocking the party till dawn.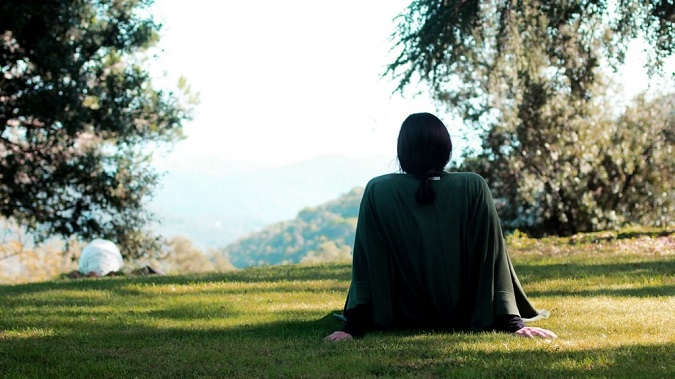 And if you had a particularly rough week and need some time off – spending a couple of hours (or an entire day) in your PJs is perfectly valid.
Conclusion
Including self-care practices in your routine is good for de-stressing and it's also great for your overall wellbeing.
Taking good care of yourself will make you happier, healthier, and more rejuvenated. Then, you can achieve more in your life.