Upgrade Your Property: Bathroom Remodeling Ideas You Should Consider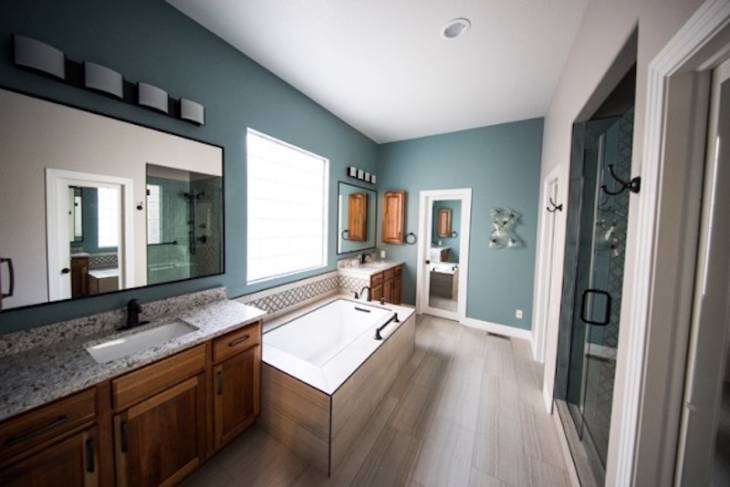 If you have decided to renovate your bathroom, you must know that an updated and stylish bathroom positively affects your house's market price. 
You will enjoy the fresh look and improved functionality of your bathroom now, whether you plan to sell it in the future or not. 
Even if the trends are changing, your bathroom should fit your style and, more importantly, your needs. 
Top Tips for Bathroom Renovation
Here are some ideas and tips for a bedroom renovation that is in style or never goes out of it:
1. Write down a list of what you don't like about your bathroom
You have decided to renovate for some reason—functionality, style, or a plumbing issue that got out of hand. 
Either way, take a good look and write down what you have no use for, and what you simply don't like. Then write down what you need, and there is your sketch of a plan.
2. Research new trends and spot things you like
Now is the time to buy magazines about home design, and to endlessly scroll the latest trends online. Why don't you also check out the celebrity bathrooms, too? 
Chase the image of your ideal bathroom, whatever piques your interest in this subject is to be noted. When you know what you need and what you like, you can start checking out the prices.
3. Consider hiring a designer
A bathroom is a place in your home where each mistake in design can easily become expensive and majorly affect the budget. 
When you start to go shopping or simply browse the bathroom materials, it will not be easy to imagine them in your own home. It is quite easy to make a mistake when measuring, especially if you decide to buy standard-sized pieces of furniture. 
A designer can help with design, your needs, and also with finding the pieces that will fit the budget and your vision the best.
4. Work with the local contractor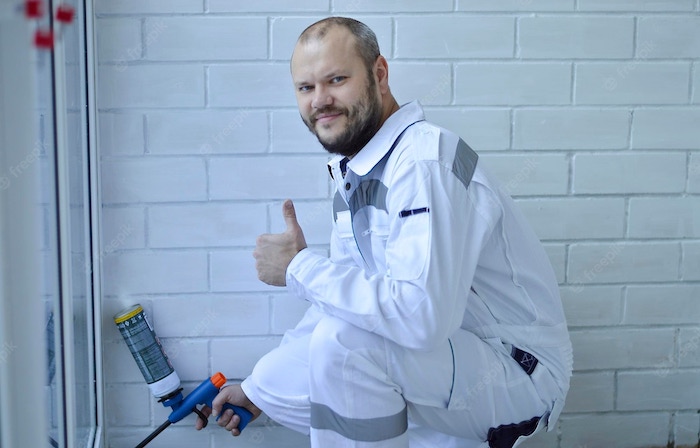 Depending on the size of your renovation, budget, and your set of skills and tools, the contractor might relieve you of headaches from making costly mistakes. 
The local contractor can be your best choice as they will be not far away, possibly available sooner, and have smaller fees as they won't have to relocate a crew.
5. Be realistic with your budget
When hiring a professional, you will get all information about the prices, fees, and deadlines from one place. You may also get a discount from their partners for the materials. 
However, you still have to be realistic about what you can or can't afford. Additionally, the hidden parts of your bathroom may need a costly update and you will not be aware of this before demolition. This is why it is best to hire a professional.
6. Inform neighbors of your upcoming renovation project – it may take 3 months
Home renovations can often be dirty, but they are always messy and loud. 
Do not forget to let your neighbours know and plan out the housing situation for maybe even three months upfront, as your bathroom truly is a hose essential.
Top Bathroom Renovation Ideas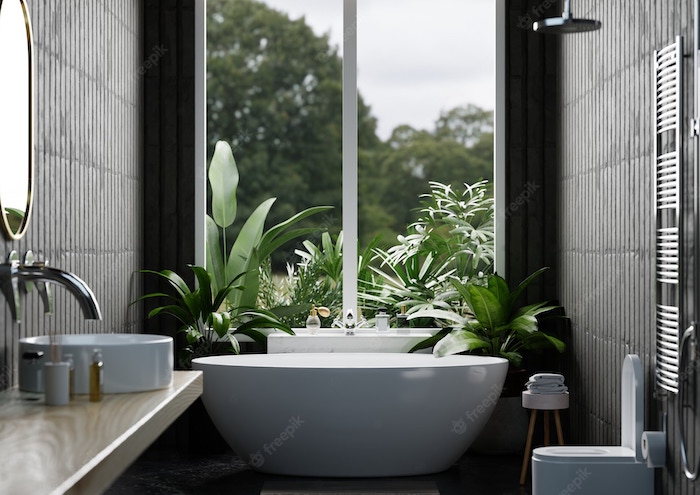 1. Add windows
Many bathrooms have no source of natural lighting, and the renovation is the best time to change that. 
If you don't have the conditions to install a regular window, your bathroom can majorly benefit even from a smaller window. A smaller window should be installed higher to give more natural light during the day.
2. Improve lighting
The fact that many bathrooms lack windows puts even more emphasis on the lightning sources used in them. 
Invest in adequate, daylight colored LED light bulbs that add the right amount of light to the space.
3. Use mirrors to enhance space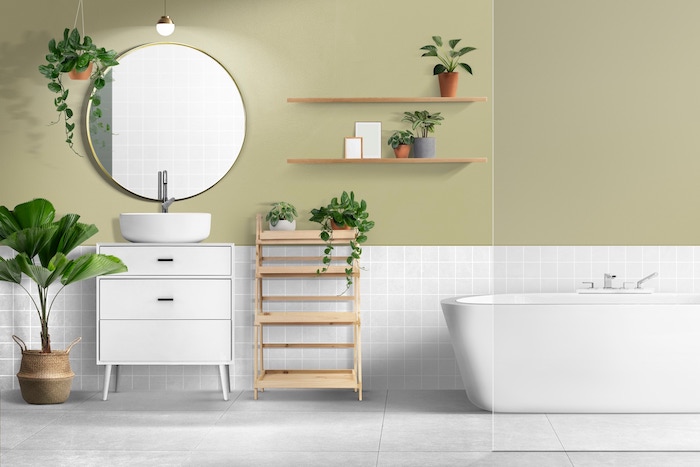 Mirrors are a must in each bathroom, but even if you have a small bathroom, this doesn't mean you have to go for a small mirror. 
A smartly placed mirror can even make your small toilette look bigger and a great place to take pictures.
4. Neutral tiles for classic style
The classic white, milk and beige are the colors we associate with the elegantly eternal porcelain tiles for the bathroom. 
If you want something different but want to stay in the classics lane, play with tile sizes and the colours of main fixtures.
5. Tiles can be your pop of color
As an essential, tiles can also give the design statement piece to your bathroom, even when combined with classic colors. 
Such effect is easily achieved with mosaic tiles and with even one accent wall of colorful tiles.
6. Add timber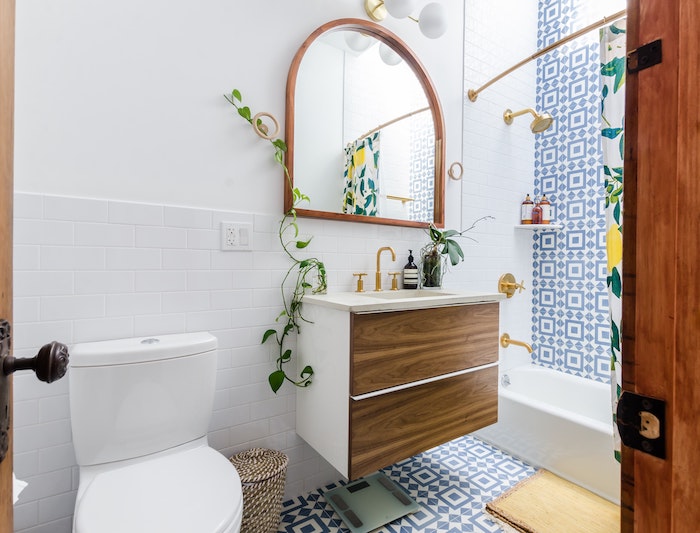 The wooden element certainly is not the first choice for any bathroom. However, when waterproofed, it will give a luxurious and natural feel to your bathroom. It can be used for flooring, storage, or decor. In any shape, it will make a difference. 
7. Keep main fixtures neutral
The main fixtures of the bathroom are the ones where you can make a good bargain if your budget is tight. There are fine quality pieces at various price points. 
Nevertheless, do take care to make them match when going with different companies.
8. Prioritize ventilation
A bathroom is a room where there is always a potential for mold. This is why moisture needs an effective way of dealing with it. 
Apart from a window, ventilation is even more important. Invest in it to prevent house and health damage.
9. Upgrade toilette
Toilette is the spot where one rising trend has been growing - adding a bidet. A bidet can be installed on an existing toilet or added next to it as a separate fixture. 
Discuss with your designer what will be the best fit in your space.
10. Medicine cabinet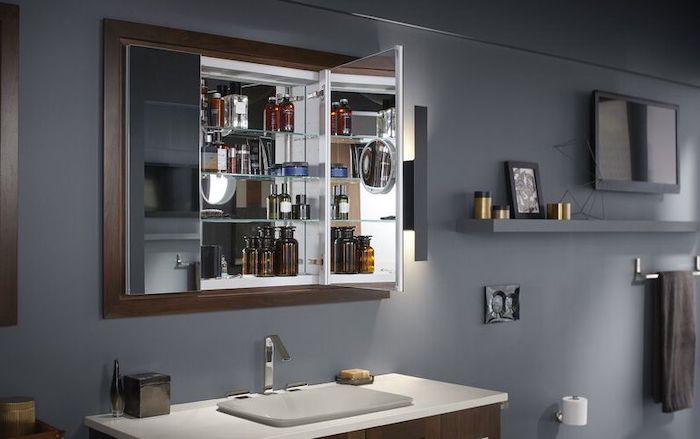 The old medicine cabinets were essential in every old bathroom, and it shows that was the case for a reason. 
Even if the home pharmacy box has no longer placed in the humid bathroom, the cabinet remains a great storage spot. 
11. Smart storage ideas
Any amount of clutter can easily make your stylish bathroom a dirty mess. Sorting doesn't always help, especially when you have a bigger family. Here is where the smart storage may come in handy. 
High shelves can be stacked with things you use every day, while cleaning or additional supply is best when safely stored away. 
12. Accessorize carefully
Any decor can be tricky to clean, so choose the decor that can withhold humidity, is waterproof, or is not of great value. 
Don't be afraid to add plants that like humid spots or a group of porcelain figures, as they will certainly add to your bathroom's looks.