The Rise of eLearning: Is It Time to Jump On the Bandwagon?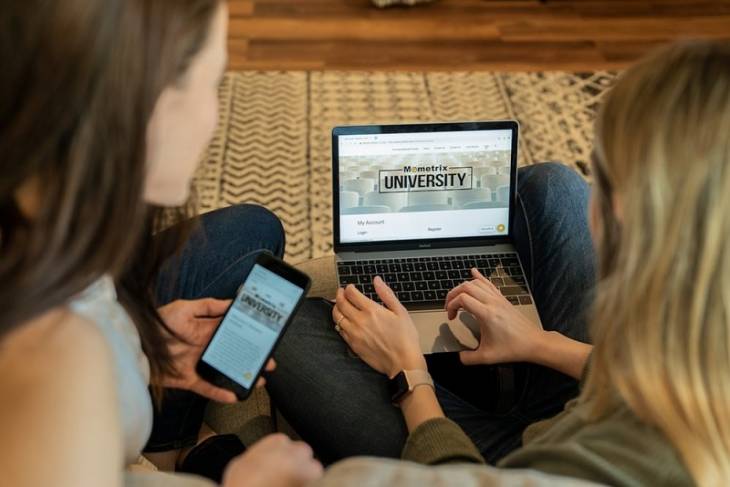 The eLearning industry – which constitutes learning by utilizing electronic technologies to access educational curriculum outside of a traditional classroom – is growing at an exponential rate. The size of the global eLearning market is predicted will grow by 14 percent by 2022.  
The primary factor behind this rising trend is the unique opportunity eLearning provides the more tech savvy younger generations to learn at anytime and anywhere they want. eLearning trends, ranging from microlearning to artificial intelligence-based learning, have greatly transformed the education and training sectors altogether, particularly during COVID lockdowns.
But, should you jump on the eLearning bandwagon or implement it in your business?
There are many potential benefits touted about the delivery of learning and training through digital resources for reasons such as educating a business' customers, partners, and even employees in the Gen Z and millennial cohort.
Let's explore an overview of the eLearning market status, growth opportunities, and whether it's the right time for businesses and learning/educational institutions to implement it.
Global eLearning Industry Outlook
According to eLearning market research, the industry will reach a total market value of US$325 billion by 2025. But what are the driving factors of the eLearning industry?
The major growth factors are an abundance of eLearning technologies, ubiquitous internet access, rapid educational app development, and gigantic growth in the demand for such platforms. Due to several benefits, including centralized content, time management, flexibility, and convenience that it offers to the end-users, the demand for such tools is snowballing.
The market segmentation of eLearning trends by learning models reveals that self-paced learning models account for more than 77 percent of the total market share. The packaged delivery mode makes up more than 29 percent of the total market share.
However, the training segment holds by far the largest share in the industry by type segmentation and continues to grow beyond 40 percent.
Increasing growth of the eLearning industry suggests that you probably shouldn't wait anymore—start taking initiatives to adopt eLearning trends now.     
Market Dynamics Impacting eLearning Adoption
A number of things are enabling easier adoption of eLearning strategies in business organizations and learning institutions. Among the top market growth enablers are:
The rise in penetration of internet
An increase in the demand for Internet-enabled devices
Global workforce and migration of trained labors
Digitization initiatives in digital learning and training avenues
Perpetual private investments in digital language learning
Some market growth restraints also still exist, including:
Demand for constant product innovation
Variability in hardware and software
Inadequate internet bandwidth in developing countries
Absence of viable revenue and monetization models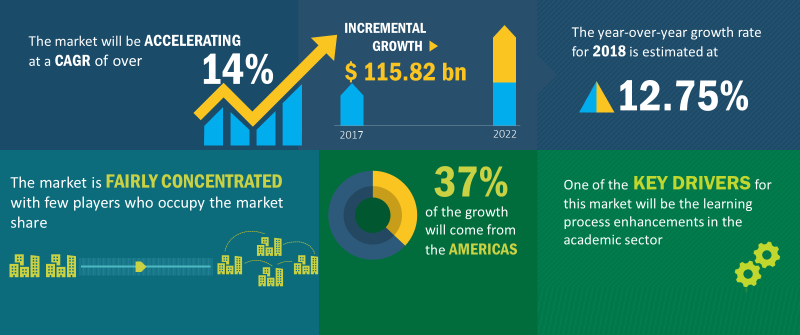 Graphic representation of Global E-learning Market Analysis, 2018-2022.  Source: Technavio.
Trends in eLearning You Should Be Aware Of
While there are some restraints holding back more widespread adoption, some of the latest and most noticeable trends in the eLearning sector you should know include:
Educational institutes are taking initiatives to encourage students to switch from traditional books to eBooks. Schools are providing open Wi-Fi networks for seamless learning. Nowadays, schools are also using student monitoring apps like Xnspy to improving engagement and digital safety of students.  
Microlearning and mLearning are speeding up with the development of advanced learning apps. These apps offer different readable formats to facilitate learners.
Open Education Resource (OERs) containing digital materials and digitized books are developed for learning and teaching and is freely available to all users.   
Social learning is also catching on and has been promoted by Massive Open Online Courses (MOOCs). It stands to reason that social learning would continue to be a significant channel for learning even at work.
Organizations acknowledge the need to offer multi-channel based training. This reflects the shift of using training budgets only for formal training to a more balanced approach that features opportunities for informal learning and social or collaborative learning.
Self-Directed Learning (SDL) is another highly learner-centric approach, and it enables learners to create their preferred learning path.
All these trends are projected will continue to see an acceleration in their adoption this year going forward. That means you are better not delaying to jump on this bandwagon anymore, because eLearning is fast becoming a new and more effective model of learning and training.
Top Three Reasons to Adopt eLearning this Year
Going by the benefits and high growth rate, eLearning technology is here to stay. Still, if you aren't sure yet whether to try it, here are some more reasons to adopt eLearning.
eLearning provides more flexibility and convenience to the learners. It offers unlimited access to education resources. Further, it offers more opportunities for sharing and presentation.
As eLearning doesn't rely on classroom training only, it uses elements like gamification, video, and social connections for better knowledge retention, and consequently, the training outcomes are way better than before.
Like it or not, it suits the modern life. Born-digital, the younger generation greatly relies on technology. Millennials, for example, are more comfortable with technologies like AR, VR, and AI. They want things to be fast and instantaneous in every aspect of life, and learning is no different.
In Conclusion
The eLearning industry is all about making use of advanced technologies to enhance the online learning experience, and it is not limited to students alone. Many companies across the world have adopted eLearning solutions due to the potential benefits, including more convenient employee training and if you are looking to level-up on your own skills online.
So, adopting eLearning technologies and tools can actually give you a competitive advantage in the market and also future-proof your business.