The Pros and Cons of Mobile Technologies in Healthcare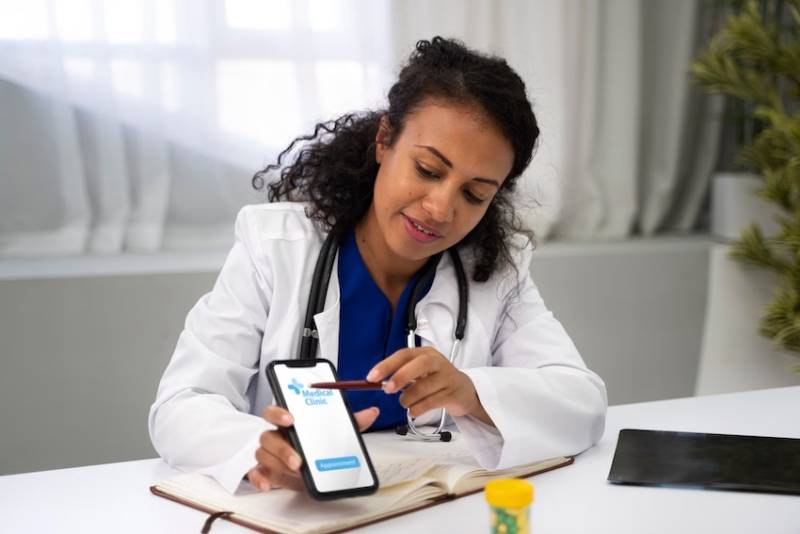 Mobile technologies are a requisite part of our daily lives, and their integration into the healthcare industry has revolutionized the way patients and medical professionals interact.
The ability to access health information, monitor health metrics, and communicate with doctors and caregivers from anywhere at any time has made mobile technologies an indispensable tool in the healthcare sector.
However, with different technological advancement, there are advantages to the use of mobile technologies in healthcare along with disadvantages. In this article, we will explore the pros and cons of mobile technologies in healthcare and evaluate their impact on the industry.
The benefits of mHealth/mobile healthcare are worth understanding. So, let's begin with the article.
What is mHealth or mobile technology in healthcare?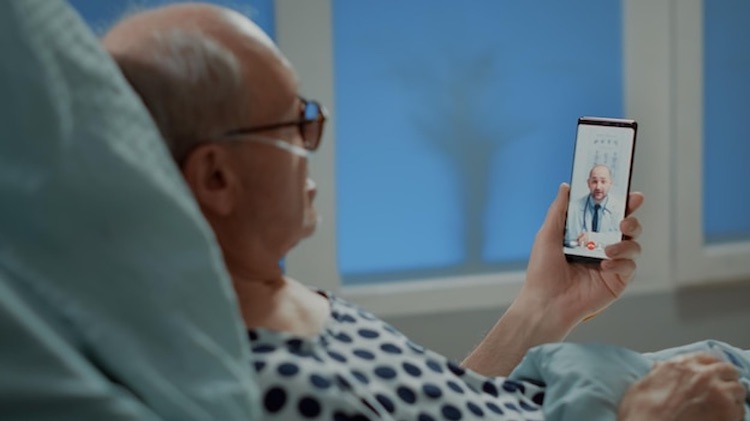 Mobile technology has transformed the way healthcare facilities are delivered and managed. It has allowed patients to have more control over their health by providing them with tools to monitor & track their health metrics like heart rate, blood pressure, and glucose statistics by utilizing wearable devices and mobile apps.
Users can use mobile technologies to gain access to schedule appointments, and medical information, and communicate with healthcare providers remotely through chatbots, video conferencing, and messaging platforms.
Mobile technologies have also enhanced efficiency in healthcare by decreasing paperwork and maintaining administrative tasks. Medical professionals can use mobile phones to update medical charts and patient records and prescribe medication remotely. This has led to improved patient outcomes, accurate diagnosis, faster treatment, and reduced medical errors.
However, there are some challenges to the use of mobile healthcare technology. One of the most significant challenges is ensuring the data security and privacy of patients' information.
Mobile devices can be the hotspot of cyber-attacks, which can decrease the confidentiality of private medical information.
Additionally, there are troubles about the reliability and accuracy of health metrics measured using mobile devices and apps, as well as the potential for over-reliance on technology in medical decision-making.
Overall, mobile technology has the potential to revolutionize healthcare by improving efficiency, enhancing access, and improving patient outcomes. However, it is important to address the challenges associated with mobile technology to ensure its safe and effective use in healthcare.
Pros of using mobile technologies in healthcare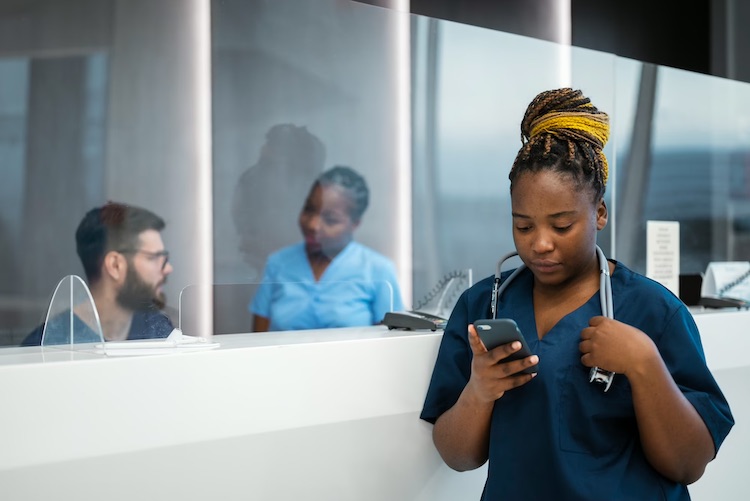 Using mobile technologies in the healthcare sector has brought significant benefits for users. Some of the advantages of mHealth applications include:
Improved communication: Healthcare experts can communicate with other colleagues and patients in real-time, despite belonging to different locations or nearby locations. This improves collaboration and reduces response times.
Remote patient monitoring: Mobile technology allows healthcare providers to monitor their patients remotely from anywhere at any time, which can help them detect even minor changes in their health and respond accordingly.
Increased accessibility: Mobile technologies in healthcare helps healthcare workers to reach the farthest populations in remote or rural areas. This feature helps in improving the access to healthcare services.
Streamlined workflow: Mobile technologies or mHealth can help streamline clinical workflows, ultimately reducing administrative tasks and sanctioning healthcare providers to be more attentive to their patient's care.
Improved data collection and analysis: Mobile technology collects and analyzes huge amounts of patient data, which enables healthcare experts to monitor their patient's health trends, identify high-risk patients, and amend their treatment plans.
Better patient engagement: Patients can gain access to manage appointments, and health information, and communicate easily with their healthcare experts via mobile phones. This feature improves patient engagement and loyalty to treatment plans.
Enhanced efficiency and cost-effective solution: Mobile technology can decrease healthcare costs by helping them with remote consultations, which reduces the need for in-person visits to the clinic and maintains smooth clinical workflows.
Improved medication management: Mobile technologies can help patients with managing their medications by giving them reminders and alerts. This reduces medication errors and improves adherence to treatment plans.
Overall, when mobile technologies are used in the healthcare sector, it increases patient satisfaction, it can improve healthcare outcomes, and reduce healthcare costs, making them an impressive and useful tool for healthcare providers.
Cons of using mobile technologies in healthcare
While mobile app development technologies bring significant advantages to healthcare, there are some potential disadvantages like:
Regulatory compliance: Healthcare providers need to comply with regulatory requirements when using mobile technology, including HIPAA regulations, that are time consuming and complex.
Security risks: Mobile devices can be vulnerable to cybercrimes and data breaches, which compromises with patient privacy and can lead to theft and other cons and scams.
Reliability issues: Mobile devices can experience technical issues such as battery life and network connectivity, which can impact patient care and clinical workflows.
Privacy concerns: Patients may be uncomfortable sharing personal health information via mobile devices, which can impact the accuracy and completeness of their medical records.
Limited access to technology: Patients who lack access to mobile technology or have limited digital literacy may not benefit from mobile healthcare solutions.
Interruptions to patient-provider relationships: Mobile technology can facilitate remote consultations, but it may also interrupt the traditional face-to-face patient-provider relationship, which some patients may prefer.
Legal liability: Healthcare providers who rely on mobile technology to make clinical decisions may be held liable if technology-related errors result in patient harm.
Overall, when mobile technologies are used in the healthcare sector it can bring significant benefits. But healthcare experts and patients need to be aware of these potential drawbacks and take steps to mitigate the associated risks.
In conclusion
Mobile technologies have revolutionized healthcare in many ways, from enhanced communication to remote patient monitoring and personalized care. They have enabled healthcare providers to provide timely, more efficient, and convenient services, making healthcare more accessible and affordable for all.
However, like any technology, mobile technologies have their downsides. They can compromise patient privacy and security, and they can also contribute to the growing problem of technology addiction.
Therefore, it is essential to implement appropriate measures to mitigate these risks and ensure the safe and ethical use of mobile technologies in healthcare.
Overall, mobile technologies have immense potential in healthcare, and with careful consideration and proper implementation, they can enhance the quality of care and improve patient outcomes.