Value of Customer Journey Maps: A Marketer's Personal Journey to Create It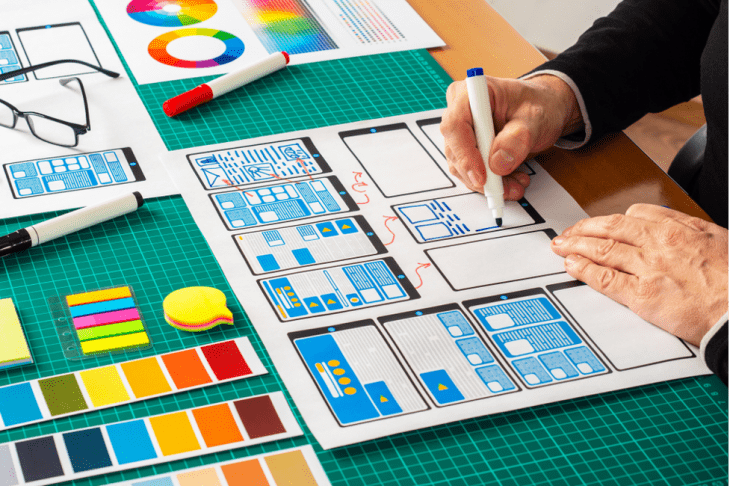 A customer journey map (CJM), also known as a user journey map, is a visual representation of your customer's experience with your brand across different channels and platforms, including social media, email, live chat, or any other channels they might use.
A CJM helps design teams to analyze how customer experiences match customers' expectations, and to identify areas where designs need to be improved.
Stories about your brand or offerings are continuously being told from the user's point of view, which can provide you an understanding of the total experience from the customers' view. A customer journey map assists companies in gaining better insights into their customers' conversion journey.
Addressing customers' needs helps businesses in providing an exceptional and personalized user experience. Be it a small business or a large oorganization, a customer journey map plays a vital role in designing a product or service that is effective and caters to customers' exact needs. 
Steps to Create a Customer Journey Map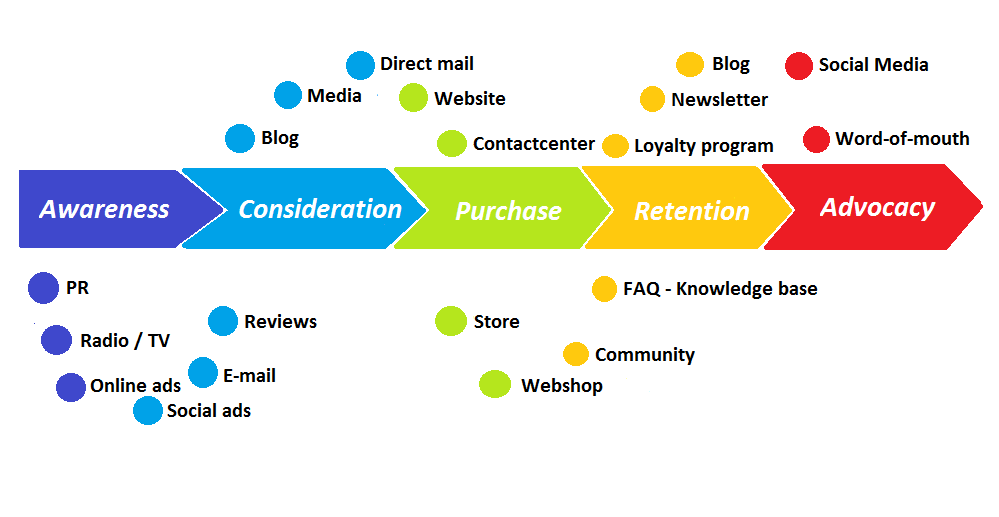 Customer journey with touchpoints. Photo: Nick Nijhuis / Wikimedia
Let's highlight some of the most important steps (and tips) that help in creating an effective CJM:
1. Set your customer journey map's goals
The first and foremost step is to identify your map's goals. Why are you creating it?;
What is the purpose of creating your CJM, who will utilize this map, and what do you want to achieve by creating the customer journey map?
How many CJMs do you even need? I like to identify that first as a marketer.
Once you're clear on these questions, then you can create an effective CJM with better results.
2. Define your user persona
Creating a user persona is crucial when you don't know how your customers are, what they need, and how they want to interact with your product. 
Identify your target customers and get in-depth knowledge about their needs, requirements, and problems. Users interact with a product to accomplish a certain task and that is where you want to identify what they're expecting from your products. 
But more importantly, get to know their current needs, pain points to get a better understanding of what problems they encounter while interacting with your product or solutions you offer.
3. Define your customer phases 
Customer's phases depict your customer's major goal they're trying to achieve in their interaction with your product. Define the stages that your customer experience with you over time.
Determine where and when they discover your company, how they researched your product, why they choose you over your competitors, why they maintain a relationship with you. 
The customer journey lifecycle starts from your product discovery and exploration, then proceeds further as categorized follow:
Comparison with your competitors 
Finalizing decision purchase process
Proceed to the payment process
Stay loyal to your brand on positive post-sales experience
Providing feedbacks, referring, and sharing with peers.
4. Research customer experiences
Once you're well-informed about your customers and target audience phases, the next step is to conduct customer research to define the customer experiences at all touchpoints, including social media, email inquiry, live chat, website, phone call, or other channels. 
All those touchpoints help in getting analytical, statistical data, and anecdotal evidence. Customers surveys, questionnaires, social media listing, SMS, emails, online advertisement, and more can also help in conducting extensive research. 
Customer behavior and experiences are also captured on different review platforms as well.  
5. Describe, list pain-points
Data gathered from customers through various research techniques about their experiences with your offerings is an effective way to know about customers' pain-points. Pain-points are negative customer experiences that frustrate, irritate, and emotionally discomforts your customers.
Pain-points are important in CJM as they help to design an excellent product by overcoming the pain-points. Some common types of pain-points that customers often encounter include:
Financial: A product or solution that is too costly and out of customer budget can cause financial problems. Therefore, emphasize on affordable price point, and highlight the average customer savings that allows them to gain better solutions while spending less.
Efficiency: Customers get irritated with a product that takes too long or requires too much effort and time to use to complete a task. In this case, customers might switch from your product to another one that has a quick response time and greater efficiency. 
Process: If your customer wants to accomplish a specific task using your product but the complete process of using your solution is too long, then it's frustrating to customer. As a result, try to make your product/service process as fast and efficient as possible.
Support: Another big pain-point that customers face is that they do not get sufficient or enough support from your side. They may try hard to connect with you or your team and always find it difficult to reach you, which will lead to customer frustration. Provide swift and professional customer support round the clock, and listen to their problems carefully so that you may provide them with the most appropriate and effective solutions. 
6. Highlight solutions to resolve customer pain points 
Brainstorm and make every effort to swiftly resolve your customer pain-points. That'll delight and encourage them to continue choosing your business or offerings. 
Revisit each pain-point and formulate new solutions and ideas to fix them. Engage with your team, customers, and stakeholders throughout to highlight best measures for addressing, resolving all pain-points. 
7. Sketch a visual of your CJM 
Now it's time to bring together all elements you want your map to show. Piece everything together including target customer personas, touchpoints, timescale, pain points, and new ideas in a way that indicates customers' sequence of motion through channels across the timeline. 
This sketching can be done through an online customer journey mapping tool that collates information on the various stages of customer journeys and lets you sketch a diagram of your customers' journey to visualize and understand the core customer steps that occur between the user and your product or business.
By sketching a CJM, it allows you to see, analyze, identify, and resolve the challenges faced by your customers at different stages of their customer journey. It facilitates the team to, among other things, identify how customers discover your product, fix any roadblocks, and formulate strategies to resolve any issues and frustrations customers may have.
In Conclusion
The value of a customer journey map is undeniable, as it features a lot of insights you can use to increase customer conversion and retention rates through the identification of key decision points and opportunities to enhance the entire customer experience. Customers will then build trust with your brand, and this ultimately increases the sales and ROI of your product or service. 
However, because customers interacting with your products may be different, have different pain points that must be resolved quickly to avoid bad customer experience, and customers' needs and expectations evolve with time, review, update, and improve your CJM on an ongoing basis.
Remember a customer journey map is a way to better serve your customers by providing them with a truly immersive experience. It links you and your customer, and helps in creating a strong relationship that fosters loyal customers and strong brand reputation.