AI-Powered Chrome Extension Helps Determine "Trustworthiness" of Articles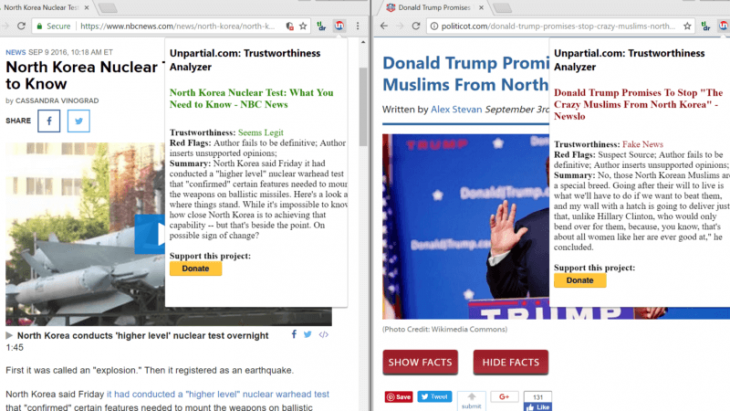 A snapshot of Unpartial trustworthy analyzer. Photo: Martechtoday.com.
In today's digital world where fake news and misinformation is widespread, how can you trust what you are reading online? A bogus story can be well written and seem highly credible, and yet it is not trustworthy at all.
Well, a new AI powered extension for the Chrome browser called Unpartial launched last week to help users determine the trustworthiness of news stories and articles found online. The story evaluation tool can be very useful for writers looking for credible sources to cite in their work.
Unpartial Evaluates Validity of Stories Online
According to Recognant, a California-based artificial intelligence and machine learning startup that developed the tool, Unpartial uses part of the company's AI to evaluate the internal validity of a story and ascertain trustworthiness.
"The evaluation looks at a lot of factors in how the article was written," the Unpartial team writes on the official product page. "This includes things like how grammatically correct the article is, how biased it is towards a position, how factually dense it is, and if the article contains subjective statements."
There are other factors, but these are some of the primary ones, Unpartial says. After evaluating a story, the system will return several possible results based on what it has determined about an article:
Suspect Source: While this article may or may not be true, this author or site has a very, very, high number of fake articles.
Likely Satire, Parody, or Sarcastic: The tone of this article seems to imply sarcasm or parody. As such even if some of the sentiment is true, some of the statements may be false or exaggerated to be funny, or satirical.
Click Bait: The article uses a headline that is designed to be bombastic or draw viewers. This often means it is misleading. The contents of the article may or may not be true, but it should be viewed with skepticism.
Opinionated/Biased: The author shows substantial bias towards swaying the reader to a particular view. While statements may be true individually, the result is often false by omission.
Author fails to be definitive: The author hedges statements such that they aren't definitive. This could be because the facts are unknown, or there is speculation. It can also be the result of the story being about future events that may not happen.
Limited supporting facts: There aren't enough facts to support the position of the article, or the article is not a factual report. (It may be an editorial, or a press release)
Unpartial then assigns a trustworthiness marker or tag based on these factors (and others) as follows:
Seems Legit: You can likely cite this as a source
Consider a more reputable source: While there is no strong indication that this is not trustworthy, it doesn't appear to be a source you would want to cite. Likely there is a better source for any information contained in this article.
Seems Sketchy: Several red flags make this article unstrustworthy.
Super Shady: There are quite a few red flags that make this article untrustworthy.
Fake News: This article contains so many red flags the system believes there is no chance the article is true.
One downside to this Chrome extension is that it is only appropriate for evaluating content of about 300 words or more. This means it is not as useful for evaluating most tweets and Facebook posts that are notorious for spreading fake news and other misinformation.
Support for Other Browsers May Come Later
To deploy Unpartial after downloading and installing the software from the Google Web Store, a user clicks the "UN" button on the Chrome browser to see the plugin's evaluations. CEO Brandon Wirtz told Martechtoday other web browsers may be supported at some point.
Recognant was founded in 2016. It develops AI that is primarily used for natural language processing (NLP). Its software has been employed by market researchers to see in real time how a TV series is doing on social media, and also by cancer research organizations to peruse medical journals and find alternative treatments based on responses to protein signals.
Recognant reportedly fed Unpartial 10,000 articles whose trustworthiness had previously been rated by humans to test its accuracy. The system matched the human ratings 99 percent of the time, Wirtz said.