The Regulations States Have Placed on Marijuana Advertising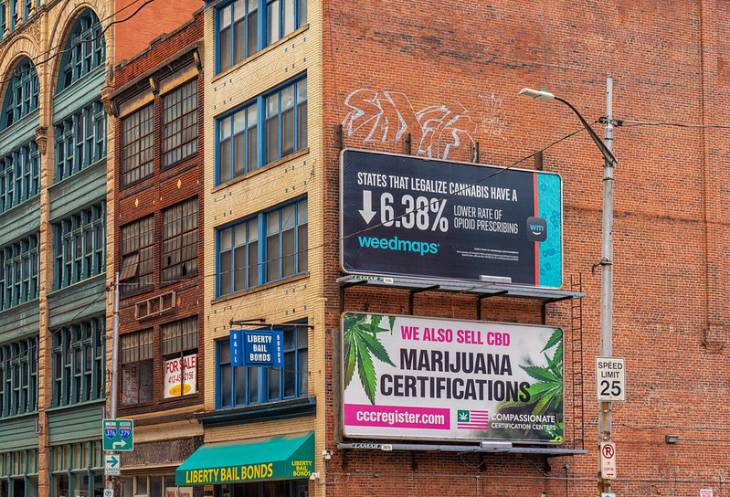 Marijuana Billboard advertisements at 12th Street and Penn Avenue in downtown Pittsburgh, Pennsylvania USA. Photo: Tony Webster/Flickr.
The US can be a confusing place when it comes to the law. There are a number of different restrictions on how marijuana can be advertised. This is one of the complications that has come out of the legalization of marijuana by state.
In the eyes of federal law, marijuana is still illegal, but many states have changed the law to allow the sale of cannabis products. This means that some companies have started to advertise their sale of marijuana.
Cannabis Advertising Laws by State
The cannabis advertising laws are different for virtually every state.
In many states, the laws are simple. Even if marijuana is legal, advertising it might not be. In other states, there are some specific rules set out.
California's Laws for Cannabis Advertising
In Cali, the marijuana industry is very successful.
There are some express laws that people have to stick to when advertising weed.
Ads can only be run in any place where the audience is mainly adults (over 21). This includes television and radio.
No free contests and giveaways are allowed.
Certain methods of selling, such as using mascots or cartoon characters aren't allowed.
Billboards within 15 miles of the out-of-state borders can't have cannabis ads.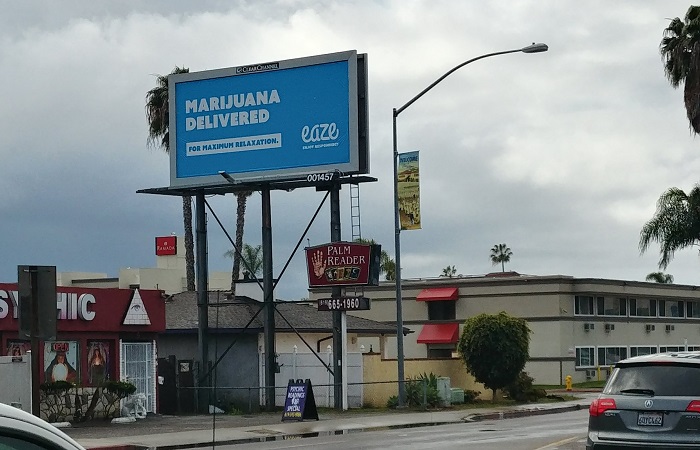 Cannabis delivery billboard, Rosecrans Street, San Diego, California in 2018. Photo: Bri /Wikimedia Commons.
New York's Advertising Laws for Cannabis
In New York, medical marijuana is allowed but there are restrictions. For example, an ad can't claim that their product is superior to another or speak about the negatives of another product.
Colorado's Weed Advertising Laws
Cannabis has been legal for a long time in Colorado. The rules are pretty strict.
You can't use online pop-up ads, mobile ads, leaflets, or other forms of signage. If the audience is over the age of 21, then there might be some exceptions.
Colorado does not let you advertise out of state or in any way that could attract minors.
For other states that have legal cannabis, it is a good idea to read up on the advertising laws.
Generally speaking, most advertising rules are to protect young people and to avoid glamorizing the hobby.
In some states such as Washington, you can't use marijuana buds or leaves as imagery.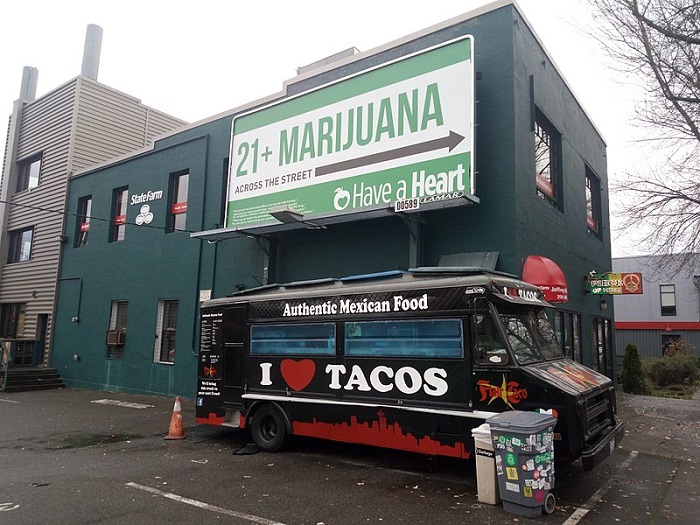 Cannabis billboard in Seattle, Washington 2016. Photo: adrienblanc/Wikimedia Commons.
Medical Marijuana Advertising Laws vs. Recreational Marijuana Advertising Laws
Medical marijuana laws are different from recreational in a lot of states. A lot of this comes from the fact that some states allow recreational marijuana and others do not.
In the states where only medical marijuana is allowed, you will usually have to clearly state on any advertising that marijuana is only available to those who are eligible, and the requirements that someone will need in order to get marijuana.
Often, in states where recreational marijuana is allowed, you still have to abide by the laws if you are selling marijuana medicinally. This usually means ensuring that children don't see advertising as much as possible.
How Marijuana Companies Could Be Penalized for Incorrect Advertising
Whether you make a legitimate error or you set out to advertise without looking at the laws in the state, it is your responsibility to make sure you are operating within the law. If not, you could face sanctions.
Like all of the marijuana laws, there are variations within the law relating to specific states. Always check the local rules.
Under federal law, the Controlled Substances Act (CSA) says ads for any Schedule I drugs are illegal. Even though there is an amendment that protects states from prosecution under federal law.
The penalties can vary greatly from one state to another. You can face fines or imprisonment. In the state of Washington, a business may be fined $1,000 for every single violation. On top of this, you could end up in prison for violating the rules.
Companies are liable, so they could be sued or even face being put out of business. Licenses can be revoked if a company doesn't stick to the rules.
If you are worried at all about the laws, you need to do some reading of local state law. The fact that this can vary so much means it is your responsibility to know and stick to the laws if you are going to advertise your dispensary or other marijuana business.