Should You Hire an IT Outsourcing Company for Your Business?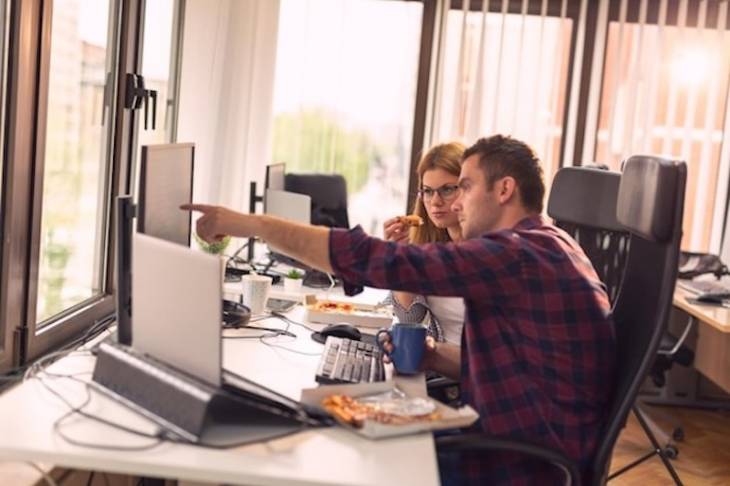 Let's face it: it's not an easy time to do business.
In the face of increasing economic uncertainty around the globe, including the seemingly endless threat of recession, the importance of boosting productivity and profitability while minimizing costs has perhaps never been greater than now.
That means that business owners and decision-makers alike are finding themselves with some pretty difficult choices to make, including how best to drive performance in these increasingly uncertain times.
If you're one of the many business owners and leaders seeking to shore up your organization, increase productivity, and support growth in challenging market conditions, then you should consider IT outsourcing.
Not only is outsourcing your IT a cost-effective way to ensure that you maintain an optimal technological infrastructure, but IT outsourcing can also be a highly effective tool for improving your company's overall performance.
Types of IT Outsourcing for Businesses
When you think of IT outsourcing, you probably think first of the use of third parties to install and upgrade your company's technology, ensuring the functionality and security of your organization's communications network and your hardware. But that's only part of the story.
IT outsourcing can also foster digital transformation in your organization. For instance, you may have a finite technology project in mind that is limited in scope and duration. In such cases, IT outsourcing can enable you to get the job done by enlisting the aid of experts while also avoiding the costs of hiring a permanent IT team to complete the project in-house.
You may choose to partner with a team of IT contractors to provide regular services in tech support, security, and systems optimization. Contracted IT teams, for instance, can monitor business processes and help you identify new ways to accomplish core business tasks through tech innovation.
You might, for instance, partner with a third-party IT team to automate your company's data analytics, your customer service operations, or even your digital marketing processes in an effort to make your organization both more productive and more cost-efficient.
Benefits of Hiring an IT Outsourcing Company
As suggested above, there are myriad benefits to IT outsourcing including:
I. Drawing on a diverse and expansive talent pool
When you outsource your IT operations, you get to reap the benefits of agility. You can draw from a broad talent pool in order to find the expert(s) that will best meet the needs of the project at hand. 
That is critical because technology is always changing, and no individual or team could possibly be expected to keep pace. By outsourcing projects, you're not limited to the skillset of an in-house team. Instead, you can match the projects with the experts who have the particular skills you need. 
II. Meeting tight deadlines and budgets
No matter how large or small your organization, the odds are pretty good that your company has a number of pretty robust tech needs. This means that you probably also have a range of tech projects in the offing at any given time. 
An in-house team, though, can take on only so much at once. This, again, is where the benefits of outsourcing shine through. When you outsource, you have the opportunity to partner only with individuals and teams who have the capacity to do the work and to do it efficiently, even on tight timelines.
And because you're not hiring the team as regular employees, you don't incur the ongoing costs of salaries, payroll taxes, and benefits packages. This means that outsourcing can be a highly effective way to reduce costs while meeting ambitious project deadlines.
III. Gaining new perspectives
One important but often overlooked benefit to IT outsourcing is the opportunity to engage new perspectives on your business operations. When you work only with in-house teams, it can be easy to fall into a rut and develop blind spots and biases that may well jeopardize not only the performance, but also the security of your company.
For instance, your employees may have become complacent in regard to cybersecurity practices. However, when they begin collaborating with external third parties, the security lapses and weak points they may have become blind to are suddenly cast in bold relief.
Many IT outsourcing projects, for example, are conducted through collaborative cloud-based platforms with in-house teams partnering with external IT contractors to share data, brainstorm projects, and work together in real time with geographically dispersed partners and stakeholders.
The success of cloud computing requires a robust cybersecurity infrastructure, so when you outsource your IT, you're getting an unprecedented opportunity to test that infrastructure. Best of all, the testing process comes with the assurance that experts are on hand, even in the virtual space, to identify and remediate risks with your IT infrastructure.
And once your technology infrastructure has been vetted and optimized by the pros, you've gained the added benefits of agility and scalability. Integrating cloud computing, in other words, doesn't just enable you to work effectively with IT outsourcing companies but with talented employees and partners across all business functions, no matter where in the world they may be located.
When you want to scale your company and ensure its agility in these volatile times, there's perhaps no better way than to establish a business infrastructure that allows you to reach highly skilled professionals and offer them opportunities to work with you whenever, however, and from wherever they want and need.
Tips When Preparing to Outsource
Despite the many advantages of IT outsourcing, not all outsourcing companies are the same. This means that you're going to need to do your homework when you're preparing to outsource. For instance, you're going to need to consider what your key goals for outsourcing are and what metrics will help you define "success" in an outsourcing partnership.
Ask yourself and your team the following questions to figure out your outsourcing goals:
Are you looking to increase productivity? 
If so, by how much?
Or, are you looking to complete a full, organization-wide digital transformation for your company? 
If so, why? 
What benefits, specifically, do you expect to derive from this? 
In addition to addressing questions such as these, you will also need to consider your budget, timeline, and resources. 
Understanding how your company will need to engage with an IT outsourcing company and for what specific purposes is essential in determining both whether IT outsourcing is right for your business and, if so, what qualities, exactly, your company needs in an external partner.
Be sure that you fully vet all of your outsourcing options, ask questions, and do a thorough review before signing a contract.
In Conclusion
No matter your industry or the size of your organization, running a successful business is never easy, but the challenges are particularly significant in these uncertain times.
However, if you are looking to boost productivity and performance, one of your best strategies may well be to hire an IT outsourcing company.
The key is to understand the benefits IT outsourcing can bring to your company and know exactly what to look for when choosing the right external partners.