Literary Icon Toni Morrison Dies at 88: Viral Video Shows Why We'll Miss Her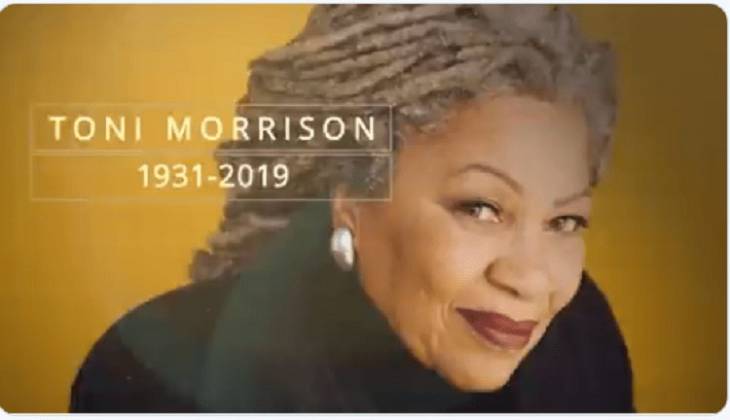 Literary icon and Nobel Laureate Toni Morrison, author of the powerful, award-winning novels 'Sula,' 'Song of Solomon,' and 'Beloved,' died on Monday at Montefiore Medical Center in New York.
She was 88-years-old.
The acclaimed author and former professor emeritus at Princeton University was a wordsmith like no other, and a devoted champion of the black experience. She depicted the condition and struggles of black people in her books with such wit and power that left people astonished.
According to Oprah Winfrey, her longtime friend, the 'Beloved' author "was our conscience. Our seer. Our truth-teller," Winfrey wrote in a passionate tribute to Morrison. "She was a magician with language, who understood the Power of words. She used them to roil us, to wake us, to educate us and help us grapple with our deepest wounds and try to comprehend them."
Winfrey's words ring true for many people across the world who read Morrison's seminal works of literature that often covered themes like slavery, colorism, misogyny, and supernaturalism.
So impactful was Morrison's contributions in literature that she became the first African-American woman to win a Nobel Prize for literature in 1993.
In a video that's now going viral from a 1998 interview with journalist Jana Wendt, Morrison calls out her interviewer for a tone-deaf question, which reminds us all of the author's special gift for words, fearlessness to call out racism, and sharp educative wit that we'll miss so much.
Morrison was always vocal about racism.
In the interview program titled "Toni Morrison: Uncensored," which has been retweeted virally, the interviewer asked her when she was going to "substantially" write about white people.
Morrison's response?
"You can't understand how powerfully racist that question is, can you?"
The author added that a similar question could never be asked of a white author.
"You could never ask a White author, 'When are you going to write about Black people?' Whether he did or not, or she did or not. Even the inquiry comes from a position of being in the center.'"
Morrison continued in a forceful pointer:
"It's inconceivable that where I already am is the mainstream."  
Morrison's powerful words from the past resonate now more than ever. As the country grapples tumultuous times, including inflamed racial passions, her words encourage us all to stand up to bigotry and other social ills. Injustice and cruelty must never go unchallenged.
Wendt tried to save face by calling her line of inquiry pertinent to the author's narrative and continued by adding a spin to her question:
"Whether you want to alter the parameters of it, whether you see any benefit in doing that or will you clearly see disadvantages in doing it from your own point of view?"
The legendary author hit back by comparing being an African American writer to being a "Russian writer that writes about Russia in Russian for Russians."
"The fact that it gets translated and read by other people is a benefit, it's a plus," Morrison says. "But he's not obliged to ever consider writing about French people, or Americans, or anybody."
The "Russian writer" allegory was an especially poignant tool the author used to teach the interviewer a powerful lesson, but it seems unfortunate Morrison had to result to a "white EU context" for the interviewer to "even remotely accept the idea of her own subconscious racism," one Twitter user observed.
Other users on Twitter couldn't help but notice and comment on Morrison's composed reaction with unequivocal profundity and grace in the face of what many perceive as a racist line of questioning by the award-winning Australian television journalist and reporter. 
Another user pointed out an interesting irony in the interviewer's question, perhaps alluding she should have known better about prejudices against minorities:
Yet another Twitter user thought Wendt's question was "powerfully uncomfortable" and could understand "Morrison's steely gaze in response."
Another user was sympathetic with the interviewer—but only briefly, saying:
"I really felt like the lady interviewing Toni Morrison was humble when she acknowledged not being fully be aware of "being used to being in the centre" but then she came back with "that wasn't my implications at all" and all humility on her end left the chat, literally."
Watch the full interview below.