21 Mind-Opening Alan Watts Quotes to Stir Up the Thinker in You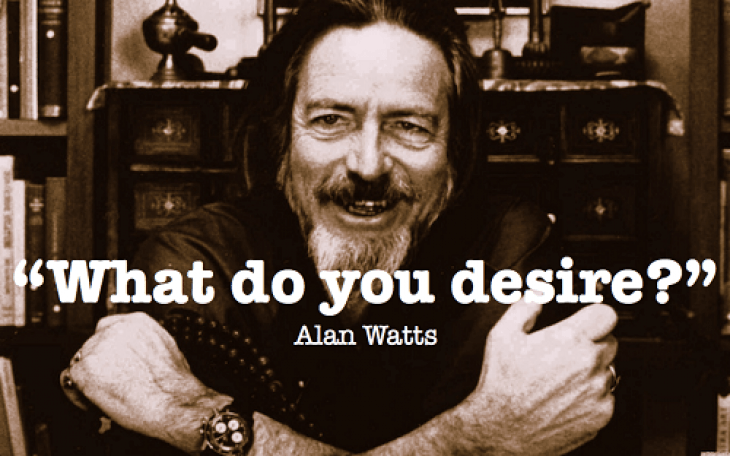 Alan Wilson Watts was a renowned British philosopher, writer, and speaker. He is best known as an interpreter and popularizer of Eastern philosophy for a Western audience. Watts held both a Master's in Theology and a Doctorate of Divinity.
Among all the qualities of this great orator, was an astonishing and unique gift of writing and expressing complex ideas in the form of simple and illustrated thoughts people could easily understand.
Famous for his research on comparative religion, Watts wrote over 25 books and numerous articles covering a wide range of topics from personal identity, the true nature of reality and higher consciousness, as well as the meaning of life, love, death and concepts and images of God and the non-material pursuit of happiness.
In his books, Watts relates his experience to scientific knowledge and to the teachings of Eastern and Western religion and philosophy.
Stimulating Alan Watts Quotes
Check out these powerful and mentally stimulating Alan Watts quotes that will inspire you to think deeply about life and existence:
1). "The meaning of life is just to be alive. It is so plain and so obvious and so simple. And yet, everybody rushes around in a great panic as if it were necessary to achieve something beyond themselves."
2). "Man suffers only because he takes seriously what the gods made for fun."
3). "Tomorrow and plans for tomorrow can have no significance at all unless you are in full contact with the reality of the present, since it is in the present and only in the present that you live. There is no other reality than present reality, so that, even if one were to live for endless ages, to live for the future would be to miss the point everlastingly."
4). "This is the real secret of life – to be completely engaged with what you are doing in the here and now. And instead of calling it work, realize it is play."
5). "We do not "come into" this world; we come out of it, as leaves from a tree."
6). "The question "what shall we do about it" is only asked by those who do not understand the problem. If a problem can be solved at all, to understand it and to know what to do about it are the same thing. On the other hand, doing something about a problem which you do not understand is like trying to clear away darkness by thrusting it aside with your hands. When light is brought, the darkness vanishes at once. This applies particularly to the problem."
7). "To have faith is to trust yourself to the water. When you swim you don't grab hold of the water, because if you do you will sink and drown. Instead you relax, and float." 
8). "Muddy water is best cleared by leaving it alone." 
9). "Advice? I don't have advice. Stop aspiring and start writing. If you're writing, you're a writer. Write like you're a goddamn death row inmate and the governor is out of the country and there's no chance for a pardon. Write like you're clinging to the edge of a cliff, white knuckles, on your last breath, and you've got just one last thing to say, like you're a bird flying over us and you can see everything, and please, for God's sake, tell us something that will save us from ourselves. Take a deep breath and tell us your deepest, darkest secret, so we can wipe our brow and know that we're not alone. Write like you have a message from the king. Or don't. Who knows, maybe you're one of the lucky ones who doesn't have to."
10). "Where there is to be creative action, it is quite beside the point to discuss what we should or should not do in order to be right or good. A mind that is single and sincere is not interested in being good, in conducting relations with other people so as to live up to a rule. Nor, on the other hand, is it interested in being free, in acting perversely just to prove its independence. Its interest is not in itself, but in the people and problems of which it is aware; these are "itself." It acts, not according to the rules, but according to the circumstances of the moment, and the "well" it wishes to others is not security but liberty."
11). "Jesus Christ knew he was God. So wake up and find out eventually who you really are. In our culture, of course, they'll say you're crazy and you're blasphemous, and they'll either put you in jail or in a nut house (which is pretty much the same thing). However if you wake up in India and tell your friends and relations, 'My goodness, I've just discovered that I'm God,' they'll laugh and say, 'Oh, congratulations, at last you found out."
12). "What we have forgotten is that thoughts and words are conventions, and that it is fatal to take conventions too seriously. A convention is a social convenience, as, for example, money… but it is absurd to take money too seriously, to confuse it with real wealth… In somewhat the same way, thoughts, ideas and words are "coins" for real things."
13). "But you cannot understand life and its mysteries as long as you try to grasp it. Indeed, you cannot grasp it, just as you cannot walk off with a river in a bucket. If you try to capture running water in a bucket, it is clear that you do not understand it and that you will always be disappointed, for in the bucket the water does not run. To "have" running water you must let go of it and let it run."
14). "And people get all fouled up because they want the world to have meaning as if it were words… As if you had a meaning, as if you were a mere word, as if you were something that could be looked up in a dictionary. You are meaning."
15). "To put is still more plainly: the desire for security and the feeling of insecurity are the same thing. To hold your breath is to lose your breath. A society based on the quest for security is nothing but a breath-retention contest in which everyone is as taut as a drum and as purple as a beet."
16). "What I am really saying is that you don't need to do anything, because if you see yourself in the correct way, you are all as much extraordinary phenomenon of nature as trees, clouds, the patterns in running water, the flickering of fire, the arrangement of the stars, and the form of a galaxy. You are all just like that, and there is nothing wrong with you at all."
17). "We must abandon completely the notion of blaming the past for any kind of situation we're in and reverse our thinking and see that the past always flows back from the present. That now is the creative point of life. So you see its like the idea of forgiving somebody, you change the meaning of the past by doing that…Also watch the flow of music. The melody as its expressed is changed by notes that come later. Just as the meaning of a sentence…you wait till later to find out what the sentence means…The present is always changing the past."
18). "If happiness always depends on something expected in the future, we are chasing a will-o'-the-wisp that ever eludes our grasp, until the future, and ourselves, vanish into the abyss of death."
19). "Indeed, one of the highest pleasures is to be more or less unconscious of one's own existence, to be absorbed in interesting sights, sounds, places, and people. Conversely, one of the greatest pains is to be self-conscious, to feel unabsorbed and cut off from the community and the surrounding world."
20). "There are, then, two ways of understanding an experience. The first is to compare it with the memories of other experiences, and so to name and define it. This is to interpret it in accordance with the dead and the past. The second is to be aware of it as it is, as when, in the intensity of joy, we forget past and future, let the present be all, and thus do not even stop to think, "I am happy."
21). "Peace can be made only by those who are peaceful, and love can be shown only by those who love. No work of love will flourish out of guilt, fear, or hollowness of heart, just as no valid plans for the future can be made by those who have no capacity for living now." 

You might also like...