How to Edit Reels and Shorts to Get Better Engagement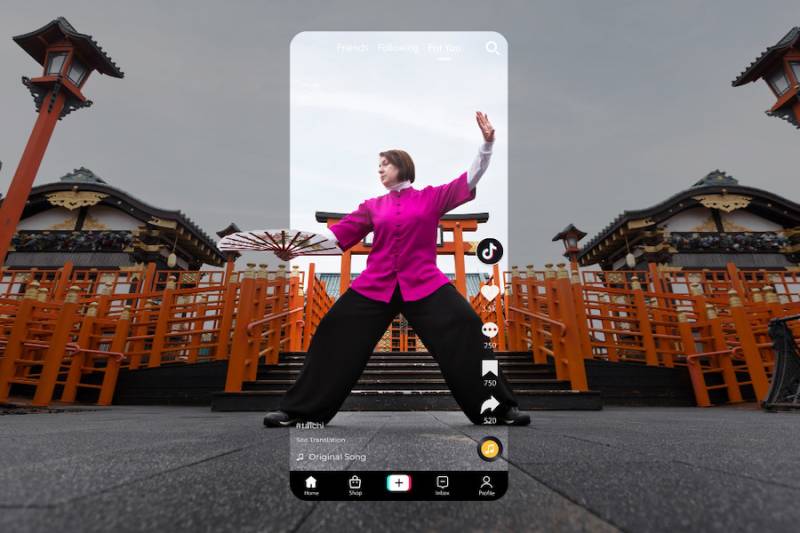 Learning how to edit Reels and Shorts is probably one of the smartest moves a marketer or business owner could make this year.
Why?
Because the short-form video format is incredibly popular among social media users. In fact, I wouldn't be entirely wrong to call it the most engaging form of social media marketing content.
Marketers, in particular, love it.
According to the 2023 Social Media Marketing Report by HubSpot, 54% of marketers use short-form videos.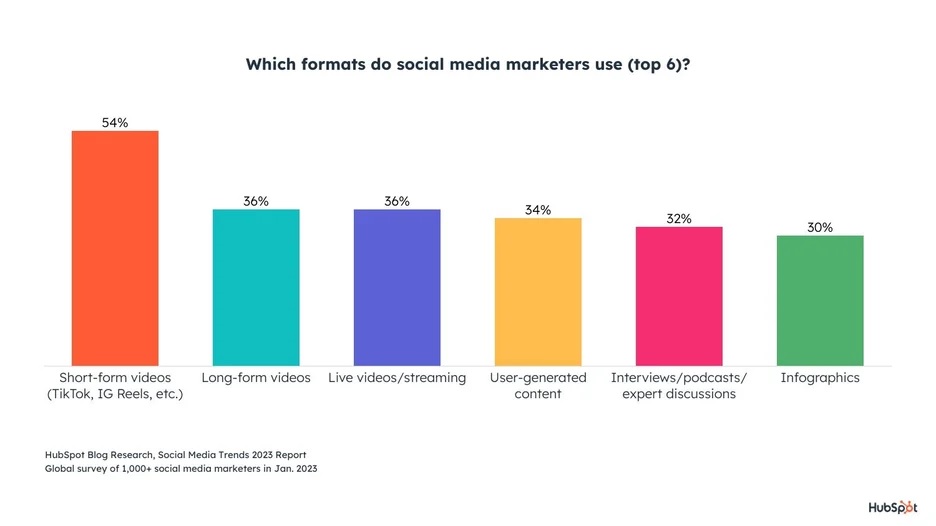 Image via HubSpot
The same report says this content format has the highest ROI.
But this high ROI isn't guaranteed. You need to earn it by creating videos that stand out and win the hearts of users.
In this post, I'll show you how you can edit Reels and Shorts to get high engagement and grow your brand.
4 Ways to Edit Reels and Shorts for Increased Engagement
In this section, you'll find four easy tips to edit Reels and Shorts.
The good news is that you don't need to be a video editing expert to apply these tips and boost your brand's social media performance:
1. Spend Extra Time on the Hook
If you want to edit Reels and Shorts for high engagement, start by ensuring that the first few seconds are captivating.
You want to hook your viewers and give them a reason to keep watching.
Here are a few elements you can use to make viewers stop and pay attention:
A visually stunning shot or unexpected image
A thought-provoking question
A snippet of a captivating story
An unexpected facial expression
Humor
A special effect
See how Mary Jelkovsky does it in this Reel using a statement that piques your interest.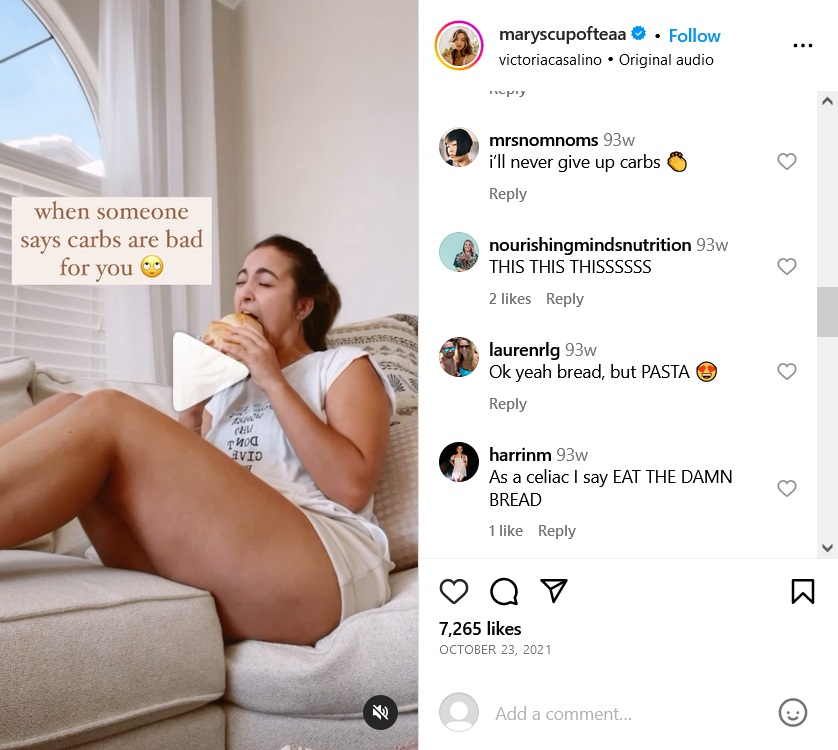 Image via Instagram
It's humorous and controversial. And the facial expression is captivating.
A user scrolling their feed is likely to stop, curious to see what she has to say on the subject.
2. Always Provide Value
An important factor to cross-check as you edit Reels and Shorts is if the content provides value to your target audience.
If it doesn't, go back to the drawing board and refine your social media content creation strategy.
Brands with successful social media strategies don't just post random content. They ensure each piece of content is precise and beneficial to the viewer.
Remember you're trying to establish long-term relationships with your audience.
If your viewers don't get anything from your Reel or Short, they'll lose interest in your channel or page.
You lose future possibilities of them interacting with your newer Reels and Shorts.
You can provide value by:
Sharing useful tips and hacks
Teaching your viewers something new
Sharing behind-the-scenes shots of your creative process
Sharing a personal story that viewers can relate to
Check out this Reel by Cadbury UK. It's a recipe for 'Chocolate Jelly Snakes.'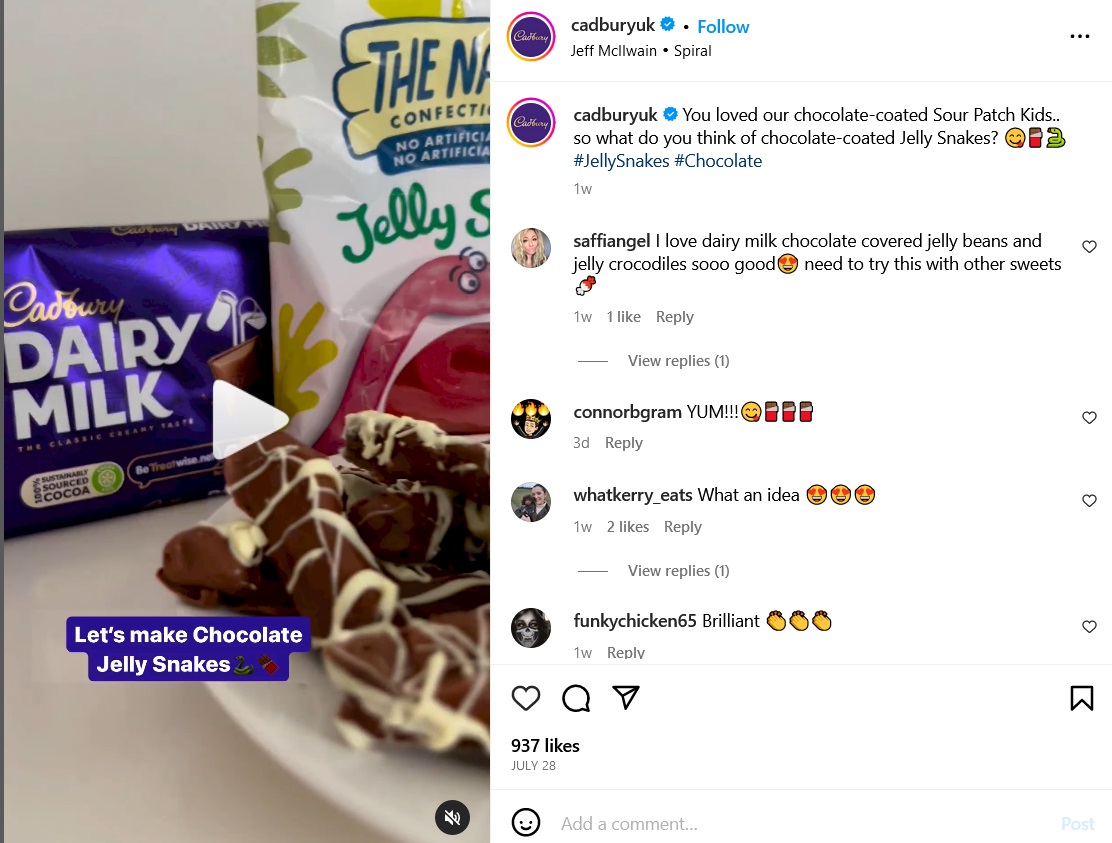 Image via Instagram
Judging from the comments, viewers love it, probably because they found an innovative recipe that they can try.
3. Add Viral Music
Music is dominating the social space, according to the 2022 Instagram Trends Report.
Adding trending audio tracks as you edit Reels and Shorts can make your content more discoverable and drive more engagement.
It's important to jump on trends quickly, when they're still hot. This will help you get the most engagement.
But it's also crucial not to follow trends blindly.
Ensure that the song is relevant to the content of your Reel or Short. It shouldn't go against your brand's values.
How can you discover which music is trending? Use social media marketing tools. They'll help you find viral Reels and Shorts and you can identify the audio used in this content.
4. Make Fun Transitions
Transitions, when properly done, enhance a viewer's experience.
The creative twists keep them hooked, anticipating what will come next in your video.
Here are a few tricks to use when applying transitions:
Maintain consistency with the colors, fonts, and overall theme of your video to create visual cohesion.
The transitions should flow seamlessly from one scene to the next.
Sync the transitions with the rhythm of your music.
Don't go overboard with the transitions, as it could overshadow the main message.
Both YouTube and Instagram have the built-in capability to add transitions to your videos. But these capabilities are limited.
To leverage transitions to the maximum, use good video editing tools like the Movavi Video Editor. It offers a variety of creative transitions to edit Reels and Shorts and also allows you to add eye-catching effects, make color adjustments, and a lot more.
In Conclusion
There you have it, four ways to edit reels and shorts to make them more engaging.
Make the first few seconds of your video count
Every Short and Reel should provide value
Find trending music and use it in your content
Get creative with transitions
These few steps can go a long way in increasing your reach and building interest in your brand.