5 Best Places to Visit in California this Summer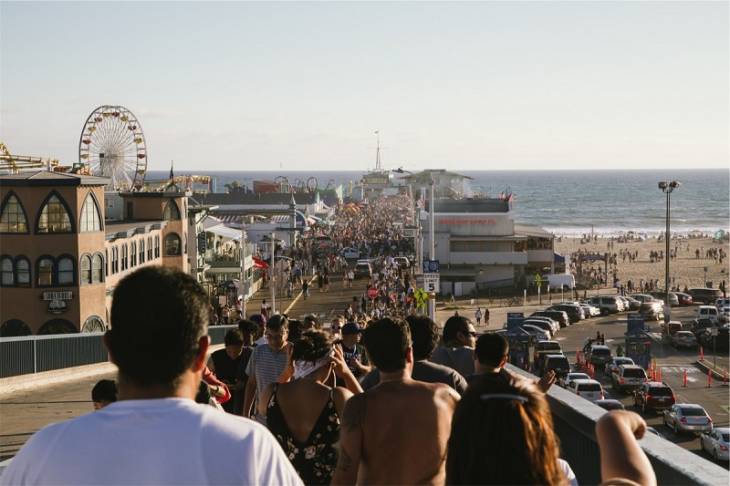 California beach Summer crowd, with ocean and Ferris wheel in background.
Whether you prefer the beach, the mountains, or city life, you will find something for every travel taste in the Golden State.
Here are five of the best places to visit in California this summer.
1. Disneyland Resort
No trip to California is complete without a trip to the happiest place on earth.
Tourists and locals alike are flocking back to Disneyland after it was shut down for over one year due to the COVID-19 pandemic. Now that Main Street USA is back open for business, the magic of Disney is alive and well again.
You can visit the classic Disneyland Park or head to its adjacent neighbor, California Adventure. Or make the most out of your time and buy a park hopper to see both parks.
Disneyland offers rides and attractions for every age and interest, ranging from family-friendly boat rides to thrilling roller coasters.
2. Southern California Beaches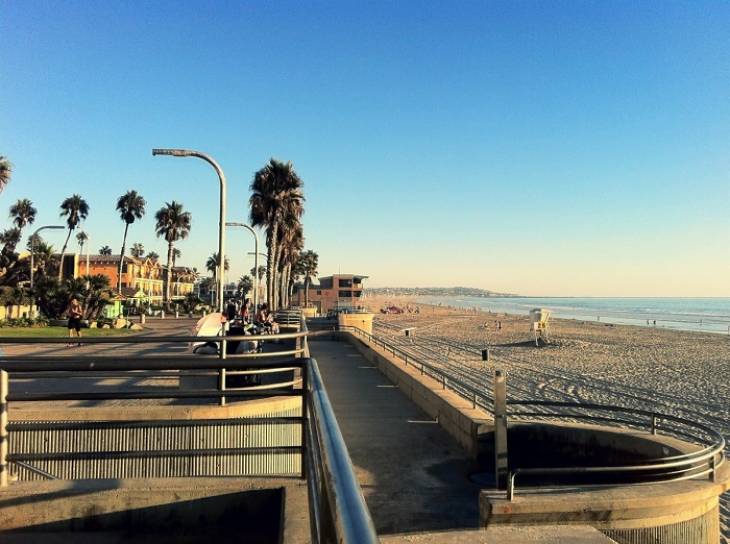 Throw a stone in Southern California and you will hit a beautiful beach. The good news is that there is a beach for every personal preference in this corner of the state.
For something lively and hip, try out Venice Beach or Santa Monica Beach. Both of these strands of sand boast an energy unmatched anywhere else.
For something a little more relaxing and unspoiled, try Laguna Beach in the area between Los Angeles and San Diego. Just up from Laguna, you will find the surfer's paradise of Huntington Beach.
If you are visiting the San Diego area, you cannot miss the opportunity to check out Coronado Island and its world-class beaches.
You simply cannot go wrong with any of the beaches in Southern California.
3. The Redwood Forest
The majestic Redwood Forest has to be seen to be believed. You can immerse yourself in this beauty by camping within the trees that have stood for over 2,000 years.
Camping in California and its majestic Redwood Forest delivers moderate weather and stunning scenery. You will feel completely removed from the real world once you set up your camp under these towering trees.
If you are not one for roughing it, there are a variety of glamping options in the Redwoods that will offer a host of comforts and conveniences. Best of all, you will also not be far from California's famous wine country.
4. San Francisco
For a big-time city experience, a visit to San Francisco belongs at the top of your bucket list. This diverse city is unlike any other place on earth.
Explore the restaurants and shops in Chinatown, shop til you drop in Union Square, take a ride on an iconic trolley car, head out on a boat to see the haunting Alcatraz Island, visit the sea lions at Pier 39, and more in this amazing city.
You will find a wide array of dining and entertainment options in San Francisco. The city also boasts a vibrant arts and cultural scene, offering a number of museums and attractions.
Good choices to put on your itinerary include the San Francisco Museum of Modern Art, the Walt Disney Family Museum, the Exploratorium, and the California Academy of Sciences.
5. National Parks
California is flush with an abundance of national parks. You would be remiss to visit California this summer and not take in the splendor of these stunning areas.
The granddaddy of them all is Yosemite National Park. Although this park is best known for its waterfalls, you will also discover towering cliffs, sweeping meadows, excellent wildlife opportunities, and more.
Other good national parks in the state to put on your must-see list include Joshua Tree National Park and Sequoia National Park. Both of these parks deliver hiking and biking trails, dramatic landscapes, and rich cultural histories. Adults and kids alike will enjoy exploring some of the best national parks in the US.
These five destinations are just the tip of the iceberg when it comes to planning the perfect California trip. Harness the long days of summer and the ideal California climate to plan your next epic vacation.