Hacking Growth: How Today's Fastest-Growing Companies Drive Breakout Success
Book Spotlight: "Hacking Growth: How Today's Fastest-Growing Companies Drive Breakout Success" by Sean Ellis and Morgan Brown. Published by Crown Business, an imprint of Penguin Random House LLC.
It seems hard to believe today, but there was a time when Airbnb was the best-kept secret of travel hackers and couch surfers, Pinterest was a niche web site frequented only by bakers and crafters, LinkedIn was an exclusive network for C-suite executives and top-level recruiters, Facebook was MySpace's sorry step-brother, and Uber was a scrappy upstart that didn't stand a chance against the Goliath that was  New York City Yellow Cabs.
So how did these companies grow from these humble beginnings into the powerhouses they are today? Contrary to popular belief, they didn't explode to massive worldwide popularity simply by building  a great product then crossing their fingers and hoping it would catch on. There was a studied, carefully implemented methodology behind these companies' extraordinary rise. That methodology is called Growth Hacking, and it's practitioners include not just today's hottest start-ups, but also companies like IBM, Walmart, and Microsoft as well as the millions of entrepreneurs, marketers, managers and executives who make up the community of Growth Hackers.

Think of the Growth Hacking methodology as doing for market-share growth what Lean Start-Up did for product development, and Scrum did for productivity. It involves cross-functional teams and rapid-tempo testing and iteration that focuses customers: attaining them, retaining them, engaging them, and motivating them to come back and buy more.  

An accessible and practical toolkit that teams and companies in all industries can use to increase their customer base and market share, this book walks readers through the process of creating and executing their own custom-made growth hacking strategy. It is a must read for any marketer, entrepreneur, innovator or manger looking to replace wasteful big bets and "spaghetti-on-the-wall" approaches with more consistent, replicable, cost-effective, and data-driven results.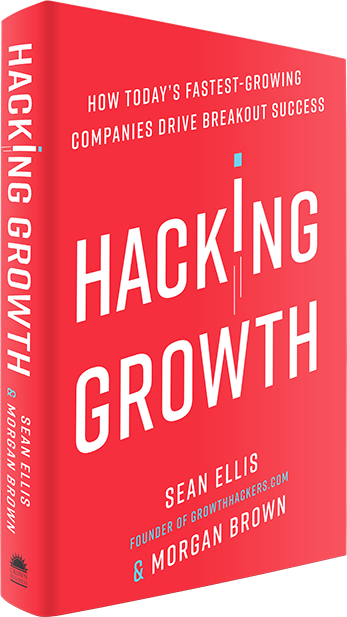 Hardcover | $29.00
Praise
"There is nothing more important for any business than attracting users and customers to your products. The tools to do this in today's online-driven world are very different from the past. Hacking Growth will teach you how to think like a marketer of tomorrow. You will learn how to do deep data analysis, and how to think about developing features into your products that drive growth directly." 
—Josh Elman, partner, Greylock Partners

"Marketers realize that marketing as we've known it will be replaced by growth hacking. So what is it, how do you do it, and why do you need to? Morgan Brown and Sean Ellis help you ask and answer those questions in this brilliant book, made for those new to the art and science on how to hack growth."
—Geoffrey Colon, Communications Designer at Microsoft and Author of Disruptive Marketing
 
"Two of the best marketers I know, Morgan Brown and Sean Ellis, have written a fun and accessible guidebook to growth hacking and marketing. If your mandate is to drive high leverage growth, then is book is your new best friend." 
—Patrick Vlaskovits, New York Times Bestselling Author of Hustle and The Lean Entrepreneur

"Hacking Growth is the definitive guide to building authentic, sustainable, compounding growth for your company. If you want to know how proven growth practitioners at fast-growing companies do what they do– pick up this book." –-Annabell Satterfield, Growth Mentor, 500 Startups

"A terrific book [that] belongs up there with Geoffrey Moore, Eric Ries and Steve Blank's books as a fundamental part of the canon of StartUpLand" -– Jeff Bussgang, Harvard Business School Lecturer, and general partner at Flybridge Capital Partners