Audible Lets You 'Skip to the Good Part' in Audio Romance Novels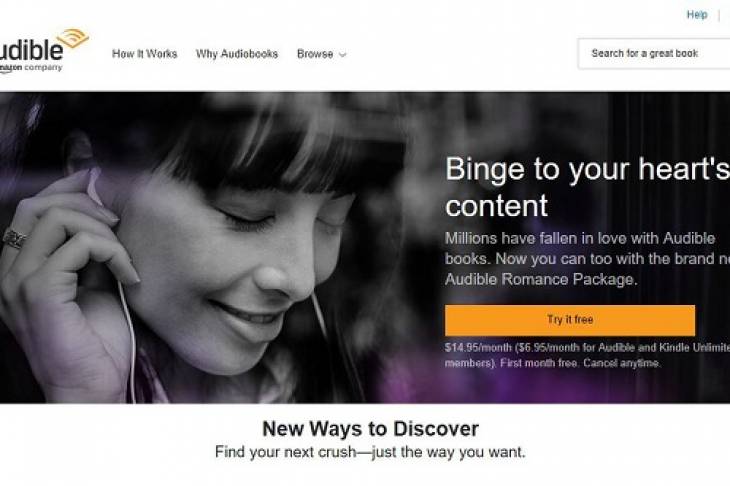 Fans of romantic novels may have something new to celebrate. Audible Inc., the world's largest seller and producer of downloadable audiobooks and other spoken-content now lets you jump straight to the action in romance audiobooks where things get, uh, steamy.   
Audible "Take Me to the Good Part" Feature
According to the Amazon-owned audiobooks seller, the pioneering feature called "Take Me to the Good Part" uses data mining and machine learning technology to identify the most sought out and memorable sections of a romance audiobook. It also includes a "Steaminess Score" that identifies the level of passion listeners can expect from their romance novel before diving in.
"Romance readers are some of the most savvy, enthusiastic, well versed, and devoted fans in the world," says Audible Chief Content Officer Andy Gaies, in a release announcing the new feature. "With Audible Romance, we've combined the expansive catalogue and impressive tech that make Audible so attractive to begin with in order to create a customized, appealing experience to satisfy the appetite of this voracious audience."
The machine learning technology used in this feature is able to identify at least 10 types of so-called "good parts," including "flirty banter," "first meeting," "first kiss," and one it dubs "hot, hot, hot" – aka the sex scenes. This sorting criteria is useful because the "good parts" of a romance novel are different for different readers.
Price and Availability
"Take Me to the Good Part" is available as part of a new package for narrated books under the Audible Romance brand. Unlike the normal Audible subscription that offers inclusive access to only one free book per month with the option to buy more at a discount, Audible Romance allows you to listen to as many books as you like in the romantic novel category with the Audible app.
Subscription to Audible Romance is $6.95 per month as an add-on for Audible and Kindle Unlimited members. It is also available as a standalone, all-you-can-read service for $14.95 per month, with access to thousands of romance audiobooks, including best sellers and Audible Originals.
"Audible Romance makes binging on romance content possible at an affordable price-point," adds Cynthia Chu, Audible CFO, who leads the data science team responsible for "Take Me To The Good Part."
The "Take Me To The Good Part" feature is tipped to roll out to all digital books in audio and other formats later, to help classify scenes that are also "good parts" for other reasons apart from romantic reasons.
See Also: Amazon Lets Teens Independently Shop, Stream Content on Its Site.