Paid, Owned and Earned Media: A Quick Introduction for Brands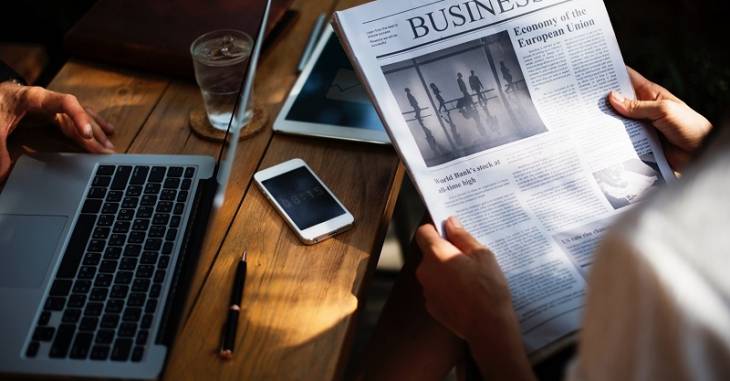 With good marketing you can reach the widest audience, attract customers, and retain them for the longest time possible.
To do that, however, you need to use the right marketing channels and media.
There are at least three primary marketing media that you can use: paid, owned, and earned media. Each of those is different in terms of its features and objectives.
You can select the most effective one or a combination of those options for your business, but you need to gain adequate knowledge about each of them.
So, what are paid, owned, and earned media, and what are their individual benefits? How do you even get the most out of them?
Let's quickly answer those questions.
1. Paid media
Paid media is perhaps the most common of all marketing types. It is content you pay to place in front of an audience as an advertisement or sponsorship. It involves the use of a paid platform to reach a target audience.
Any traditional marketing that you can think of: TV ads, print, radio, and billboard, is paid marketing. The digital arena includes social media platforms, search engine result pages (SERPs), and display ads.
Facebook, Instagram, Twitter, and LinkedIn are some platforms with huge audiences where you can place paid content.
Other platforms you can place paid media, and where it's incredibly effective to run pay-per-click (PPC) ads is on search engines like Google. Every time someone searches for something on Google, the ads that appear at the top are paid.
Benefits of paid media
Paid media is a traditional type of advertising that has a lot of benefits. It is easy to track, provides results fast, and offers you complete control over the process.
Since people will always use social media and search engines like Google, your paid marketing content will be noticed by a large number of people quickly. It will also have a high click-through rate.
The importance of paid media on social media also cannot be underestimated, considering there are around 4.48 billion active social media users today. Placing your marketing content in front of such a big audience can be very significant.
Tips to leverage paid media
Try to advertise your product on web pages/platforms that don't have a lot of ads cluttered everywhere.
The message in your paid media content should be straightforward for user to easily and quickly understand.
Use attractive images, catchy captions, and unique headlines to capture viewers' attention immediately.
2. Owned media
Owned media is any content or web property over which you have complete control. That means you will have to invest in creating it initially.
It could be a website, blog, YouTube channel, Facebook page, email lists, newsletters, and even social media posts.
Some businesses prefer owned media as it offers greater control, higher content flexibility, and longevity.
However, creating owned media takes time—both in developing the content and getting it in front of your audience. But it has the potential to bring results for a longer period.
Benefits of owned media
The main benefit of owned media is that it gives you complete control. You can decide the content type, frequency of updates, and user interaction process.
The results in owned media are easy to track, while the content exists for as long as you want.
It is also more cost-effective compared to paid media. The money required to publish a video, blog, article, or post is less than organizing an online campaign.
Tips to leverage owned media
Ensure that all links on your owned content, whether on pages or social media, lead back to your brand's website.
Make your content enjoyable for users without appearing desperate to sell your product/service.
Maintain regular and prompt contact with your customers by consistent posting of your owned media.
3. Earned media
Earned media is exposure gained without any paid marketing. Examples are brand mentions through a favorable social media post, newspaper article, or blog post about your business, product, programs, or projects.
Earned media is a favorite because it is unpaid exposure—priceless publicity. It brings media awareness through content that has been voluntarily shared or created by others for free.
That said, you can catch people's attention and earned media using specific online strategies, such as creating high value, unique content, or offering robust services.
Even though earned media has its benefits, getting it can take some time. Unpaid publicity can also be challenging to track.
Benefits of earned media
A key benefit of earned media is its high credibility. People are more likely to believe reviews that are independent and not paid for by a business.
Earned media is also cheaper (actually free) compared to both paid and owned media since there are no advertising costs involved. The better your content, the higher its chances of being noticed.
Another significant advantage is a broader reach. As your product is advertised on a new platforms and media channels that you may not even be on, it is seen by a wider new set of audiences. They could very well be your new loyal customers.
Tips to leverage earned media
No one will share your content unless you offer something exceptional and excellent.
Even if there is unfavorable feedback, respond to it professionally and honestly. This can turn a negative feedback to a positive earned media.
Create and nurture relationships with online tool, specifically social media networks and online forums and community groups.
Make use of all your distribution channels. Share your content on as many media channels as you can.
Show that you are an expert in a particular area. You can do that by consistently publishing high quality blog posts, news releases, and other content related to your niche or area of specialty.
All three types of marketing channels, paid, owned and earned media, have their place in the lead generation process. Each type of media has its advantages for your business.
Aim to leverage them in your marketing strategy, deciding which one is likely to benefit you the most and focusing on it.