How You Can Strengthen Your Social Media Strategy Amid COVID-19 Chaos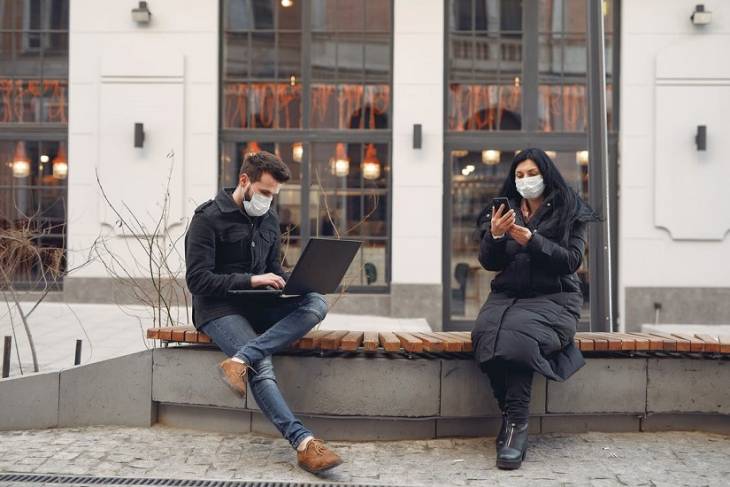 The ongoing Covid 19 pandemic has had a massive impact on the lives of people. Our norms of societal engagements have been shaken, our liberties have been restricted, and the constant influx of depressing news has heightened our sensibilities.
People are feeling communal anxiety and grief. Some have lost their jobs while a few others are risking their lives to keep essential services operational.
The onset of COVID-19 has also changed a lot of things in the marketing sector. In this time, when people are only concerned about essential items, marketing anything else has become a challenge.
In times like these, a shift in our marketing strategies is required.
Any marketing plan must therefore consider the emotions of the customers, and the business goals have to be aligned with the current concerns of the consumers.
Strategies to Strengthen Your Marketing in Wake of COVID-19
Marketing, in its purest form, must include a deep understanding of your target audience. You study their everyday lives, their joys, challenges, and perceptions. Once you find it out, you lay a finger on how your brand can fit into the story.
With thst in mind, here's how to strengthen you social media strategy during and after COVID-19:
1. Reanalyze Your Marketing Plan
When people are hoarding toilet papers and sanitizers, a marketer must take a step back. It may seem prudent to cut marketing budgets and preserve cash flow, but you may miss out on an opportunity here.
Look at the larger picture.
People are staying at home and have a lot of time to consume content online. It is creating new opportunities for smart marketers to fetch more customers.
Research from GlobalWebIndex revealed that people all over the world are spending more time on the internet due to lockdowns. The users on social media increased by 8% since April 2019, reaching 3.81 billion today.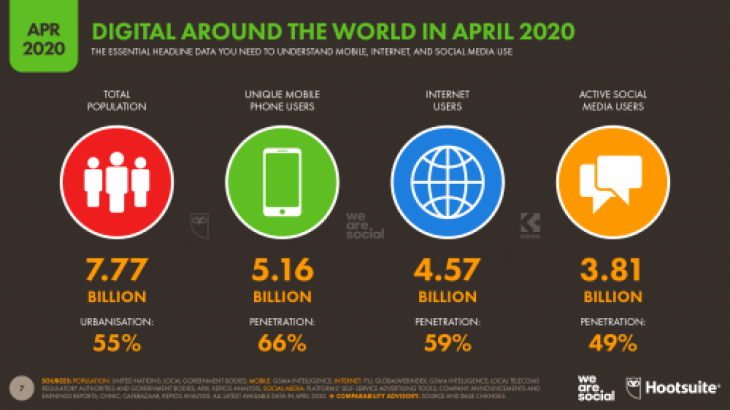 Right now, staying connected to your audience via social media is more critical than ever. However, it requires a carefully crafted marketing and engagement plan devised according to the changed realities due to the pandemic.
2. Listen and Acknowledge
Ignoring what's happening around and moving on with your usual brand humdrum can make you stand out as 'callous.' You need to empathize and establish a connection with people.
This begins at home, i.e., take care of your employees. Make sure they are working in a safe environment and are following all the precautions outlined by the health agencies all over the world.
Next, craft a sensitive message in the light of the ongoing pandemic. Your audience will notice when you are sympathetic and humane.
A brilliant example was set by Nike, recently. It asked Americans to stay at home.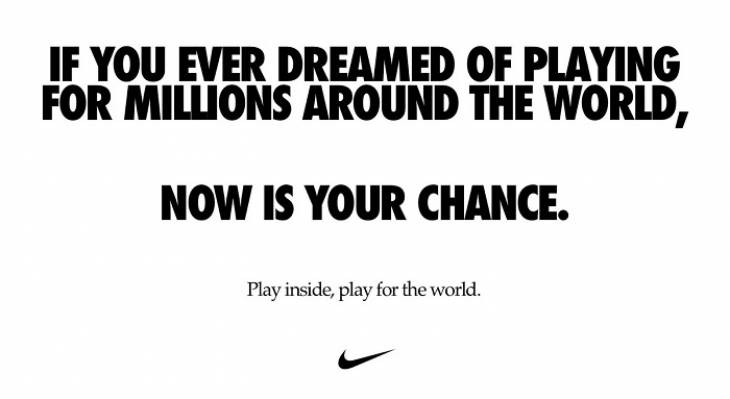 Another way could be to start a random conversation related to the crisis. Ask people how they feel, what their opinions are, and how you can ease their troubles. A real-time chat is a great way to encourage your community to come together.
3. Explore New Platforms
If you have wanted to expand your reach through Snapchat or Twitter, now is the time to dig in. If you always wanted to try out Insta stories, this is the time to go for it.
Also, you might be curious to know how your customers react to different kinds of content. This is the time to craft and upload content that was always in your head. For example, you can:
Experiment with a video that shows how to use your product
Try the latest functionality introduced by Facebook and Instagram like polls
Call customers to know their reviews about the content
The bottom line is, you can branch out in different directions. These efforts may not bring in an instant boost in the purchases. But it will set a stage for the future. You will stand out, stay in touch, and become an inspiration for your valuable audience.
4. Provide Organic Value
You can conveniently transform your social media accounts into a reliable source of information for your customers. It doesn't mean that you become a one-stop-shop for COVID-19 facts and figures. Instead, focus on providing relevant information.
For instance, you can post a video showing how parents can occupy kids at home during the quarantine period. A famous Insta brand Revolve is renowned for its travel content. They dramatically shifted their content strategy, changing the hashtag #revolvearoundtheworld to #revolvearoundthehouse.
Revolve are posting tons of useful content related to the stay-at-home lifestyle. This is entirely different from its core mission. Yet, they are adapting to the changing realities.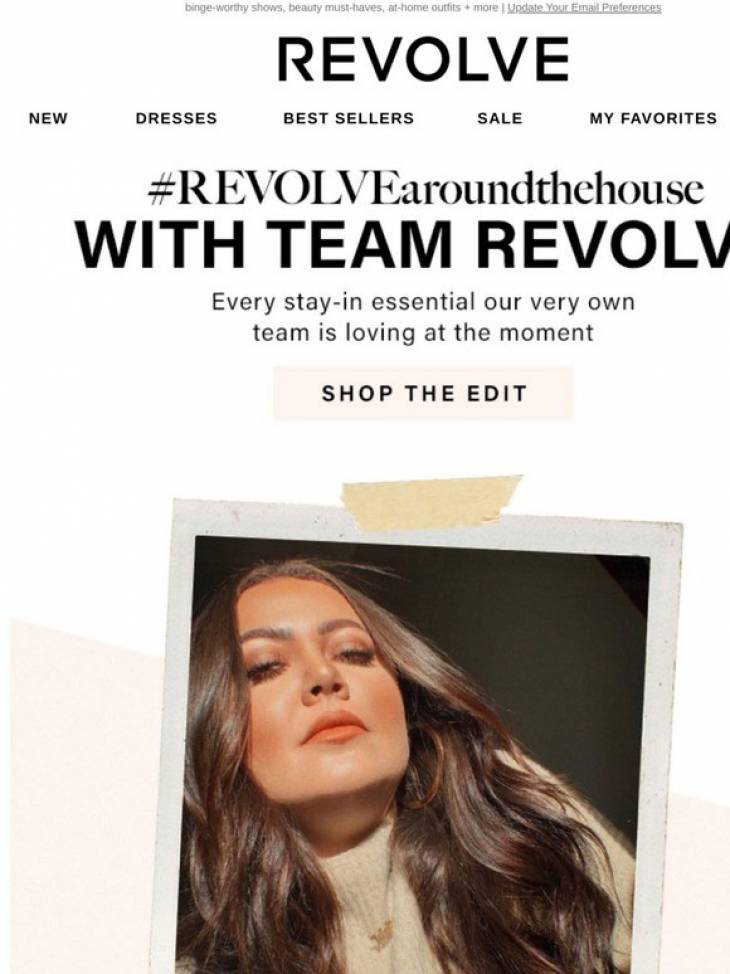 Forcing a message can look like you are capitalizing on the situation. Now is not the time to make this error. Providing useful info without expecting a sale is something that customers will remember. They will return because you struck the right chords when there was gloom all around.
5. Keep Posting
No one has ever experienced this situation before. There are a lot of questions for which we still have no answers. You cannot address all the crisis-related queries of your users. The least you can do is stay connected with them.
Tuck away your usual content-calendar and design a new one. Make sure you add content that is sympathetic to the hardships of people.
The situation of the virus is constantly evolving, and people are on the outlook for new information that can guide them. So it is essential to keep updating your content, bringing it in line with the latest developments.
One rule of regular posting on social media is to be responsive. You can do this by using social media tools that allow you to automate your engagements with your customers. Being responsive will help you provide valuable information and definite answers to your customers.
If the crisis negatively affects your consumers, you can create content that addresses their concerns. Tell them how you will rectify the issues to alleviate their worries.
Parting Thoughts
Currently, your audience is inundated with a lot of COVID-19 information and new developments. Thus, product promotion on their newsfeed might feel out of place. A wise move would be to strengthen your social media strategy in a way that resonates with the situation.
Authentic and genuine communication will help you build relevance and a strong connection with your customers that will last even after the pandemic ends