12 Creative Ways to Use Digital Signage to Boost Your Business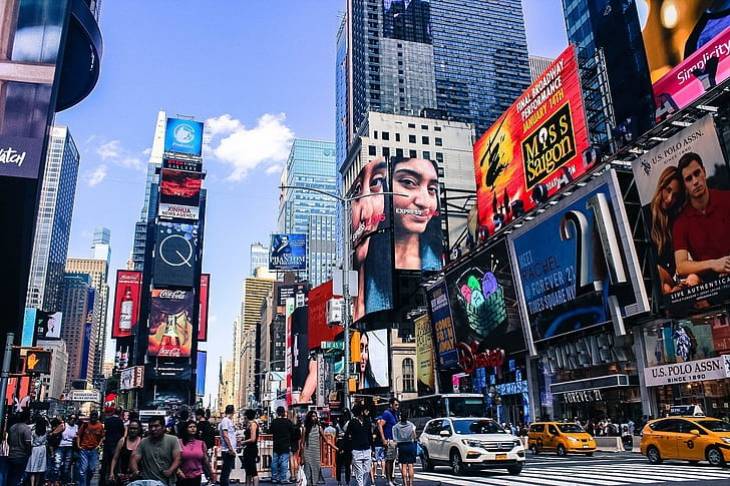 Digital signage is everywhere. You can see them while driving down the road, walking into a coffee shop or visiting your local supermarket. They are the LED projectors or LCD screens used to display a mix of content like images, video, text, and other information. 
As these screens feature various types of content, they can immediately grab attention, as well as prompt people's sense of alertness. No wonder they are a vital part of today's smart marketing and advertising. From retail stores to restaurants, businesses of every size and type use digital signage to boost their business and brand awareness. 
According to one study, the digital signage market is estimated to be USD 16.3 billion in 2021, and projected to reach USD 27.8 billion by 2026. The impact of this marketing tool has been proven time and again to offer a wide range of benefits for businesses, ranging from increased profits to greater engagement from viewers. In fact, digital displays have been found to capture 400% more views than banners or traditional signboards.
Besides, digital signs can improve the customer's experience, according to a consumer survey by business IT solutions provider BLM Technologies. Moreover, digital signage has been found to trigger impulse shopping decisions among customers.
With the numerous benefits of digital signage, you should consider using the tool creatively in your business. It can give you a competitive advantage in the market.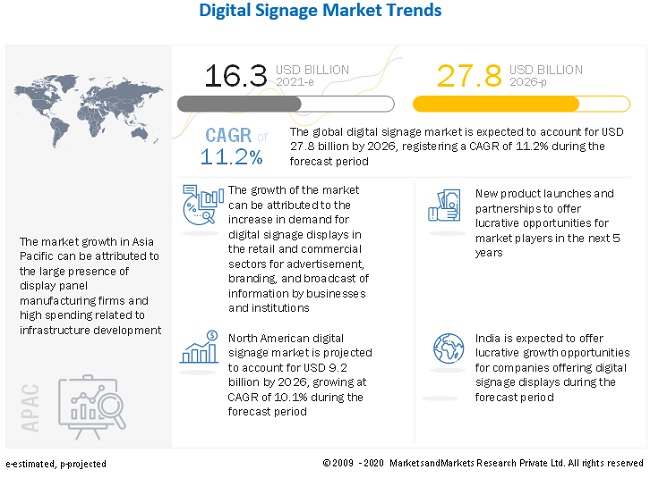 Implement Digital Signage in Your Business
Apart from promoting products and services, digital signage can also be used for various other purposes like navigation, alert, explanation, and information.
Here's a roundup of some interesting and creative ways you can use digital signage in your business to reap its benefits.
1. Promote a Product, Item, or Service
Well, that's a key benefit of using digital signage. They visualize and promote your offerings to the customers and visitors. They are likely to capture attention due to their brighter screen and contrastable background.
Besides that, the scrolling text on digital signage screens make viewers slow down and read the displayed sentences and messages to the end. 
2. Explain the Value of Your Service or Products
What you sell or do is important, but perhaps what's more important is the why your product or service is worth it. Consumers look for the value of what's on offer before buying. Therefore, you need to explain to your potential customers why they should stop, shop and buy your products.
For example, an auto store can run marketing content explaining the quality of its spare parts and guarantees. For a grocery store, it might be about organic foods. For a restaurant, it could be the healthy ingredients used in dishes. The point here is to explain the "WHY" behind your offerings. 
3. Create a Sense of Urgency
Triggering a sense of urgency is an effective strategy to upsell at the point of purchase. For example, you can flash the "90% discount" message over the screens on a particular item to boost sales.
4.  Entertain Customers
Digital signage can be used to entertain your customers, especially when they have to sit in a waiting room. You can offer family-friendly entertainment content within your business premises. And while at it, you can also display ads and run custom messages sparingly on screen.
5. Provide Information
Today's marketing is built around content, so if you can provide something valuable to the consumer, even if it isn't directly associated with a product or service, you can win over the customer. 
For example, a dietician's office can run information on the right foods to improve immunity. Although it doesn't advertise the product directly, it helps create a positive experience for the visitors that boosts brand affinity.
In other words, using digital signage in this way can help you to establish your brand as one that cares for its customer. This will reflect positively on your brand image and increase customer loyalty. 
6. Introduce Your Staff
One of the effective ways to humanize your brand is by introducing your staff and making your team familiar to people. And this can be easily done using digital signage.
You can create a bio slide for each person on your team—where they're from, their hobbies and their favorite sports team. This way, a customer feels more connected to your brand. 
7. Communicate with Your Team
You can also use the screens in your business to communicate with your staff. You can share a meeting calendar and new guidelines over the screen.
Besides that, you can run an appreciation note for the employees on achieving goals and putting up efforts. 
8.  Share Brand Values
The digital screens can be used to share your vision, brand promise, core values, and mission statement.
And while you may not create a commercial about those things, digital signage gives you a great platform to run a free, custom graphic about your brand values. 
9.  Create a Revenue Source
Digital signage also lets you promote a product or service that other businesses might want to put in front of your customers.
With custom messaging and regulated playlist length, you may be able to get other brands to pay you to have their ads run on your screens, helping to build another source of revenue. 
10. Display Reviews
Most customers check the reviews of the product before buying it. They are more likely to purchase the product with positive reviews.
While there are many online review platforms and word of mouth marketing, why not use your digital signage to run positive reviews about your products?
The customer reviews can be fetched from social media accounts like Instagram, Twitter and Facebook and displayed on the screen. 
11. Help Customers Navigate Around Your Premises
A screen at an entrance, transition point, and elevator can help customers find their way around your premises. 
12. Answer Frequently Asked Questions
Are you getting the same questions over and over again from customers?
You should provide answers the questions as soon as possible.
And a great way to do that is to display answers to frequently asked questions (FAQ) right away on your digital signage. 
In conclusion
Digital signage can have multiple uses across your business. It can not only be used to promote your products, but also keep your team and customers educated and engaged.
But in order to make the most of your digital signage, make sure to install them in the right place. Look for a location where customers are most likely to wait, sit or linger, such as the counter, reception, ticket booths, entryways, and escalators. These are good locations for digital signage.
Also, make sure to install them at eye level as customers are likely to focus on whatever is directly in front of them. They might not look up or down, meaning they could miss the signage.
For employees, digital signage can be installed in the lunchroom or other employee gathering areas.