European Union Fines Google $2.7 Billion for Skewing Search Results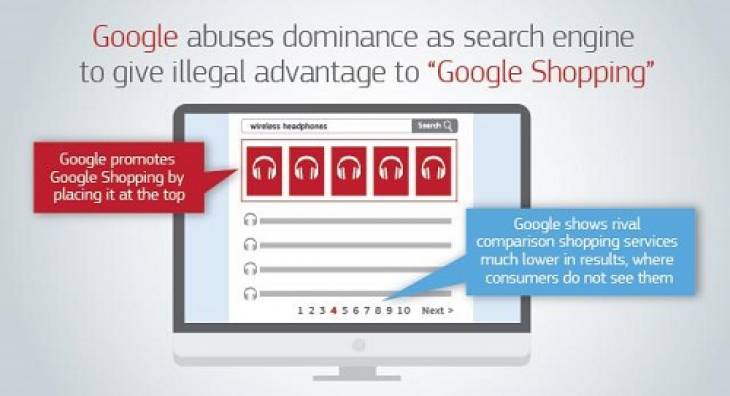 The European Union (EU) has slapped a record $2.7 billion (€2.4 billion) fine against Google, after the online search company was found guilty of skewing search results by favoring its own shopping search service over competitors. The fine, higher than many industry observers had expected, more than double some estimates, was unveiled Tuesday, and follows a seven-year investigation by the European commission.
Google Fined by the European Union
"Google has come up with many innovative products and services that have made a difference to our lives. That's a good thing," said European Commissioner Margrethe Vestager, head of competition policy in the EU, "but Google's strategy for its comparison shopping service wasn't just about attracting customers by making its product better than those of its rivals."
"Instead, Google abused its market dominance as a search engine by promoting its own comparison shopping service in its search results, and demoting those of competitors," Vestager stated. "What Google has done is illegal under EU antitrust rules. It denied other companies the chance to compete on the merits and to innovate. And most importantly, it denied European consumers a genuine choice of services and the full benefits of innovation."
Google, as it has done repeatedly, denied claims its services limit competition, saying it structures its search results the way it does solely to make it easier for customers to find what they want. But the EU seems to think otherwise and has sent a strong signal that Europe means to act aggressively against what it sees as online monopolies that violate the EU's antitrust laws.
Google Denies Claims its Services Limit Competition
"When you shop online, you want to find the products you're looking for quickly and easily. And advertisers want to promote those same products. That's why Google shows shopping ads, connecting our users with thousands of advertisers, large and small, in ways that are useful for both," Kent Walker, Google's general counsel, said in a reaction on the company's official blog. "We respectfully disagree with the conclusions announced today. We will review the Commission's decision in detail as we consider an appeal, and we look forward to continuing to make our case."
Google has 90 days to stop its activities and comply with the antitrust ruling or face more fines, totaling up to 5 percent of the average daily worldwide revenue of Google parent company Alphabet. The search giant now finds itself forced to change how its search algorithm ranks websites, a major imposition that it will not take lightly. Google can, however, opt to remove some of its specialized search services from Europe, or return them to how they operated before Europe's investigation began almost a decade ago.  
Europe's Tough Competition Rules
Europe's tough competition policies have also seen other Silicon Valley firms, including Apple, Amazon and Facebook face similar probes. Vestager has already demanded that Apple repay $14.5 billion in back taxes in Ireland, opened an investigation into Amazon's tax practices in Europe and raised concerns about Facebook's gathering and handling of data. These companies deny any wrongdoing, prompting questions from some in the United States whether Europe is unfairly targeting American companies.
Under European rules, Google — and not the regulator — must come up with proposals to guarantee that it treats competitors fairly when people search online. The regulator can demand Google make further changes if it is not satisfied with the initial proposals. Focus now shifts to the changes Google will make to comply with the antitrust decision.
"The changes could have ramifications beyond Google Shopping, and might even impact Google's operations in the U.S.," wrote some American companies, including Oracle, News Corporation and Yelp, which have filed antitrust complaints against Google, in a public letter before the ruling was released.
See Also: Google Will Allow Advertisers to Target YouTube Ads Based on People's Search Histories.

You might also like...