The Best Blogging Apps for Shopify Stores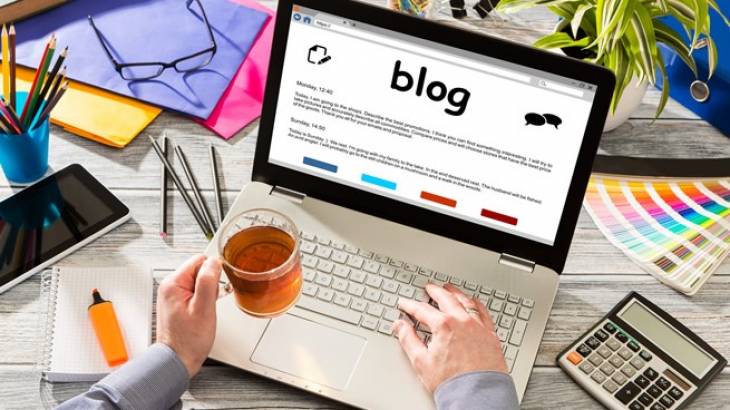 A blog is a writer's most integral web tool. It's where they can post everything that doesn't belong anywhere else.
Your Birds of Prey opinions burning a hole through your skull, your blockchain study guide, all your little snippets. Whatever they are, a blog is the place to put them.
It's the same for a Shopify blog. Although it's attached to your store, that doesn't mean that you can't use it for more general purposes.
A blogging app for your Shopify store is an extra opportunity for people to find your store by getting search results for your blog on Google, Bing or other search engine. And of course, it's an opportunity to link your articles back to your products.
If you do already have one, I'm sorry, but you've only made it through the easy part. The real trick is finding ways to increase your readership. If you don't have a consistent upward trend in visitors, then you've plateaued. You've stopped. This is as good as it's gonna get.
That shiver? That's the existential dread setting in.
Don't let this be as good as it gets.
Incorporate a blog on your store and add supporting growth strategies like email marketing, engaged social networking like Facebook groups, as well as additional perks such as content upgrades to keep increasing your readership and growing your business.
Adding a Blog to Your Shopify Site
If you don't already have a blog, don't worry. It's easy to get one set up, especially in today's online market.
When searching for the best Shopify blog app there are a few different choices for platform, and it's an important choice.
So, let me walk you through your options.
Yes, Shopify has its own built-in blogging system. It's free with your store and automatically matches your theme, so there's no HTML and CSS like with WordPress. It's also hosted right on your website and doesn't require a separate domain name or hosting plan.
Unfortunately, the default Shopify blog has its limits. The included features are dependent on your store's theme, and if your theme doesn't have a feature, your only option is to switch to a new theme. You can't add features with plugins like on WordPress.
Also, no matter what theme you use, there's not a simple way to embed products directly into your posts, which is arguably the most basic feature imaginable for an online store's blog.
All in all, the built-in Shopify blog is an adequate solution if you just want to write your thoughts down. But if you actually want some function, or if you're ready to enter the world of content marketing, then you'll need to look farther afield.
Most people will tell you that WordPress is the best platform for blogging. In reality, it's simply the biggest.
WordPress has been around since 2003, making it the oldest blogging platform still around (aside from Blogger). Although its basic features are relatively average, there are hundreds of thousands of plugins that can add whatever function you could possibly dream up.
The level of customization on WordPress is insane, both in looks and features, and if you don't know how to do it yourself, it's easy enough to find a WordPress developer to do it for you.
Just like the Shopify platform though, it does have its drawbacks.
Shopify doesn't let you host a WordPress blog directly, so you'll need a separate domain name and hosting plan for your blog. This means your store and your blog will be on different URLs, which can look unprofessional, especially considering you also can't use your Shopify store's theme on your WordPress site. They're just not compatible with each other.
With WordPress, you'll also need to know some HTML and CSS to make your blog match your store, or hire someone to do it for you...and make any changes you might want in the future.
With WordPress you'll need to sift through the massive number of plugins to find the perfect one for each feature. Most plugins don't give you full access for free, so you'll need to be mindful of your plugin costs piling up.
But most worrying of all, each WordPress plugin is a potential security risk; missing an update leaves exploits for a hacker to take advantage of.
Considering the monetary and technical drawbacks, I wouldn't recommend a WordPress blog for your Shopify store.
DropinBlog is a relatively new player on the scene and, in my opinion, is probably the best Shopify blogging app option for an eCommerce store owner.
Available as an app in the Shopify Store, you can install a new blog with a single click. DropinBlog automatically takes on your shop's theme and updates itself to match whatever style changes you make.
You manage your blog content through the DropinBlog Shopify app, which gives you access to a whole slew of useful features. For example, it allows you to have multiple authors registered on one blog for easy organization and collaboration.
It also includes an SEO Analyzer, which looks over your posts and tells you how easy it is for search engines to find them based on a keyword you specify. This can be a lifesaver for store owners who are new to content marketing and want some help navigating Google's ever-changing protocols and best practices. Usually, something like this cost extra, but DropinBlog includes it for free.
Another thing I like, is that with the DropinBlog Shopify App there are no plugins to wade through, no extra hosting or domains to mess around with, which means no security holes. DropinBlog handles everything on their end, taking the worry and responsibility out of your hands, and letting you focus on what you came here to do... blog!
And my personal favorite feature... DropinBlog lets you embed your products directly into your posts. This lets your customers buy your products as they're reading about them. Brilliant!
Of course, there are still drawbacks, but they're minor compared to the other two options.
DropinBlog doesn't have plugins, so if there's a unique feature you want, you can suggest it to their dev team. To some having a team of developers on hand to help out is a plus, but others may prefer working through their issues alone.
Also, there is a cost, though serious store owners will find the app pays for itself in terms of time saved and SEO guidance. And DropinBlog even offers a 14-day trial, so you can try it out risk-free.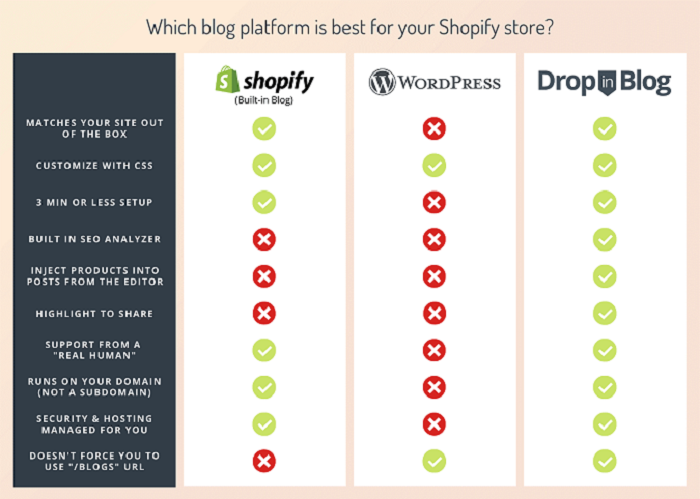 In conclusion
Now, you hit up the Shopify App Store, download the right blogging app for you, and start creating content.
Your Shopify store products should be the main focus of your blog. But if you occasionally have an unrelated post that will draw in new readers (and customers), that's fine too. You might even come up with ideas for new products because of them!
Just remember, your blog isn't here directly to sell things. Hard sells can actually drive people away; they feel like they're being pressured. Your blog is here to draw new people in and keep them coming back.
If people get into the habit of reading your blog posts, they'll eventually find some posts letting them know that hey... that problem you have? we've got a product for that!