Corporate Blogging Magic: Top Tips for a Successful Corporate Blog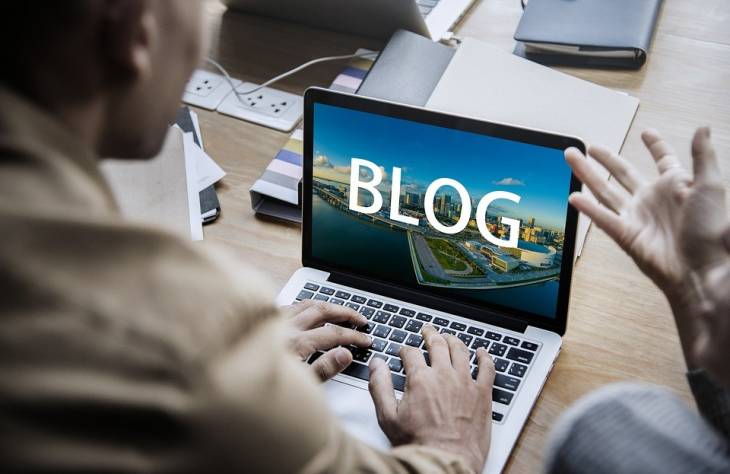 Ever wondered what significance blogging has for companies?
Well, online marketing has become more and more important these days because the internet has shown it can reach more people than ever before, more effectively.
Almost 20 years after the advent of popular internet usage, businesses now rely on reaching their target audience directly when internet users search for products and services online.
Classic search engine optimization (SEO) can certainly be a factor that helps you rank your company website online, but today you need much more to succeed.
At the very least, your company needs a corporate blog for successful SEO and business growth online.
Blogging Is a Magic Tool for Successful Businesses
A corporate blog is essentially a regularly updated website or web page that is published and used by an organization, business or corporation to reach its organizational goals. It adds new posts in chronological order, with latest posts appearing first.
Many of the world's largest brands have corporate blogs that benefit them in many different ways, including Walmart. Walmart is number one on the Fortune 500 list and it has a great blog to go with that title, as does Coca Cola, Whole Foods, Disney, and many more.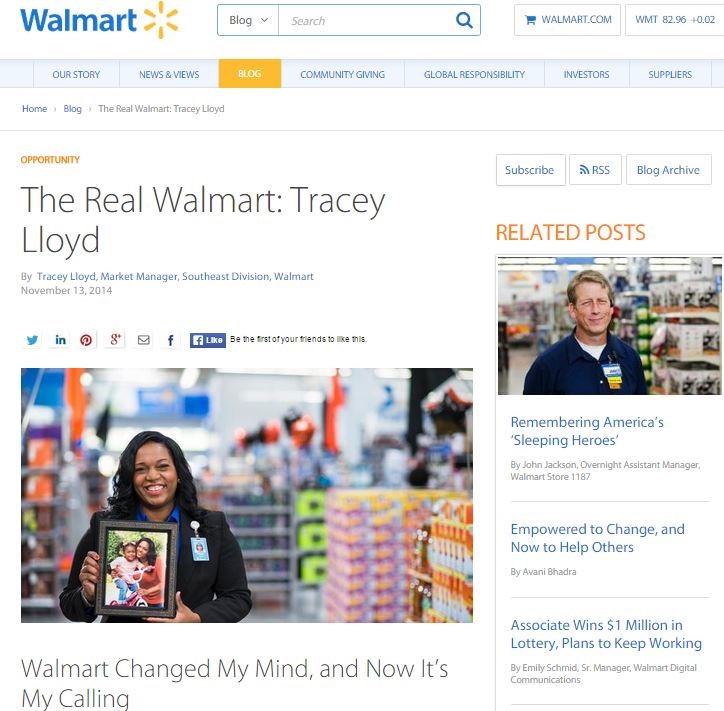 A screen shot of Walmart corporate blog.
Regardless of size and sector, all companies, businesses, and organizations need to take advantage of the opportunities corporate blogs offer to grow and attract customers.
Top Reasons to Have a Corporate Blog
Here are some of the top reasons for having a corporate blog.
1. Improve the Ranking of Your Website
A corporate blog that is directly linked to the actual company website generates important ranking signals in search engine results pages (SERPs). Keywords that could not be accommodated on the corporate site can be outsourced to the corporate blog. Thus, the attention is directed to the company, which increases the number of direct and indirect orders.
2. Create Space for Trust and Communication
Regular blogging and communication with customers and visitors to the website inspires confidence. Experience shows that users on blogs are much more open about certain topics and products. Companies that create a platform with a corporate blog are perceived as a modern, friendly, and up to date.
3. Foster Openness and Transparency
As for openness and transparency, blogging is a crucial step for the outside world. Blogs demystify and bring the people behind the company closer to their customers. This is because formal barriers are broken, for example, through a corporate contact form.
4. Offer Up-to-Dateness for Readers and Search Engines
Not only does regular blogging show users that the company is always up to date and has know-how, but it also ensures your site meets search engines' requirement for regular maintenance of content on the corporate blog for a better ranking.
5. Be One Step Ahead of the Competition
Overall, relatively few companies use the online marketing tool that is blogging. According to industry research, 33% of B2B companies use blogs, while 77% of internet users read blogs.
In the US, internet users spend 3x more time on blogs than they do on email, per HubSpot study. Of those businesses that had corporate blogs, 81% of the businesses deemed their blogs as "critical," "important," or "useful."
Your company can get a decisive advantage growing its brand and leads with an actively maintained corporate blog. A blog can put you a step ahead of the competition.
Best Platforms to Start a Corporate Blog – Where to Build Your Blog
As mentioned earlier, many companies don't have blogs. This is despite the fact that a company or corporate blog has more long-term ROI (return on investment) than traditional marketing efforts.
A McKinsey study found that only 28% of companies on social media used blogs in marketing. Depending on the sector, the values ​​are sometimes significantly lower or higher in some niches. In particular, the industrial sector, at only 18%, is far below level.
Blogging in the fashion industry is very successful. Bloggers are regularly invited to fashion events so that they can blog about the event afterwards. Even in the Internet industry, a blog is an important place to interact with colleagues – a real booster in the field of communication.
As such, blogs have become hallmarks of online culture. If your company doesn't have a blog, it's time you set it up no matter your niche. This will significantly boost your business' online presence as blogs are terrific traffic drivers that help companies get leads and elevate brand awareness.
According to a report by Web Tribunal, there were more than 600 million blogs out of 1.9 billion websites worldwide. Tumblr and WordPress are the biggest blog hosting platform worldwide
Other popular blogging platforms and content management systems (CMS) include Joomla, Drupal, Blogger, Wix, Weebly, Medium, and Squarespace. Use any of these blogging platforms to set up your corporate blog to elevate your brand and acquire more customers.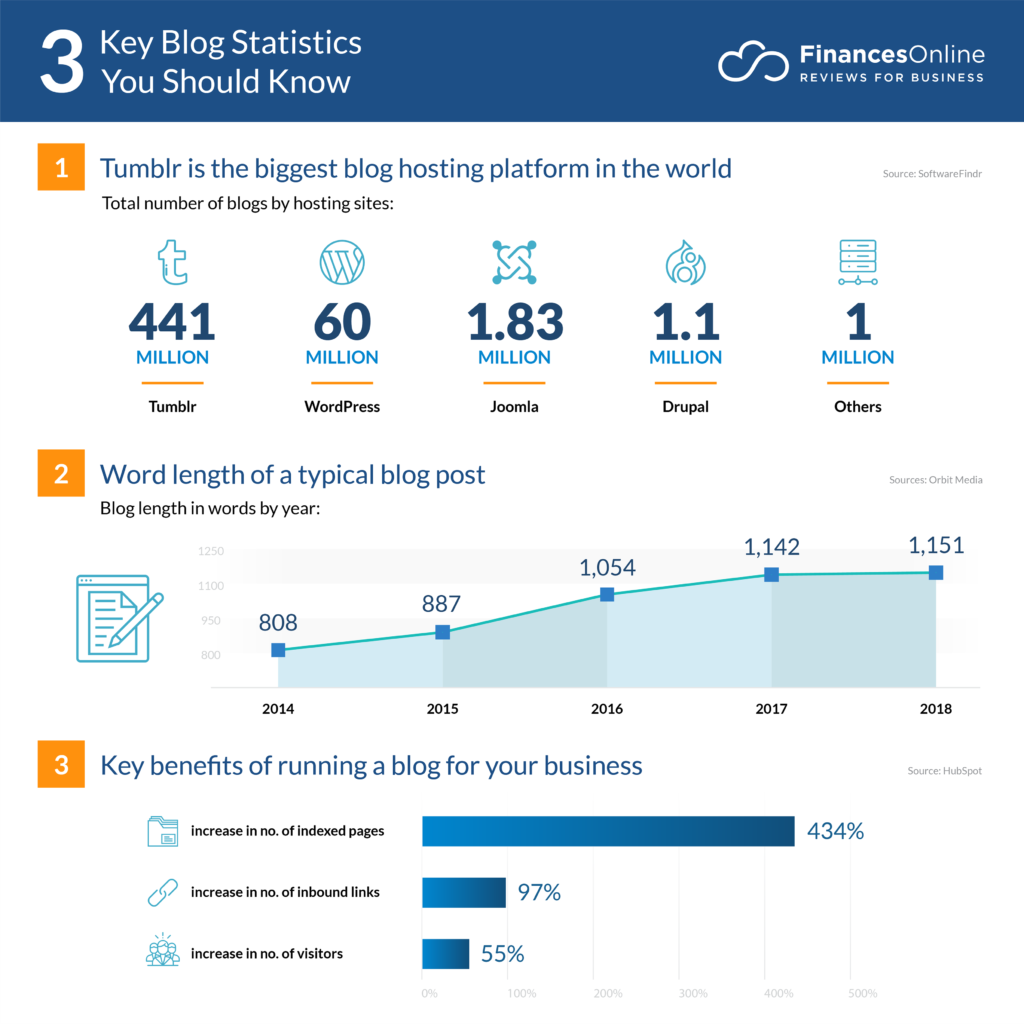 Image source: FinanceOnline.
Proven Strategy to Enhance Your Corporate Blogging
Corporate blogging is not the same as traditional personal blogging, where the latter is done by an individual rather than a corporation or organization.
You have to blog effectively and appropriately on your corporate blog to successfully market and brand the company. Stick to regular posting.
At the same time, avoid pure self-promotional and over optimized SEO posts, which are actually more damaging to a brand.
Here are more tips and key things to follow for a successful corporate blogging.
1. Ensure Quality
Write high-quality articles always that interest your readers. With helpful and unique content, you can make it stand out from the competition.
2. Stay Topical
Blog on relevant and topical subjects, and on a regular basis. It will help your branding and you'll also benefit from more user engagement in conversations that result from your blogs.
3. Collect Email Contacts
Use email plugins like AWeber and MailChimp to collect the email contacts of your readers. This will help to grow a regular audience for your corporate blog.
Encourage your email list to read your blogs and write comments from within the regular e-newsletters you send. You'll be able to create a good relationship with your readership and receive useful insights, criticism, and suggestions for improvement.
4. Share Company Updates
A corporate blog must always be an open and transparent communication channel. So, use it to keep your readers up to date on company news.
However, do not overindulge them in every little corporate detail, or you might bore your readers. Use prudent discretion to determine what corporate news and updates to share and what not to share with them.
The corporate blog should by no means turn and become an overt self praising tool for merely blowing your own horn, but rather an informative channel. Keyword: added value!
5. Provide Added Value
Keep giving readers added goodies, such as raffles, sweepstakes, product testing, or refer them to special events on your corporate blog. It'll keep them interested in your company blog.
6. Conduct Blog Surveys
Conducting surveys on your company blog can enrich your strategies with tactics that your actual readers want. You can get valuable feedback that boosts your business and customer satisfaction. Don't let polls and surveys fall by the wayside on your blog.
7. Link Your Blog to Social Networks
Finally, content can be shared on social more easily and faster, which will help you reach a wider audience and grow your fans and followers.
Conclusion
Keep all these essential tips in mind and you will be on course to corporate blogging success.