Why You Should Probably Reconsider Publishing on Medium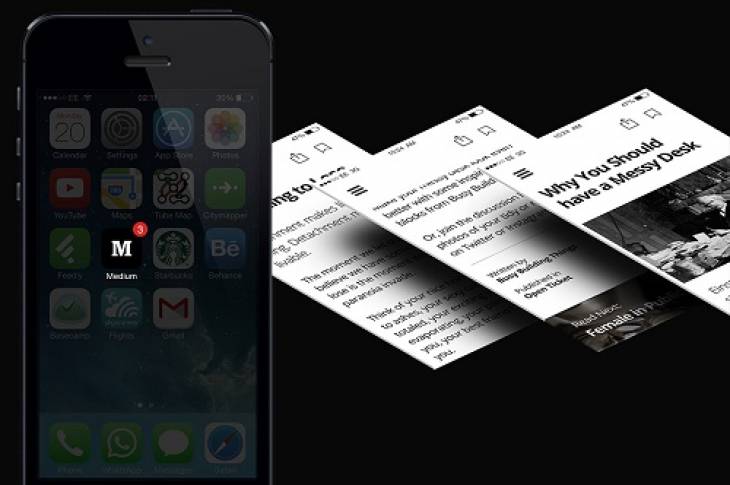 It has not been an easy start to the new year at the social publishing platform Medium.
Medium Founder & CEO Ev Williams earlier in the month announced that the popular publishing platform will be shutting down both its New York City and Washington, D.C., offices this year. The startup will also be laying off 50 people, or a third of its staff, in an effort to restructure the platform. The layoff will mostly be in sales, support, and other business functions.
"While we could continue on our current path — and there is a business case for doing so —," Williams wrote in a Medium post announcing the changes, "we decided that we risk failing on our larger, original mission if we don't make some proactive changes while we have the momentum and resources to do so."
Medium's Larger Mission in Digital Publishing
Medium's larger, original mission in the digital publishing industry was basically to create a "better" publishing platform that would disrupt the existing ad-driven publishing model. According to Williams, the ad-driven model is broken because it not only puts pressure on writers and publishers to put out more content more cheaply, but also leads to increasing amounts of misinformation being witnessed today.  
However, Medium has so far failed to disrupt the digital ad-driven publishing model as it originally set out to do, hence the layoffs, closures and restructuring. As part of the restructuring to more directly drive the mission they set out on originally, the publishing platform is doing away with its Native advertising posts (what it called "promoted stories") product.
Publishers of all sizes who migrated to the platform and have been able to make money off their Medium stories now stand to lose as the restructuring takes effect. There have been a number of publishers on Medium that have been sponsored in recent years by notable marketers like Marriott and BMW, bringing in good revenue for their publishing efforts. Now all that is set to change.
Medium as We Know it Dying
Medium was founded in 2011 in San Francisco, where its headquarters is still located. To date, the startup has raised $132 million, closing a $50 million Series C round in April.
In the past year, Williams said the platform has grown readership 300 percent year over year. This came after heavy investments to bring more traditional online publishers to the platform, such as The Awl, Mother Jones, Femsplain and Pacific Standard magazine.
With more traditional publishers migrating to Medium, the blogging platform built what they thought was a transformative advertising model. They started selling their first sponsored ad products so they could properly pay the publishers using their platform to publish content.
This strategy worked in terms of driving growth and improving the volume and consistency of great content. Williams said the sponsored posts advertising model they created was better than what readers were used to, but it wasn't the transformative model they wanted, thus the need for change.
"We decided we needed to take a different — and bolder — approach to this problem," Williams wrote. "We believe people who write and share ideas should be rewarded on their ability to enlighten and inform, not simply their ability to attract a few seconds of attention."
New Model to Reward Writers for Their Ability to Enlighten and Inform
The problem at Medium is that its management has said it is not clear what their new business model that will reward writers on their ability to enlighten and inform, not simply their ability to attract a few seconds of attention, will look like. And if you are not sure how to generate revenue after four-and-a-half-years of being in business (or should we say, operation), you have a serious problem on your hands.
One likely route Medium could take to try and generate enough revenue to satisfy its investors, publishers and survive is encouraging publishers to sell their content, mostly through subscriptions. However, with this move to a subscriptions model, Medium would cease to become the Medium we all currently know and love. Instead, Medium would become more similar to Spotify or Netflix for music or movies.
A subscription model might attract high profile writers and influencers that want to monetize their content creation without having the burden of advertising pressure. It could help bloggers, journalists, influencers develop a new source of revenue and, therefore, incentivize them to stay on Medium.
But, as some industry professionals have observed, many authors and bloggers do not want to hide themselves behind a paywall. Convincing publishers to "interfere" in some ways with the direct relationship they already have with their audience online will also be hard. Besides, the subscriptions business model has only been a success for a relatively small number of individual creators and publishers online.
Medium writers and publishers may, therefore, want to reconsider migrating fully or publishing all of their content on the platform in the meantime. Bumpy times lie ahead as Medium restructures and experiments with several ways to generate revenue in 2017 and beyond to ensure the platform survives.
See Also: How Publishers are Adapting Some of Their Stories for Medium