7 Tips for Decorating Your Living Room: A Beginner's Guide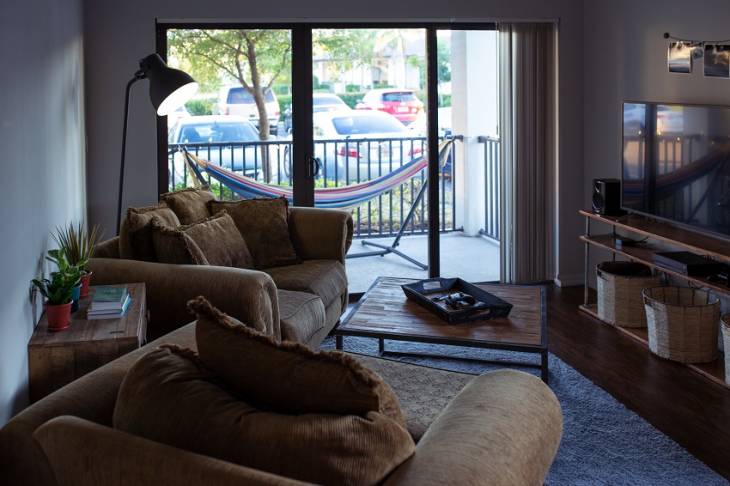 Have you always wanted a different view of your living room? Can you picture it like the ones they have on catalogs? Maybe you feel inspired to decorate your living room but don't know where to start?
Well, there are many tips and ways to decorate a living room. And you definitely have what it takes to turn your living room into a beautiful and comfy space. In fact, you don't need to be an interior designer to decorate your home.
However, with all the living room décor suggestions out there, you might be overwhelmed, especially if you are new to this task. Always keep your end goal in mind when decorating your room and you should be okay.
To help you in revamping your living room, here's a handy guide for beginners to successfully decorate the living room into an attractive and stylish oasis.
1. Right Sized Furniture
Having sturdy pieces of furniture is as important as knowing where to place them. While placing furniture is a common problem for beginners, it's not so much about where you place your furniture as it is about the style and size of pieces you choose.
Find furniture that is the right size and properly proportioned for your space. Sofas are often just pushed against the wall but try to find a focal point and 'float' them off the wall creating enough space for someone to walk by. That will give the room an illusion of a larger space.
Also consider including at least one round piece, such as a coffee table, that people can walk around without bumping their knees. Factor the number of people entering and using the room. Make sure everyone has space to navigate in and out of the living room.
Another piece of furniture you should take into consideration is TV Stands. Your TV stand can make or break the overall theme of your room since it can take up a significant amount of the space and focus in the room. Since most TV stands are made of wood, a brown shade is usually a good color choice for this piece.
Be creative with the positioning of your TV stand. If you watch TV regularly every day, you can center your TV stand in front of your favorite seating. Otherwise positioned the TV off-center so it won't become the focal point of all social interactions. This way you can prioritize connection and conversation by taking the attention off your television.
2. Maximize the Space
Look at your space and breathe it all in. Think of what you can do in your living room to make it more functional. This space is where all your creativity goes.
Apart from carefully selecting furnishings that are the right size to fit the space and floating a selection of furniture, make furniture multi-functional. Also add an illusion of space with mirrors.
In a narrow living room, scale down the furniture. Choose tight-back sofas and club chairs, leaner tables and wall sconces, wall-mounted shelves, built-in banquettes, and so on to save much-needed floor space. But don't crowd or clutter the room.
Add several lighting sources at different heights to draw the eye to different areas of the room. Chandeliers, recessed lighting, and lamps for both table and floor can make the room feel bigger and more interesting.
3. Display Artwork
Displaying artwork and photographs is a surefire way to make a big impact in a living room space. Choose wall art that has a shade that is already in your room.
If your room has contemporary furniture, abstract and surreal paintings are a great choice. On the other hand, paintings with realistic themes look great in a minimalistic room.
Just make sure your most significant artwork piece is displayed prominently and has a background color that matches your wall color.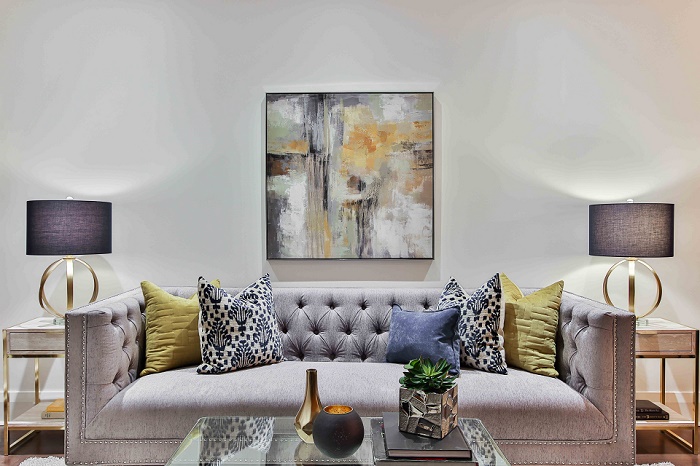 4. Let Natural Light In
Lighting fixtures are great for a living room that does not get that much natural light. But let's face it, we all need natural light; it accentuates any space.
Where applicable, install larger windows and doors, and swing the windows open to let the sunlight in and feel the breeze.
Add a large mirror to your wall to simulate the effect of a window. The mirror will not just bounce some light, but also add a sense of depth that breaks up claustrophobic wall planes.
You can also display several smaller mirror pieces strategically in the room salon-style to bounce some natural light.
Don't forget to add Skylights, if possible, to bring natural light into areas that normally wouldn't have windows.
Let light pour in with semi-sheer shades as well. Don't block light out with dark curtains.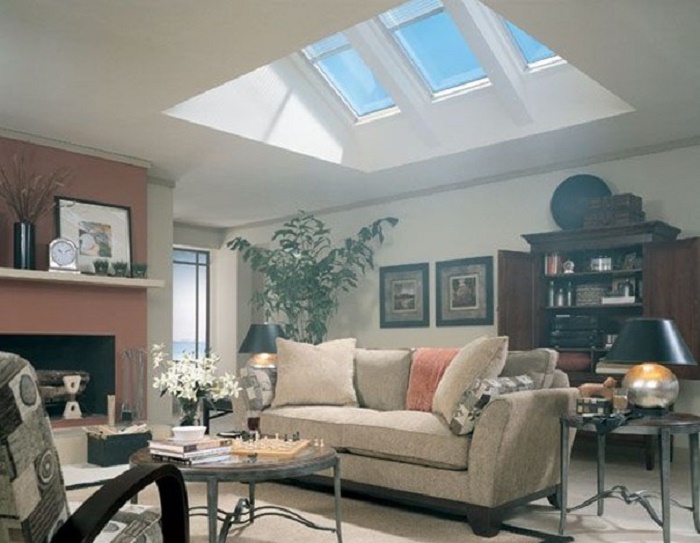 5. Stylish Rugs and Carpets
Rugs and carpets define the space that the living room is occupying. Carefully consider the size of the rug. How wide do you need it to be?
Also consider the texture and material depending on what you want your floor to feel like.
Lastly, consider the design of the carpet and rug. Make sure the design complements the aesthetics of the room.
6. Wall Painting/Color Scheme
Paint colors for living rooms have a huge impact on the overall mood of your home. But you should probably place your paint at the bottom of your list.
Since it's not always easy to land on the right paint color for your space, you may want to determine all that you'll add to your living room first, then you can think of what color paint best complements the room.
Bright colors bring a warm feel and make the room seem bigger and more inviting. Darker shades tend to bring calmness and elegance.
Gray walls is a popular neutral for any room and can make your living room feel more spacious, elegant, and serene.
Beige living room is an excellent choice if you're aiming for the minimalist look, while blue is America's favorite color that has a calming, stabilizing effect.
Green is the color of harmony.
7. Plants and Greenery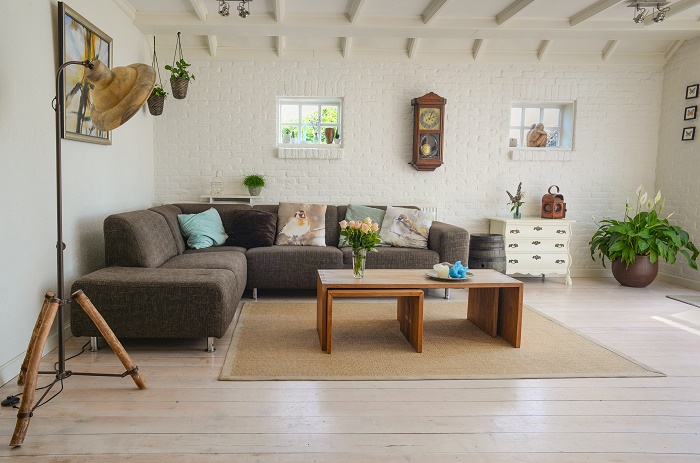 Indoor plants create a calming, natural mood in living rooms. They can make your room instantly more welcoming and relaxing.
Try placing a large plant beside the sofa, incorporating hanging plants, or have stunning, customized plant pots in the room.
Since living plants are inexpensive décor items, they can liven up a room on the cheap while bringing additional health boosting benefits.
For example, some great living room plants that are easy-to-care for are Chinese money plants and lucky bamboo. Another great choice for living rooms is dracaena, which is very sunny. Some other options might be Umbrella plant, Air plant, and Anthurium.