The Ultimate Style Guide for Men's Bomber Jackets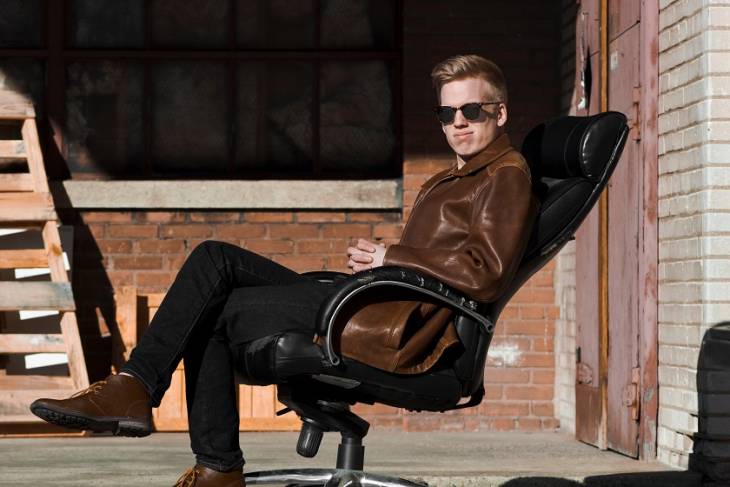 Every man should have a bomber jacket, because it is a timeless piece of apparel. The classic jacket is both attractive and adaptable, as it comes in a range of styles and can be worn for a variety of events.
Whether you're looking for a bomber jacket to keep you warm or something that can make a style statement, a bomber should be your first choice.
In this article, we will discuss different types of bomber jackets and how they can best fit your styling needs. But first, let's learn a little about the history of bomber jackets and why they are so in demand these days.
What is a bomber jacket?
A bomber jacket is a military-style flight jacket. It became famous because the Bomber Plane pilots in World War 2 used to wear it. At that time, there wasn't a fixed uniform for pilots.
Since temperatures in the sky are far below the freezing levels, bomber jackets gave pilots some sense of safety. They are woolen, warm and keep them active for their operations.
Over time these jackets became popular among civilians as well. There were two reasons for that:
i.) Many bomber pilots were coming back from war. Since this was not a proper uniform, they used to wear them to pubs, bars, and their daily activities. The veterans felt proud in wearing their bomber jackets because it showed that they had served in a war.
ii.) Many of the men bomber jackets made for pilots, navigators, and other Air force staff came to the market because there wasn't any need left for them in the bunkers. They were sold to the masses. There was already hype for these bomber jackets, and when civilians got their hands on them, the demand increased.
These bomber jackets are now made of suede, wool, nylon, polyester, and similar materials. These bomber jackets have ribbed cuffs and hem, front zip closure, and a defined neckline.
Many variations of the bomber jackets have emerged because of the demand in different regions of Americans.
How do you style a Bomber Jacket?
Let's learn a little bit about bomber jackets, their history, and which ones are the best fit for your styling needs. Each and every bomber jacket has a unique style. It really depends on the person what style they prefer to carry.
1. Black Bomber Jacket
Black bomber jackets are available in nylon or polyester and are wonderful spring or summer wear. They elevate your look and give you a completely new style that gives a personal touch to your appearance. These bomber jackets are made with a lightweight material that is waterproof, weather-resistant, and classic in design.
Most people wear regular black bomber jackets while riding bikes because of their tough exterior. They protect the inner clothes from dirt and rain. Also, because they look great when worn while riding.
Apart from that, these bomber jackets are also great party wear. If you are heading to casual parties, bomber jackets would be a great choice.
2. Red Bomber Jacket
Red and Burgundy bomber jackets are the style of the 80s and 90s. In rock n roll fashion and pop culture, these bomber jackets have been worn by the stars, including Elvis Presley, Micheal Jackson, and many others.
Today, they are worn as party wear due to their bright color tone. Red jackets are usually famous among girls who would like to throw a style statement. Since red is bright and stark on the eyes, men prefer to go with Burgundy color instead.
Burgundy jackets can be worn anywhere outside - either to balance nature's temperature or to just look a little out of the ordinary. There is no one style for these bomber jackets.
3. Long Bomber Jacket
Long bomber jackets are often used interchangeably with overcoats or outerwear. They are mostly used up north or in Canada. Long bombers are also worn as an outer dress by women that want to feel cozy when outside. 
On the other hand, men often wear these long bomber jackets/bomber coats with jeans or chinos to go with their styles.
Most people also prefer to wear bomber jackets with their athletic wear while exercising outside. A mix and match of bombers with Brazilian pajamas or yoga pants is also a great choice among most young people.
Parkourist or Traceurs often wear bomber jackets while practicing their stunts because of their comfort and flexibility. They are also great for winter jogs.
4. Suede Bomber Jacket
A suede bomber jacket offers multiple options when it comes to style. Wear it like a regular jacket, or add a new touch to your current style.
A suede bomber jacket gives you a twist between modern sensibilities and classic timelessness. These jackets are available in multiple colors, including brown, navy, white, black, and they all have a story to tell that connects them to their historical reference.
No matter how often you wear these Suede bomber jackets, they won't go out of style.
Which Bomber Jacket Will Suit You?
Bomber jackets come in multiple sizes and varieties. If you want to buy a bomber jacket that can fit you, find casual wear that you can take to parties or even wear outside.
The suede bomber jacket is a perfect choice for most beginners because of the quality it offers.
It is easy to carry, doesn't look too out of the ordinary and is great wear with any of your clothes.
Go with a burgundy or camel/beige color bomber jacket for starters because it contrasts both black and white colors.
Since most people prefer to wear black or white or dirt pants, the camel color jackets will fit them best. It has a matching vibe to it and doesn't look out of the ordinary.
When to Buy a Colored or Monochrome Bomber Jacket?
This is more of a personal choice. Most people that want to just look good but at the same time don't want to stand out from the crowd prefer monochrome bomber jackets. These jackets are decent to wear, easy to carry, and available in dark and light monochrome colors.
On the other hand, people with vibrant personalities who want to stand out prefer bright colors like camel, white, burgundy, beige, yellow, navy, dirt, and others.
Both types of colors can be worn to parties. Monochrome bomber jackets are also great for outdoors like traveling, tourism, and just for running errands.
In corporate culture, where there is a strict monochromatic dress code, the darker jackets will suit the bill. If that is the case, going with a monochrome bomber jacket should be your choice.
In Conclusion
Carrying a bomber is more about practice and design sense than about style. Each person carries a bomber differently. Some prefer to wear them over jeans, chinos, or anything semi-casual. Others prefer to use them loosely, just like their material.
The setting of a bomber jacket is honestly intertwined, and predicting a single style sense for bomber jackets will be a compromise to their quality and injustice to their worth.