VPN Usage Shoots by 65% as Working from Home Grows Amid Covid-19 Crisis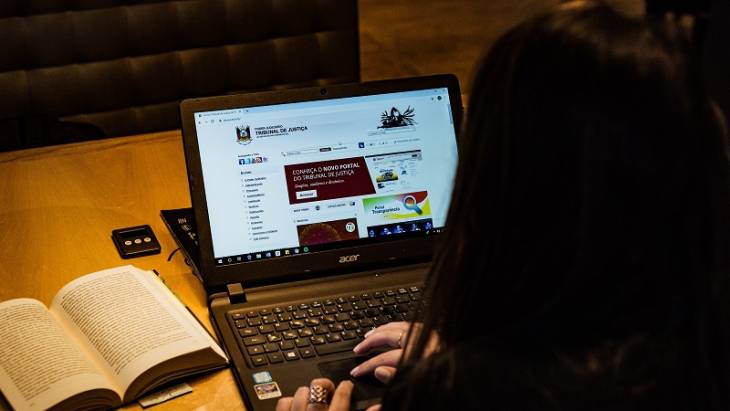 To safeguard against the spread of the coronavirus, those Americans able to work from home are now doing so. For many of them, a business virtual private network (VPN) has become an integral part of their work from home set-up.
So much so, that statistics from NordLayer (formerly NordVPN Teams), a cybersecurity solution for business, show since Wednesday 11 th March 2020:
The US has experienced a 65.93% growth in the use of business VPNs
Working hours have increased by an average of three hours per day – from 8 to 11 hours
Interestingly, mass remote working has contributed towards a rise in desktop (94.09%) and mobile apps (0.39%) usage among Americans
Globally, NordVPN teams has seen as astonishing 165% spike in the use of business.
As the coronavirus crisis intensified, businesses commendably followed government advice to enable their employees to work from home. NordLayer discovered this mass shift in work location has caused a huge surge in the use of business virtual private networks (VPN).
What is a Business Virtual Private Network (VPN)?
A VPN is a network of computers that are virtually linked together to allow those granted access the ability to securely send as well as receive files, data and applications from anywhere possible.
Global Business VPN Usage Growth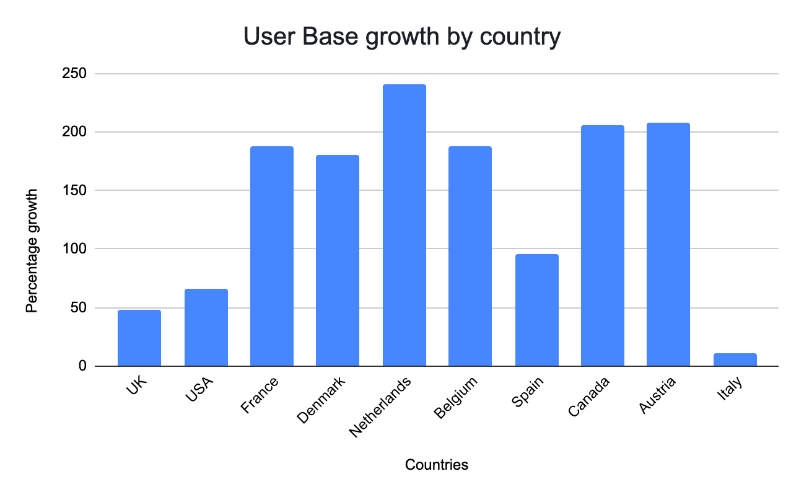 Since Wednesday 11th March 2020, the US has experienced a 65.93% growth in the use of business VPNs.
Amazingly, business VPN usage in Netherlands (240.49%), Canada (206.29%) and Austria (207.86%) has skyrocketed beyond 200%.
Opposingly, Italy has had the most modest growth in business VPN usage at just 10.57%.
| | |
| --- | --- |
| Country | Growth, % |
| UK | 48.1% |
| USA | 65.93% |
| France | 187.71% |
| Denmark | 180.35% |
| Netherlands | 240.49% |
| Belgium | 187.76% |
| Spain | 95.89% |
| Canada | 206.29% |
| Austria | 207.86% |
| Italy | 10.57% |
The Remote Working Revolution
It is the US which has seen the biggest time extension of the normal working day – adding an extra three hours – from 8 to 11 hours. All mainly due to the current remote working revolution necessitated by the coronavirus pandemic.  
Remote Working Hours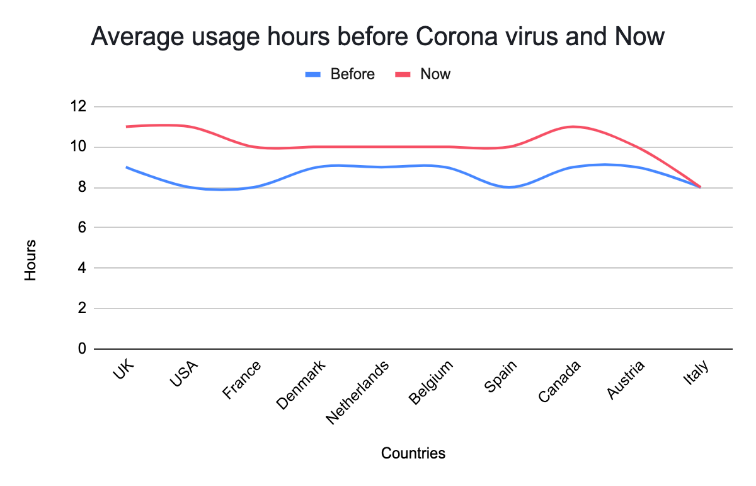 In countries such as Denmark, Netherlands, Belgium and Austria – daily working hours have risen by an average of one hour.
The working hours in the United Kingdom, France, Spain and Canada have on average increased by two hours per a day.
Desktop and Mobile App Usage Growth
Mass remote working in the US has contributed towards an increase in the use of both desktops (94.09%) and mobile apps (0.39%).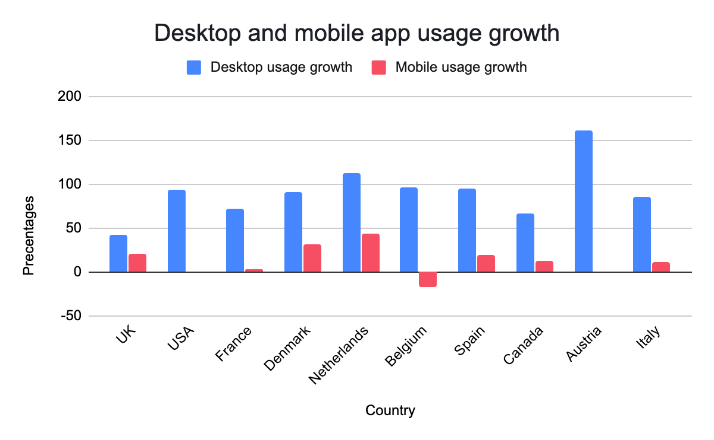 Notably, desktop usage in Austria has grown the most at a colossal 161.15%. Whilst mobile app usage in Netherlands has soared to 44.09%.
Surprisingly, Belgium has seen a 16.67% decline in mobile app usage, though desktop usage has flourished by 96.63%.
| | | |
| --- | --- | --- |
| Country | Desktop, % | Mobile, % |
| UK | 42.66% | 20.44% |
| USA | 94.09% | 0.39% |
| France | 72.34% | 3.47% |
| Denmark | 91.49% | 31.06% |
| Netherlands | 112.9% | 44.09% |
| Belgium | 96.63% | -16.67% |
| Spain | 94.74% | 19.51% |
| Canada | 67.16% | 12.21% |
| Austria | 161.15% | 0% |
| Italy | 85.89% | 10.87% |