HubSpot and Shakr Launch Tool for Creating Vertical Instagram Videos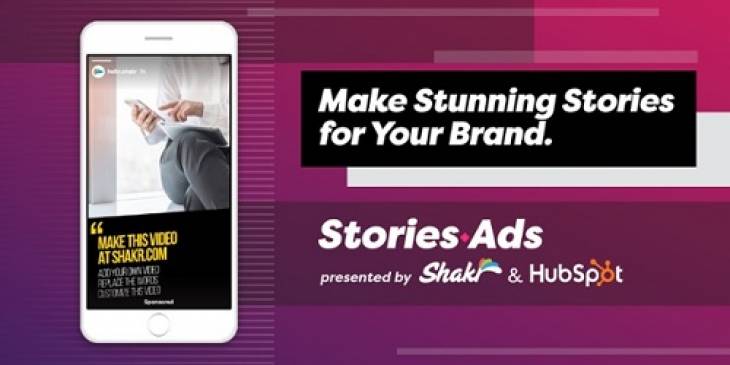 Inbound marketing company HubSpot and video creation platform Shakr this week announced the launch of StoriesAds.com, a tool for easily and quickly creating video content tailored for Instagram's vertical format. The two companies say the new tool will ensure businesses of all sizes can create and enjoy the benefits of vertical video at a much lower cost than traditional video creation methods.
StoriesAds Lets You Create Vertical Videos Fast
According to HubSpot, StoriesAds.com provides the means for advertisers and marketers to build compelling vertical video assets for Instagram directly from a web browser in a quick and cost-effective manner.
With StoriesAds.com's intuitive drag-and-drop technology, you can make Instagram Stories Ads for your brand in less than 2 minutes that reach a broad audience in a new and exciting format.
"When we think about the evolution of marketing and SEO over the past decade, there's been a clear shift to video – text was to search in 2007 as video is to social in 2017," said Brian Halligan, HubSpot co-founder and CEO. 
"If you want your company to get noticed, it's crucial to deliver relevant, engaging content on platforms like Instagram," Halligan added.
Deliver Relevant, Engaging Content on Instagram
Instagram Stories has emerges as one of the largest and fastest growing platforms to distribute content in the vertical video format since it was launched in August 2016. With over 200 million daily active users, Stories' explosive growth has marketers scrambling to create branded content and advertisements for the feature.
Shakr says StoriesAds.com is the first platform of its kind to expressly address marketers' need to create branded content for Instagram Stories. It adds that the newly launched video creation tool provides the appropriate resources needed to develop vertical video advertisements at this critical juncture in the social media landscape.   
"StoriesAds.com provides a resource for companies to promote their brand in the ever-shifting social media landscape without having to compromise quality," David Lee, CEO of Shakr, said.
The new video creation tool is free to use for a limited time, as per the StoriesAds.com website.
See Also: Twitter Will Pay You to Post Videos on Its Platform, Up to 70 Percent of Ad Revenue.
                                                                                                                                                   Image Credit: HubSpot.