How To Use QR Codes On Packaging and Labels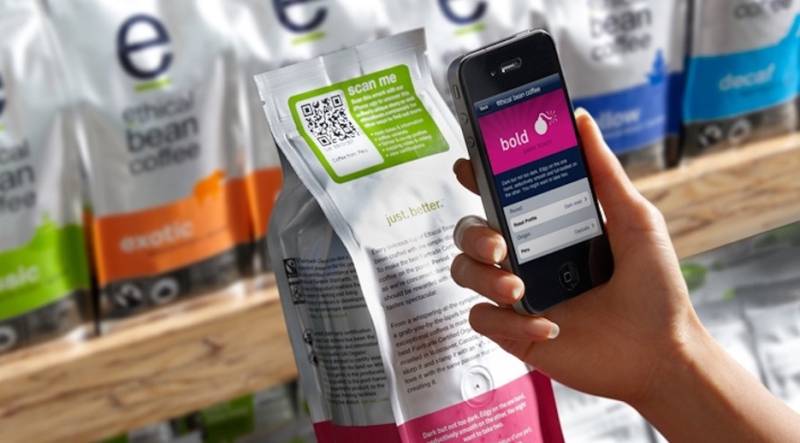 QR codes, or quick response codes, are popular in the world of product packaging and labels. These codes provide a simple yet effective and convenient way to engage customers.
The use of QR codes can help communicate your brand values, while giving consumers more information about your product. Furthermore, interactive QR codes can help build consumer loyalty and foster positive customer experiences.
However, selecting an optimal placement and call- to-action for your QR code are both equally essential in engaging customers and driving them toward scanning it. 
If you're interested in using a QR code on packaging and labels, there are some tips you can use to get started. But first, let's get the basics out of the way first…
What is a QR code? 
A QR code is a type of two-dimensional barcode designed to be read by smartphones or other compatible devices, making it an efficient marketing tool that you can utilize both physically on your branded packaging and digitally.
These codes can store a variety of information, such as website URLs, product information, and contact details. When scanned, the data stored in the code is displayed on the user's device, making it a convenient way to share information.
The QR code was first invented by Japanese company Denso Wave in 1994 to assist automobile companies with inventory of automotive parts and production management, as well as alleviate labor at checkout counters by relieving wrist numbness and carpal tunnel syndrome pain.
Today, you can find these codes everywhere, across industries on brochures, posters, billboards and even business cards. Payment bills, transportation tickets, and checkout counters often utilize QR codes for cashless transactions and avoid tedious manual inputting of payment details by cashiers.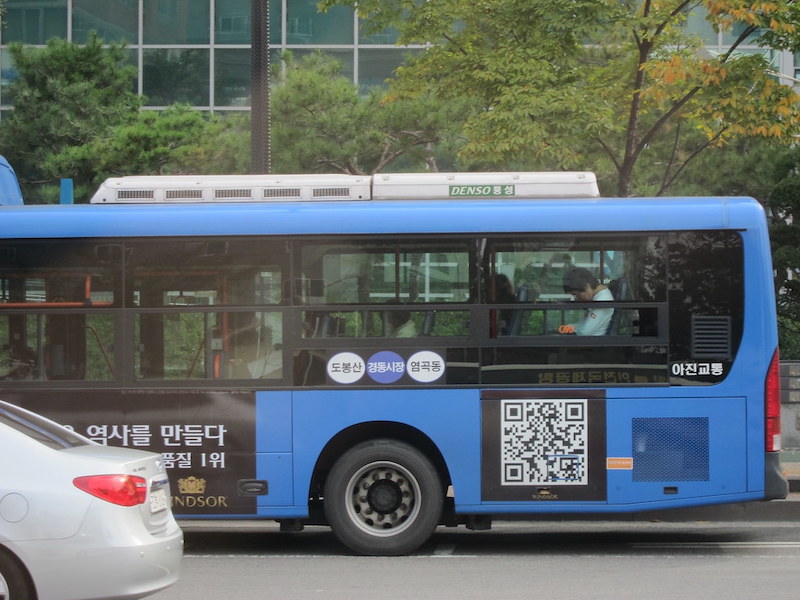 QR Code on Bus | Eugene Kim | Flickr
A QR code contains seven elements that form a crossword-like pattern of pixels, each holding information about directions, timing, error tolerance levels, empty spaces, and more.
You can scan a QR code with your smartphone to be taken directly to a website, email address, or other forms of information you can view with it.
 Why Use QR Codes On Product Packaging And Labels?
As already mentioned, QR codes are a powerful marketing tool that can help you engage with customers and provide them with additional information about your product.
For example, by quickly scanning a QR code on a coffee packaging, customers can learn more about the coffee's origin, roasting process, flavor profile, and more. This can help brands to build a stronger connection with customers and differentiate their product from others on the market.
Moreover, scanned QR codes allow brands to track the success of their marketing campaigns by measuring how well they work and evaluating feedback received on products they produce. Brands can then use this data to monitor progress, while improving product quality based on client input.
Printing your QR code on packaging is, therefore, an effective way to gather valuable data about your product and increase customer engagement. Besides, QR codes can direct customers directly to social media pages, reward loyalty points, or provide information about special offers.
Starbucks uses QR codes to track green coffee beans from farmers all the way to consumers' cups, providing transparency for consumers and building trust between themselves and all stakeholders.
Specialty coffee roasters can also use QR codes to provide detailed information about their products, such as processing methods and recommended roast profiles, without overwhelming consumers with too much text. This allows consumers to get acquainted with their preferred barcode coffee without being bombarded by too much text.
In addition, the use of QR code packaging is another way of reducing waste production, as consumers can scan codes with their phones to set reminders about product use, expiration dates, and disposal methods - helping the environment and also saving money for food manufacturers.
Tips to Use QR Codes On Product Packaging And Labels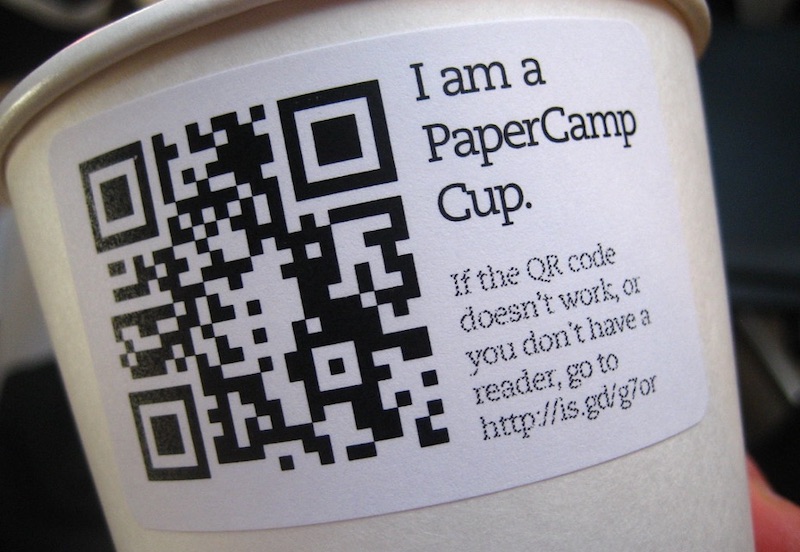 1. Choose the Right Placement
The placement of QR codes can make a big difference in how effectively they function. Hence, it is essential that your QR codes are easily visible for scanning by customers.
Consider putting it on the front of the package or label near the product name or logo. Also, make sure the QR code is of an appropriate size and color so that it's easy for customers to find and scan.
Apart from that, it's crucial that your QR are clear and actionable. One way of doing this is by incorporating an obvious call-to-action.
2. Add a Clear Call-to-Action
Adding a call-to-action to your QR codes encourages customer interaction and makes it clear what exactly you want customer to do, whether it is to purchase products, find additional product details on your website, or participate in a customer satisfaction survey you are running.
Any effective marketing campaign requires a clearly communicated call-to-action (CTA). Whether in social media posts, emails, or QR codes, users need to understand what steps are expected of them next. A CTA is an effective way of increasing conversion rates and driving sales.
You can add a clear call-to-action on the product packaging near or next to the QR code itself to encourage customers to scan your QR code. This could be as simple as adding text that says "Scan for more information" or "Learn about our coffee." Make sure the text is clear and easy to read and that it stands out from the rest of the packaging or label.
You can also use creative QR code design ideas on your packaging for maximum impact, such as using colors from your brand to highlight and draw attention to the product, and adding a frame around your QR code along witha call-to-action. This will attract customers' attention and boost click-through-rates (CTRs).
Bitly provides various frames with 'Scan Me' text and short URLs that redirect users after scanning their QR codes to their website.
3. Provide Accurate and Useful Information
Providing customers with accurate, valuable product details is easier than ever with interactive QR code, and also essential for demonstrating your trustworthiness.
Accurate product details and information allow consumers to make informed choices by providing details such as ingredients, nutritional facts, and anti-GMO credentials, and more for what they're buying. People tend to purchase products without reading its label thoroughly, so making information easy for them to access can be key.
Select an appropriate font style and size—it can have a big effect on how easily and quickly individuals read your details. New FDA regulations regarding food products require brands to display nutrition information on their packaging, which can consume space. QR codes can help save space while keeping customers up-to-date and informed.
Utilizing QR codes to provide relevant information can elevate your brand. By giving customers access to information that interests them, as well as unique stories about your product, QR codes can set you apart from competitors.
Just make sure the information you provide is relevant and useful to your customers.
4. Test Your QR Code
To ensure your QR codes are effective, test them out thoroughly on actual packaging or labels before releasing them to the public. Use a QR code scanner to make sure the code is working correctly and that it provides the correct information. This will help to avoid any issues that could frustrate your customers and cause poor customer experience.
Also keep an eye out for how consumers react to them. Some individuals will avoid scanning QR codes if they've heard of scams before or are concerned for their own safety. Others might view QR codes situated on the bottom or a perceive "hidden corner" of the packaging as suspicious.
If your QR code is placed on the front of a packaging, it should take up no more than 25% of its space to ensure it stands out against other content and remains legible. 
5. Monitor and Analyze Your QR Code's Performance
Once you have created a QR code and it goes live, it's important to monitor its performance. Use an analytics tool to track how many people are scanning your code, where they're located, and what information they're accessing. This can help you refine your marketing strategy, improve the value you provide to your customers, and increase conversion rates.
Monitoring QR code performance on the product packaging is key to getting an understanding of what works and what doesn't so you can adjust or create a new strategy as necessary. Keep an eye on which content people are scanning to gain insight into what resonates most with your target audience. This will help you develop more tailored and engaging campaigns to serve their needs.
As an example, you could place an App Store QR code on coffee packaging so customers can download your app right from it. This will increase your business app downloads, provide more insights into customer location and operating system usage, while also making your QR code packaging more sustainable and eco-friendlier in the process!
In Conclusion 
QR codes are an incredibly powerful and cost-effective marketing tool for increasing customer engagement, sales, and fostering brand loyalty. They offer an efficient way to improve user experience, while also generating valuable data about your product's performance in the market.
To create QR codes, you can utilize any of the many top-quality, free QR code generators online that also offer analytics, tracking, and customization features so you can monitor performance. A good QR code generator should also be capable of handling high traffic volumes efficiently.
Remember, after you have generated your QR code, before you print it on your packaging and labels, make sure to test it thoroughly to ensure it works as intended.