5 Things to Consider When Buying Men's Luxury Watch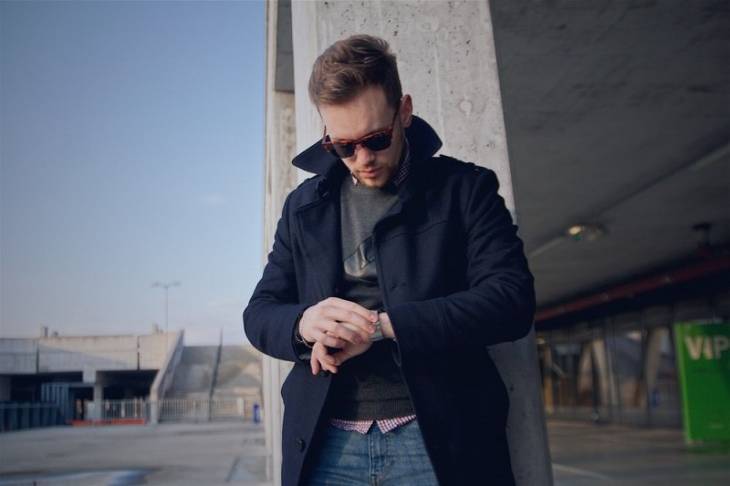 What's more attractive than a man who's well-dressed, complete with a sleek and stylish watch around his wrist? It's a beautiful sight to behold indeed.
A luxury watch is a wearable piece of art that is not only attractive to look at and practical for everyday use, but also helpful for boosting any man's confidence and self-esteem.
With stylish aesthetic and impressive craftsmanship, luxury watches can be a powerful fashion statement that showcases your style.
However, buying yourself or a man in your life a watch can be challenging. Online watch stores offer so many options and varieties that anyone can feel perplexed. Arriving at any decision becomes tougher when you explore different brands and see their series of products.
Some people tout Rolex, while others mention other luxury watch brands like Vacheron Constantin and Patek Philippe. Some varieties available online are dress watches, while others are dive watches. You can also buy designer leather, stainless steel, and more types of watches online.
And all that is only a glimpse of the complexities and options you encounter when browsing through the choices available for purchase online.
Because of the wide array of options available today, what you expected to be a smooth watch buying exercise can become a taxing activity that leaves you overwhelmed.
You may need help deciding on which timepiece to buy.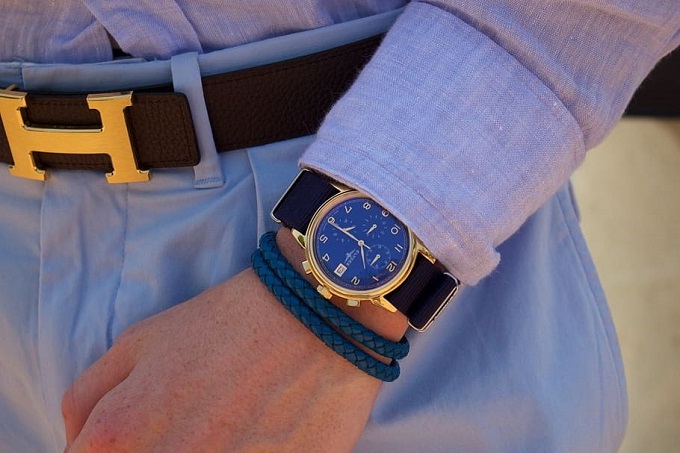 Tips for Buying Men's Watches
To help you avoid all the hassles, here is a brief guide on what you should look for when shopping for a branded watch for guys. 
1. Functional use
Just like any other thing, watches are also suited for different activities, situations and uses. So, you'll come across the minimalist watch, diving watch, dress watch, and so on.
Diving watches are for people who like to play or interact with water. These watches show high water resistance rating of 100m up to 300m. A typical diving watch features a rugged look with a luminous watch face and dial and the rotating bezel.
Minimalist watches are the perfect complement for your outfit when you feel like keeping it simple. They showcase modern designs and technology to suit the taste of contemporary, stylish buyers. The inside of the watch is also as important as the outside.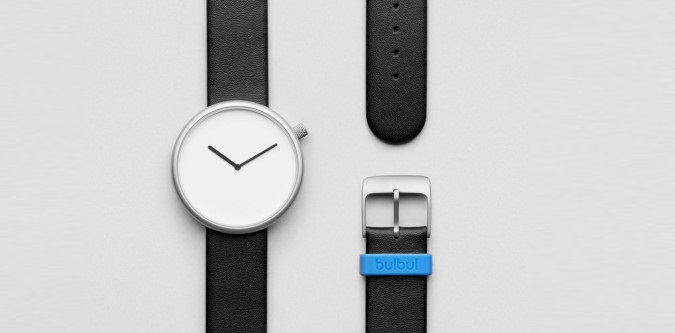 A dress watch lacks trimmings. Simple face, Roman indices, and leather strap can be some of its characteristic features. The sleek design can go unnoticed until you sport it. 
Consider the activities you often engage in and pick a suitable watch for those activities, situation and the desired function.
2. Sizes
When you visit a watch shop, check the product details to learn more about a model. Specifically, check for the size of the watch case.
Watches come in different case sizes, like 41mm, 43mm, and so on. For slender wrists, a case size up to 40 or 41mm can be okay.
On the other hand, those with large wrists can go up to 43mm to 46mm.
3. Straps
Another area to pay attention to is the wristband.
Chunky watches with masculine appeal look great with metal bracelets. Leather straps nicely adorn the typical and dressy watches.
Fitness enthusiasts might be drawn to silicone straps for their resistance to high temperatures. Be sure to consider the straps carefully.
Basically, there are at least four most popular material for a watch strap. These are: leather, metal, elastomeric material (rubber, polyurethane, and silicone), and fabrics.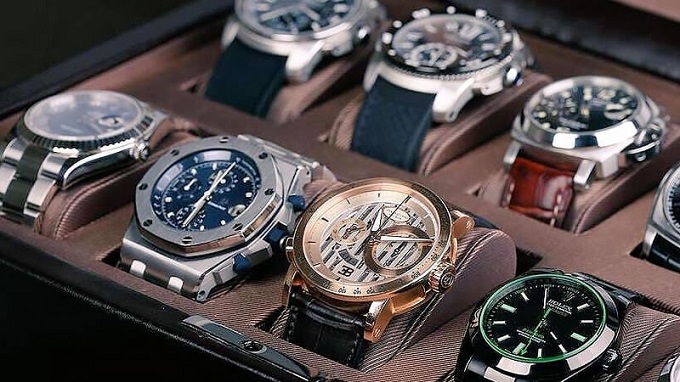 The material of the watch strap is not the only essential part of it you should consider, though. Also look at the style of the watch strap.
The style of the watch strap defines how fashionable your watch is.
There are at least 14 types of watch strap based on the styles most commonly used:
Normal Leather Strap
Stitched Leather Strap
Exotic or Grained Leather
Double Ridged Strap
Rally Strap
Zulu Strap
Bund Strap
Nato Strap
Perlon
Milanese/Mesh Bracelet
President Bracelet
Oyster Bracelet
Jubilee Bracelet
Engineer Bracelet
Pick the one that best fits your style and the look you are going for.
4. Accuracy of time
Accurate time reading is possible only with quartz movement. If you choose automatic movement, you might go about 30 seconds slow or fast over a week.
So, decide if accuracy of time matters to you the most when buying the watch.
5. Added features
When browsing through different collections, you may have noticed that some watches come equipped with sub-dials or extra hands. All these are added features that can bring some complications or difficulties in reading time for some people, though not everyone.
Usually, chronograph and GMT watches boast these features. Chronograph models can offer you the convenience of a stopwatch, while GMT models offer a fourth hand to show a different time zone as per your interest.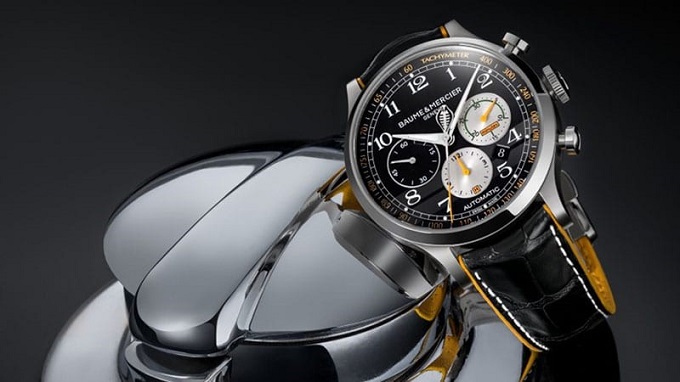 Although these features are not must-haves, you can still find them exciting to have in the watch you choose. So, decide whether you want added features or not.
Conclusion
Some authorized stores sell amazing choices across a variety of brands to help customers find their pick quickly. If you don't want to go into too many technical aspects, you can always contact and further consult with those sellers to find the right timepiece for you.
Always take time to look at the watch itself to determine if it meets your wants. However, if a watch stirs something in you on first sight, there is no need to wait for more choices. Buy it!

You might also like...