Making the Perfect Toast Bread: Are DeLonghi Toasters Any Good?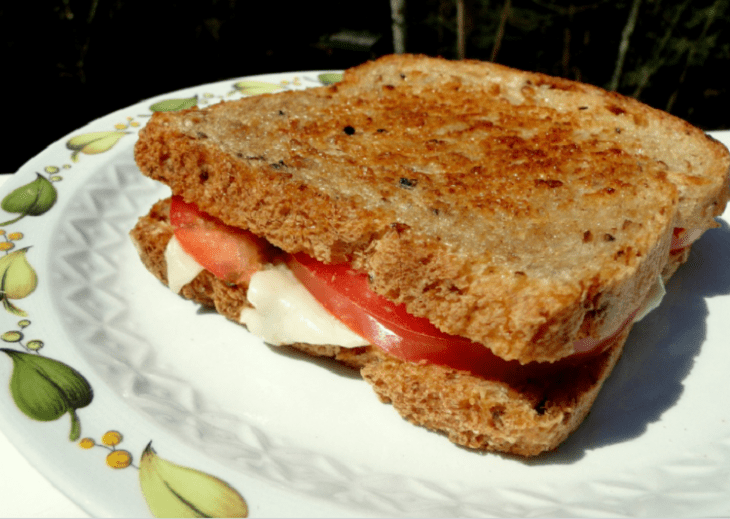 When you are in the market looking to buy a toaster, you'll find that there is a wide variety of options to choose from. One of the top brands you will likely encounter is DeLonghi toasters.
DeLonghi is a renowned kitchen appliances manufacturer based in Treviso, Italy. The manufacturer has built up quite a reputation around the world for producing appliances that are a perfect blend of reliability, aesthetics, and durability.
With 2- and 4- slice toasters, plastic and metal picks, as well as long slot options, DeLonghi offers a full variety of toasters to suit every need and help you make that perfect toast.
Let's highlight some of the reasons why DeLonghi toasters may actually be worth purchasing: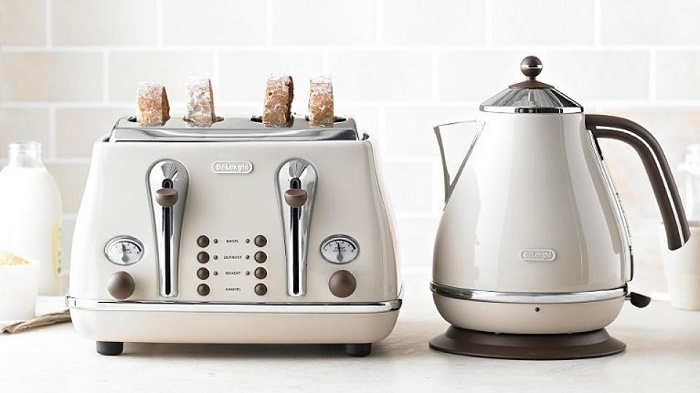 1. Available in different types
DeLonghi toasters are available in both the two main types of toasters: You can opt for pop-up toasters or countertop toaster ovens.
The best part is that each of these types is available in different sizes to meet different toasting needs and preferences.
i, Pop-Up Toasters
 As the name suggests, these are toasters that pop up the toast when it is ready. DeLonghi pop-up toasters are available in two options: the 2-slice toasters, and 4-slice toasters.
The 2-slice toasters are built-in with two slots that distribute the heat evenly between the slices. On the other hand, the 4-slice toasters are built-in with four slots that toast multiple slices, thus an excellent choice for large households.
ii. Countertop Toaster Oven
If you need a large toaster for a big family, DeLonghi have options for you too. Simply visit the official DeLonghi online shop.delonghi.com/dl_my/kitchen/toasters to find a countertop toaster oven that are perfect for big families.
These toasters are also available in different sizes, with the smallest able to toast up to four slices and larger models capable of preparing more than six slices of toast at a time.
Besides toasting bread, countertop toaster ovens can perform other kitchen tasks, including baking cookies, making pizza, and rotisserie functions.
 2. Ease of cleaning
Toasters can be a little bit difficult to clean and you do not want to invest in models that make cleaning harder than it needs to be. The ease of cleaning of DeLonghi toasters is another reason why they are a good option for you to consider.
These toasters integrate removable crumb trays that ensure they are easy to clean. Furthermore, some DeLonghi models also integrate a high-lift function that allows you to remove smaller pieces of bread for deeper cleaning of the toaster.
The fact that many DeLonghi models have fingerprint-resistant finishes is yet another reason that make them easy to clean.
 3. Sleek Designs
If you need a high-quality, well-designed and polished toaster to match your kitchen décor, DeLonghi toasters make for an excellent choice to suit your needs. These toasters also come in a variety of colors so you pick one that will enhance the style of your kitchen.
For instance, you can opt for black toasters to contrast beautifully with light kitchen designs. Blue toasters are an excellent choice for brightening up your kitchen, while white tones are excellent for anyone who needs a color that will contrast perfectly with dark kitchen designs.
DeLonghi toasters offer these options to meet your needs.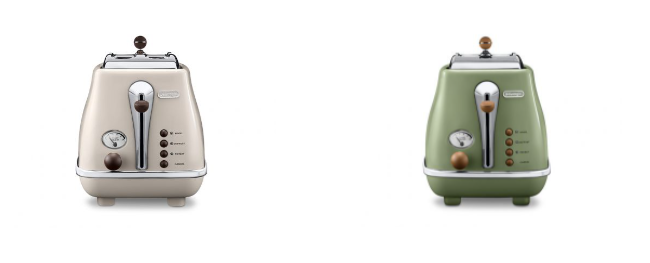 4. Easy operation
Another feature that makes DeLonghi toasters worth buying is ease of operation. These toasters integrate auto buttons that make them very easy and intuitive to operate.
Among the auto functions integrated into these models are a convenient cancel feature to stop the toasting anytime, a reheat feature that warms the toast, and electronic browning control to adjust the brownness of the toast among others.
6. Safety
DeLonghi toasters are also designed to guarantee safe use. These toaster models include non-slip feet to protect them from sliding out of place during use.
The toasters are also designed to stay cool to the touch, meaning they do not burn your hands or the fingers of your kids if they accidentally bump into them.
Additionally, a shutoff feature enables the toasters to turn off automatically when something gets stuck in for guaranteed safety, which makes these toasters even more safer to use.
5. Durability
Perhaps the best aspect of DeLonghi toasters to top them all is their durability, which offers great value for money. A toaster can offer all the bells and whistles, but if it is not durable then you may end up not getting value for your money
DeLonghi toasters are designed to last you for many years, and this is confirmed by customers who confirm they have used theirs for years. The toasters are made of durable materials, including stainless steel, for durability and best value for money.
So, if you are looking for the best value for money, DeLonghi toasters are definitely worth considering. These toasters will not only ensure you get great value for your money, but also help you make that perfect toast bread safely and conveniently at home or the office.