Self-Publishing in the Digital Age: The Rise of Kickstarter as a Force in Publishing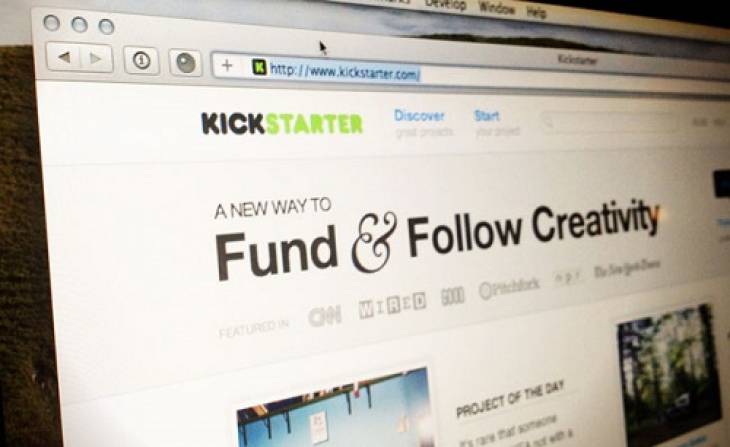 In 2012 Rich Burlew, the author of a self-published webcomic about a band of heroes in a fantasy role-playing world, raised more than $1m from fans on Kickstarter, a "crowdfunding" website for creative endeavors. This sum was to help bring his stories back into print.
Burlew closed his fundraising project on Kickstarter with 14,952 backers who raised $1,254,120. His webcomic, The Order of the Stick, became the platform's most funded project by a single person and the most funded creative work the site had ever seen.
"I'm still shocked," Burlew told fans on the official Kickstarter blog. "I was tragically underprepared. I never thought we'd get anywhere near the response we've gotten, and it's been a daily struggle to keep up with the progress of the whole thing. What I was thinking when I hit the 'Launch Project' button was something roughly analogous to, 'I hope I'm not making a terrible mistake.' As it turned out, I wasn't."
Finnish storyteller and writer Linda Liukas also used Kickstarter to raise funds to publish a children's coding book titled Hello Ruby. The project set out to fundraise $10,000, and ended up raising more than $380,000 from more than 9,000 people, becoming the platform's most highly funded children's book.
Similarly, bestselling author William Braden published a picture book about a French cat that successfully raised over $5,000, helping to bring the project that would go on to delight millions of fans around the world to life.
As a recent piece on the Guardian rightly observed, the breadth and scope of public funded books on Kickstarter is quite impressive.
"Everything from a comic novel of smalltown Canada from a Québec humour columnist and broadcaster, to an account of looking after a rescued Staffordshire bull terrier, charting the dog's journey from troubled crackpot to treasured companion, to a graphic novel about a Victorian girl who is the only one in her village to notice a series of sinister goings-on" has found backers on Kickstarter.  
The popular funding platform for creative projects is now helping launch more books than all but the very largest publishers, and millions of backers all over the world enthusiastically look to Kickstarter for what's next in the art scene.
Kicksterters' rise in publishing.
Launched in 2009 by a team of three designers, Kickstarter has quickly become a significant force in the creative world, facilitating the funding of creative projects as diverse as theatre, publishing, dance and video games. Since its inception, Kickstarter's web site says it has helped more than 262,600 creators from all over the world successfully fund 313,023 projects across the creative universe. Over 10 million people, from every continent on earth, have backed a Kickstarter project, adds Kickstarter.
"Kickstarter's a place where people come together to make new things — like books, movies, restaurants, board games, and innovative technology," says Maris Kreizman, Kickstarter's publishing specialist. "Our mission is to help people bring creative projects to life."
As more and more writers become cynical about the mainstream publishing industry, and as the internet breaks down barriers between writers and readers, alternate paths of drawing audiences to the writing/publishing process are becoming more and more popular.
Kickstarter, which in 2015 reincorporated as a public benefit corporation, a profit-making model that includes having a positive impact on the world as a legally defined goal, succeeds in offering creatives an alternate path that allows them to meet readers at least half-way.
Apart from offering an autographed copy of the to-be-written book, or a mention in the acknowledgements, authors offer various pledges to project backers ranging from a dollar to $999, with thank-yous spanning from the aforementioned to—at the $999 end—an original novella written according to the donor's wishes and published as a one-off hardcover. As you might expect, this makes crowdfunded projects far more interesting for everyone involved than traditionally published books.
Crowdfunded projects more interesting.
Sure many indie books are sometimes poor quality because their writers refuse or are unable to pay for outside editorial help. However, as the increasing crowdfunded success stories can attest, successful projects on Kicksterter and similar sites are quite popular. Crowdfunded projects are actually now being funded far beyond what traditional publisher royalties would offer, according to Kickstarter.
Once a popular Kickstarted product was the exception and treated as such; now crowdfunded products are mainstream. Once a popular self-published writer was an oddity; now they are the commonplace. And as more and more writers find crowdfunding success, it gets easier for others to do the same.
"Kickstarter is a global community of millions of people from nearly every country on the planet who are shaping the world into what we want it to be rather than accepting it for what it is, and who are looking to be inspired by the most imaginative, colorful, and innovative ideas," Kreizman says.
It would appear we are nearing the tipping point: successful self-published writers will soon become the norm rather than the exception as traditional publishers struggle to nab the tiger's tail of popularity in the digital age and fail to grow bigger audiences online. But we are not there yet.
Easier to publish, but harder to stand out.
With crowdfunding companies like Kickstarter and others like it: Vook, Inkshares and Authorhouse all reshaping the landscape, publishing may be as enticing and as daunting as it has ever been. It is now easier to publish, but also harder to stand out. Serious authors find they have to spend their own money on promotion to distinguish their book from the others that are out there.
Moreover, when trying to stand out from thousands of other creative projects on services like Kickstarter, pitching and presentation is vital. A way writers and publishers who want to publish books and shorter form content online, and also those who want to produce physical copies of their work are overcoming the challenge of standing out is by giving away their content free first. That might sound counterintuitive, but the crowdfunded author and illustrator Burlew believes offering material for free was a key factor that helped his webcomic achieve the huge success it did on Kickstarter.
"Unless you have the marketing department of a large corporation behind you, you're not likely to get enough people to take a chance on your unknown property, even through Kickstarter," Burlew said. "On the other hand, if you give it away first, people will form their opinion of you and your work before you ask them for money. And readers are a lot more likely to spend money on things they know they like than things they hope they will like. People want to own what they love, so rather than selling access to the content, sell the permanent incarnation of it – be that a book or an ebook or a DVD or whatever," he advises.
"The best thing about giving away your content first is that when it comes time to sell the final product, you're going to have almost 100% customer satisfaction. No one is going to complain that they didn't like the story they bought, because every one of your customers knew they liked it before paying," concludes Burlew.
See Also: Resilience of Print Forces Amazon to Open its First Physical Bookstore.