Open Floor Plan: Why You Should Consider It and Tips to Create One in Your Home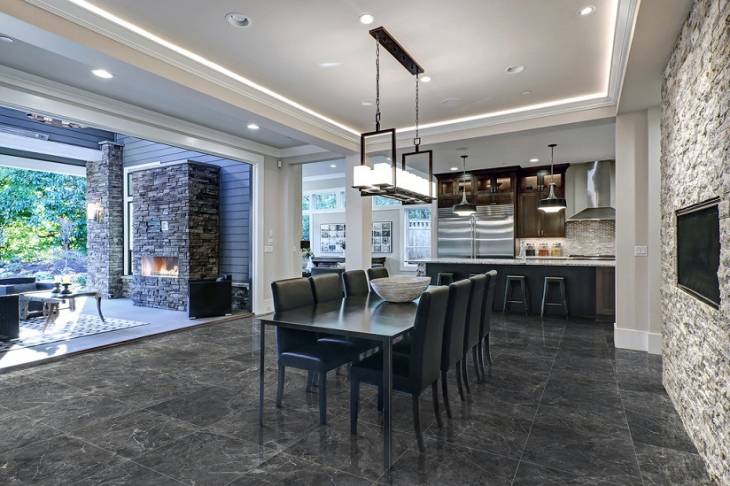 Modern open floor plan dining room design accented with stone fireplace wall facing black dining table with leather chairs overlooking lush outdoors. Photo: Stenbolaget / Flickr
Open floor plans have been a dominant feature in homes since the 1990s. Since then, they have become a very common feature of homeowners' design projects.
There are many different open floor plan ideas that can be implemented in a home. For instance, a kitchen and living area can be opened up into one space.
If you like the idea of an open floor plan in your home, it helps to have some information that you can put to use. Let's start by looking at what an open floor plan is.
What Is an Open Floor Plan?
The phrase "open floor plan" relates to when two or more separate rooms are opened up to create a larger, more open, living space. This often involves the removal of walls or the building of an extension onto a property.
It's important to remember that "open plan" does not mean that there are no walls or enclosed spaces in a home.
The most common combinations of rooms to be converted into an open-plan space are:
Dining Room and Living Room.
Kitchen, Dining Room, and Living Room.
There is usually a lot of work involved in creating an open floor plan, such as kitchen remodeling and extending living space.
Why Should You Consider an Open Floor Plan?
There are several advantages to be had from adopting open floor plan ideas, including:
1. An improved flow of traffic in the area
When walls are removed, and living spaces are increased, it's far easier for people to navigate their way around. This is because there are fewer obstacles in the way.
2. Improved levels of sociability
Socializing within a home is important. Living in a more open space makes it easier to speak to other people in the household and interact socially.
3. Increased levels of light in the home
Natural light is important to health and well-being. Creating more open space in a property means that there is more opportunity for light to flow through from exterior windows.
4. Improved price of real estate
In the majority of cases, having an open floor plan in a home raises the value of a property. This is because this type of floor plan is popular with many people who are looking to purchase a property.
5. Easier to watch children
Open spaces make it easier to keep an eye on children. For instance, adults can prepare food in a kitchen while still watching their kids doing homework in the living space.
It's not all good news when it comes to open-plan living. There are also some potential disadvantages that need to be taken into consideration.
What Are Disadvantages of Open Floor Plans?
It's vital to think about the potential downsides of creating an open floor plan as well, before making any planning decisions.
I. Heating and cooling can cost more
Homes that are not open plan are often easier to heat and cool as each separate space can be dealt with separately. If space is open plan, it all has to be heated or cooled.
However, homeowners can take steps to alleviate these issues and reduce energy costs.
II. Construction can be costly
When walls are removed to create an open space, it's often necessary to install steel beams. These beams are a costly part of what can be an expensive construction project overall.
III. An appearance of clutter
Open spaces often appear to be more cluttered. This is because there is often a lack of designation across the area. For this reason, it's important to spend time decluttering a property that is going to become an open plan.
How to Create an Open Floor Plan in an Existing Home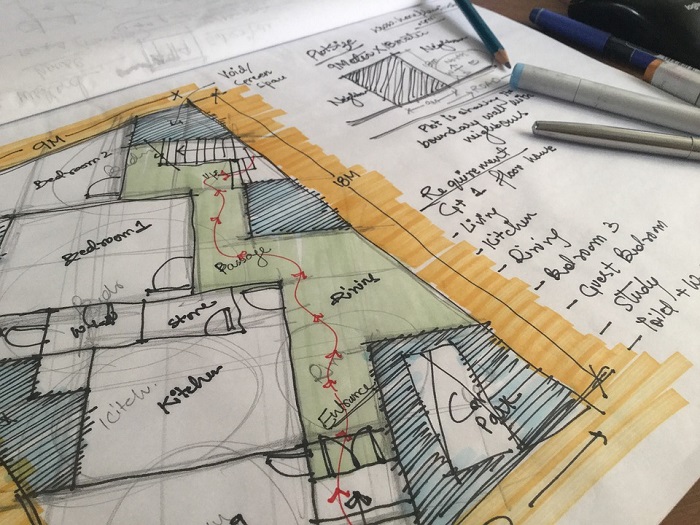 After considering all the pros and cons, if it makes sense to go open plan there are two main ways that an open-plan space can be created: walls can be knocked down or space can be extended.
This work is complicated and needs to be completed to a high standard. This is why it makes sense to hire professional construction contractors and demolition services.
However, homeowners should be involved in the planning process to make sure that they get the final result they are looking for. There are several points to consider.
Consider the flow of the space and how it will be zoned for different functions. This can include the careful placement of furniture.
Think about how to incorporate any structural posts that are necessary. For instance, it may be possible to build storage around them.
Pay attention to how to make the best use of lighting.
Try to keep many of the original features of a property as they help to retain its character.
Think about what view can be had when sitting in the new open space and do everything possible to achieve this.
Make sure that noise is not a problem. There is no doubt that noise can be an issue in an open floor plan if it's not well thought out.
One aspect that should be given special attention in an open floor plan property is the arrangement of furniture.
How to Arrange Furniture in an Open Floor Plan
When decorating and arranging furniture in an open-plan space there are many points to think about.
It's often better to arrange furniture away from the walls.
Areas within the space can be defined by using rugs.
Use furniture that fits within a cohesive color scheme throughout the space.
Make sure that furniture does not interrupt the flow of the space.
Use modular or mobile furniture for optimized flexibility.
There you have it. Hope this information helps you to not only decide if you want to create an open floor space in your home, but also how to do it correctly. Good luck!