Online Video Surges, Publishers Clamoring for Access to this Growing Revenue Stream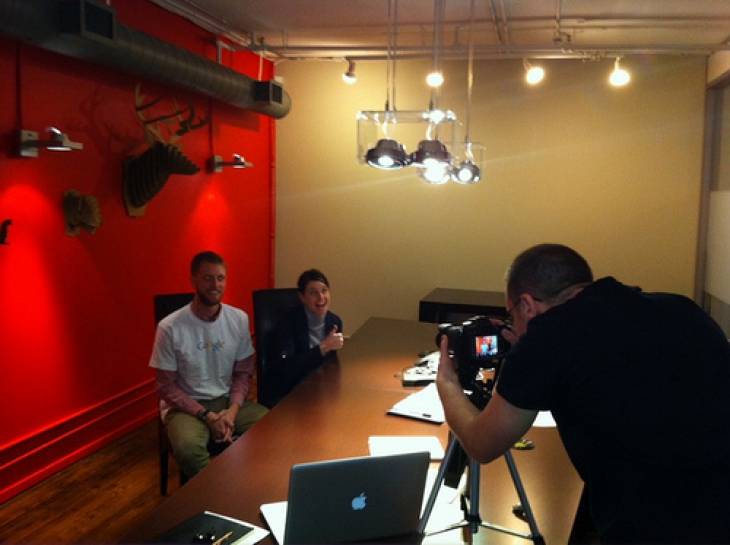 One of the biggest trend in digital right now is video. According to a report by video advertising software company Mixpo, video advertising will grow to nearly $10 billion in 2016, and almost double that within the next four years.
The report noted that content publishers are putting much of their video ad spending on Facebook. Half of publishers surveyed said they have run video ad campaigns on Facebook compared to just 31 percent on YouTube, and fewer than a quarter (17%) on Twitter.
Facebook Pulls Most Online Video Ad Spend
It's interesting that video has become more prevalent on Facebook as opposed to other forms of content. The giant social network envisions a video-only news feed on its platform that is increasingly becoming a primary news and entertainment destination for users.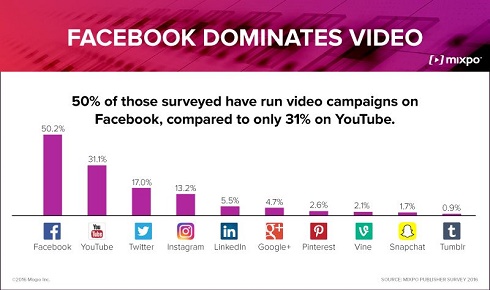 Part of Facebook's rise as the dominant platform for video over YouTube is due to the attribution capabilities that come from reaching signed-in, addressable audiences rather than having to rely on cookies.
"Due to Facebook's first-party data, mobile-first ad formats and advanced targeting and optimization capabilities, brands and publishers are increasingly turning to Facebook over YouTube as the preferred way to reach audiences with video," says Justin Kistner, vice president of product at Mixpo.
If you want to make the move into video and build a profitable video strategy, perhaps you should borrow a leaf from top publishers and bloggers who are turning to automation as a way of bypassing challenges of creating online video that advertisers want to put their messages in front of.
Publishers' Strategies for Video Creation
The thing about creating high quality, engaging onine videos and short films that can be paired with premium advertising is that it costs a lot of money—upwards of $4 million per episode of premium content at the high end on digital streaming platforms like Netflix and Hulu.
It is often too expensive and time consuming for most digital content publishers and bloggers to produce even shorter videos.
Syndicated video is equally inefficient and time consuming for small publishers. Because publishers care a lot about the editorial integrity of their content, just "throwing" a video player on a web page isn't preferred. Instead, finding truly relevant, affordable video that matches editorial content is what publishers are looking for.
In the pursuit of video success on dominant platforms like Facebook and the quest to attract lucrative video advertising, many publishers are turning to technology that promises to streamline video production. This in-demand tech sometimes goes to the point of near-full automation, writes columnist John Herrman in a New York Times article.
Digital Video Automation on the Rise
Bonnier AB, a multi-channel publisher of Popular Science, Saveur and more, has reported using Wibbitz, an automated video creation tool that can scan a website and create a "rough cut" video for every published article. Wibbitz and similar automation services like Wochit offer innovative video automation features.
The tools analyze (and may even summarize text) be it a script, a blog post or a traditional news article, and then automatically find photographs and video clips to go with it. The online tools typically get the videos and images from sources like Getty Images and The Associated Press.
"For us, as a company with over 30 titles, it really allows us to create a lot more video," says Sean Holzman, chief digital revenue officer at Bonnier.
The tools also offer the option to quickly put large animated captions over videos in a manner that has become popular on Facebook, where videos begin playing automatically and are often watched with the sound off.
Each of these tools can also supply, through a third party, on-demand human narration, says Herrman. Wibbitz offers computerized voice-overs as well.
Michael W. Ferro Jr., chairman of Tronc – the newspaper and magazine publishing company formerly known as Tribune Publishing – also revealed in an interview that his company is using these cloud-based automated video creation tools to produce more videos per day.
"Right now we're doing a couple hundred videos a day," he said sensationally. "We think we need to be doing 2,000 videos a day."
Video Automation Tools Boosting Production
As the New York Times reports, the market for automated video creation service is largely split between two companies, Wochit and Wibbitz. Both of these companies have offices in New York City and Tel Aviv.
Wibbitz's customers include Bonnier magazines, Gannett, Hearst and the Weather Channel, which uses the service to create local news reports. Wochit customers, on the other hand, have included Time Inc., The Huffington Post, NowThis News, Rotten Tomatoes and CBS Interactive.
Chris Pirrone, who manages USA Today's digital sports publications, says the automation tools have been very helpful.
"Traditionally we've employed teams — someone out shooting and someone able to cut up and produce the video," Pirrone said. "Doing that is one, expensive, and two, takes a while to turn around. That's where we've found these tools useful."
Wochit says its clients produce about 30,000 videos a month. It adds that the number is growing as more publishers realize video advertisements tend to attract higher rates than other online ads, and that video can actually be used to increase your online revenue.
"The way we see it, we can help you increase your video inventory in a very significant way," said Zohar Dayan, co-founder and chief executive of Wibbitz.