Hawaii Small Businesses Most Affected in the US by Coronavirus, Study Finds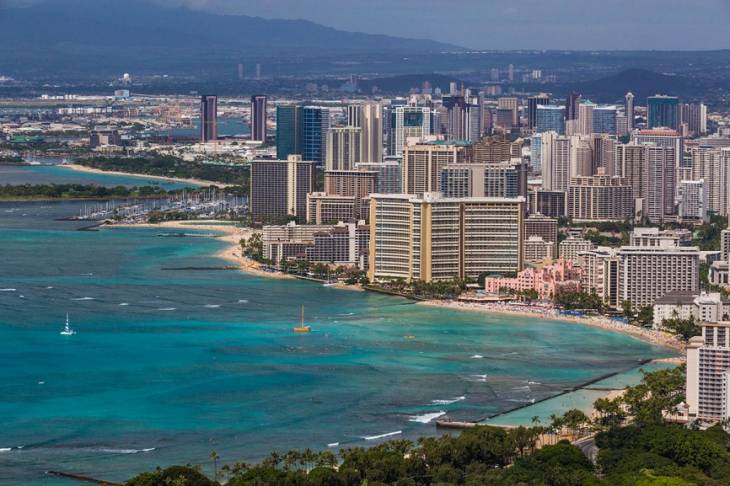 Image: Tor Johnson / Hawaii Tourism Authority
Coronavirus has dealt a heavy blow to small businesses in the U.S., as many "non-essential" businesses have been forced by state governments to shut their doors until the pandemic passes.
With most of the U.S. under some form of lockdown, some businesses have managed to adapt by having employees work remotely. However, many business owners have been forced to lay off staff and have watched their revenue plummet to zero.
A recent survey by personal finance website WalletHub found that 87% of small business owners say their business is hurting from the coronavirus, and 35% say that their business cannot last more than three months in current conditions.
Businesses are more impacted by COVID-19 in some states than others, though.
In order to find out where the pandemic has caused businesses to struggle most, WalletHub compared the 50 states and the District of Columbia across 12 key metrics.
The study's key data set ranges from the share of small businesses operating in high-risk industries to small-business credit conditions and the state's small-business friendliness.
States with the Most Businesses Impacted by COVID-19
As it turns out, Hawaii is the state with the most affected small businesses in the US followed by Nevada and South Dakota respectively.
Hawaii reported the highest share of small-business employees operating in highly affected industries, 57.66%, which is 1.5 times higher than in Pennsylvania, the state with the lowest at 38.59%.
Interestingly, New York, the state with the most COVID-19 cases, ranked 30th on WalletHub's list of states with the most small businesses affected by coronavirus. However, WalletHub also rated New York state as one of the least small-business friendly states in the nation.
"Over 43 percent of small business employees in New York work in highly affected industries, and only a small fraction of New York merchants conducted business online before the pandemic," WalletHub analyst Jill Gonzalez said. "Just consider the tens of thousands of restaurants and corner stores that operate in New York City alone."
Other key findings in the study show that:
Wyoming has the lowest share of businesses with e-commerce sales activity, 9.60%, which is 1.8 times lower than in the District of Columbia, the highest at 17.20%.
The District of Columbia has the highest share of loans to small businesses that are more than 30 days past due but less than 91 days past due, 7.40%, which is 12.5 times higher than in South Dakota, the state with the lowest at 0.59%.
South Carolina has the lowest share of eligible small businesses receiving SBA loans, 4.63%, which is 3.5 times lower than in Utah, the state with the highest at 16.27%.
| | |
| --- | --- |
| States with Most Affected Businesses | States with Least Affected Businesses |
| 1. Hawaii | 42. Oregon |
| 2. Nevada | 43. New Jersey |
| 3. South Dakota | 44. Minnesota |
| 4. Mississippi | 45. Illinois |
| 5. South Carolina | 46. Connecticut |
| 6. Louisiana | 47. Wisconsin |
| 7. Arizona | 48. Ohio |
| 8. Nebraska | 49. Pennsylvania |
| 9. North Carolina | 50. Massachusetts |
| 10. North Dakota | 51. District of Columbia |
Why Hawaii's Businesses Are Hardest Hit by the Coronavirus Pandemic
"Some of the major reasons why Hawaii's small businesses are most affected by the coronavirus pandemic are that over half of them are in highly affected industries, and those businesses comprise 58 percent of all small-business employment," Gonzalez said.
"Another key reason is that even prior to the coronavirus epidemic, new businesses in Hawaii had one of the lowest survival rates in the country," she added.
If you are one of the many business owners affected by the pandemic in Hawaii or any of the other states, you can take advantage of the Federal government's $2 trillion stimulus package that Congress passed in response to the coronavirus pandemic.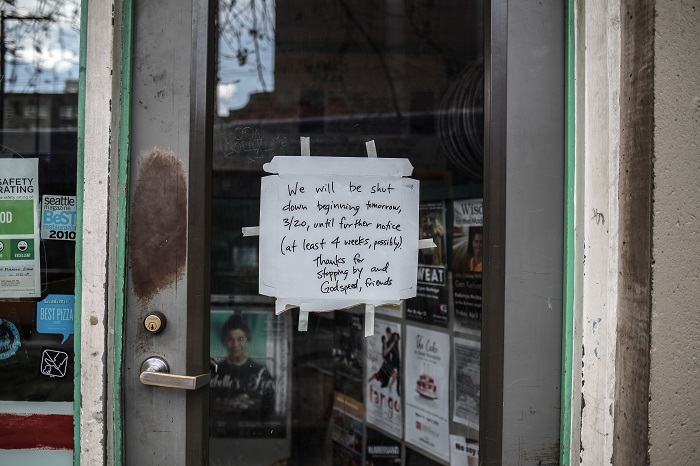 Small business store closed due to COVID-19.       
Small Business Owners Can Take Advantage of the Stimulus
 
There are at least eight key pieces to the legislation that can assist business owners in one form or another. And the definition of a "small-business owner" encompasses a lot of people, including sole proprietors, LLC owners, S corp owner/shareholders, those with employees and those without, as well as gig workers. That essentially means you too can take advantage of the stimulus.
"One big way that business owners can take advantage of the stimulus is to apply for the Paycheck Protection Program, which allows businesses with 500 or fewer employees to take out loans that will help them keep employees on the payroll or even hire more," says Gonzalez.
The best part is that up to 100% of these loans may be forgiven. But there is a caveat for business owners looking to take advantage of the stimulus:
"However, businesses should be proactive, as loans are offered on a first come, first served basis," Gonzalez advices. "In addition, it's important to make sure that your business qualifies, as there are different stipulations from different banks," she points out.