Logo Knowledge Test: Can You Recognize Famous Brands by Their Founders' Name?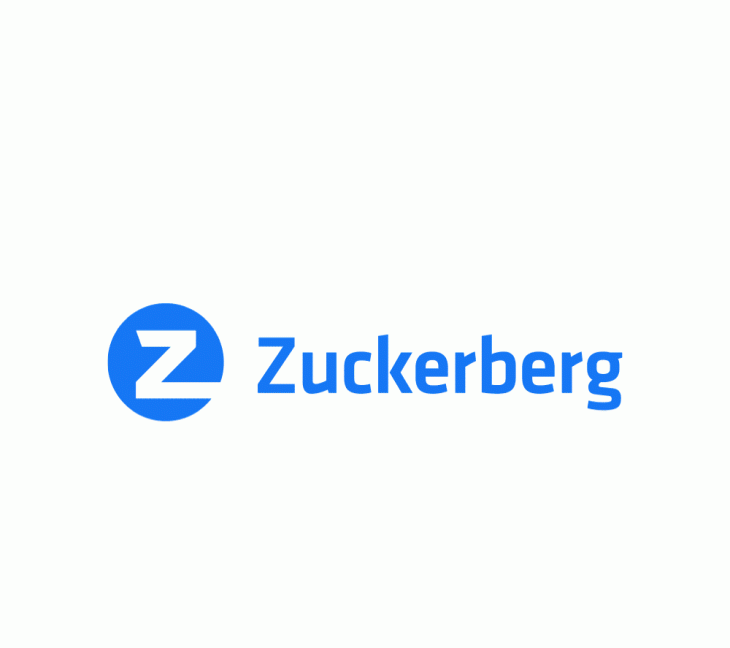 Many world-renowned brands have reached astronomical heights, and riches, because of their branding. What's more, many of the people who founded these brands are just as well-known as the brands themselves - from Steve Jobs to Jeff Bezos. 
Since the association between the founder and the brand is so strong, leading UK payments provider, Dojo, conducted an experiment on 14 famous entrepreneurs and their businesses, focusing on the most recognizable, influential brands and best-known founders. 
But can you recognize these household brands by their founders' name?
The redesign experiment: Can YOU name all 14 brands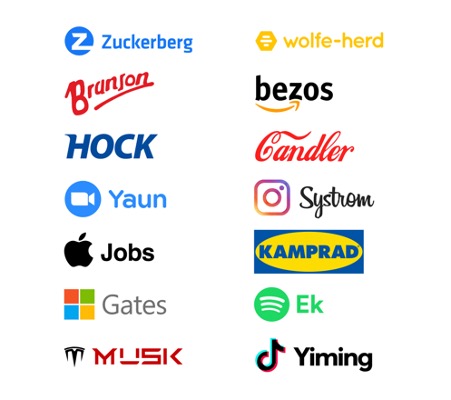 The results: 
The redesign of these logos has a fascinating effect. Some are instantly recognizable, while others require a bit more thought. The familiarity of the redesigned logos speaks volumes to the power of branding and the ways these companies have marketed themselves.
Whether you're aware of the famous founder or have never heard their name uttered before, the identifiability of these huge companies all comes down to their unique branding.
The full answers are revealed below:
| | | |
| --- | --- | --- |
| Number | Founder | Brand |
| 1 | Mark Zuckerberg | Facebook |
| 2 | Whitney Wolfe-Herd | Bumble |
| 3 | Richard Branson | Virgin |
| 4 | Jeff Bezos | Amazon |
| 5 | Dee Hock | Visa |
| 6 | Asa Griggs Candler | Coca-Cola |
| 7 | Eric Yaun | Zoom |
| 8 | Kevin Systrom | Instagram |
| 9 | Steve Jobs | Apple |
| 10 | Ingvar Kamprad | Ikea |
| 11 | Bill Gates | Microsoft |
| 12 | Daniel Ek | Spotify |
| 13 | Elon Musk | Tesla |
| 14 | Zhang Yiming | TikTok |
Mark Zuckerberg - Facebook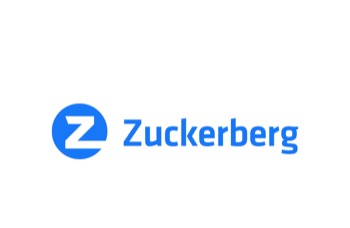 The man you will have undoubtedly heard of in the past month after the infamous Whatsapp, Facebook, and Instagram blackout, Mark Zuckerberg, is the co-founder and CEO of Facebook. The first social media website of its kind, Facebook was pretty much the jumping-off point for all subsequent social networks. 
Even after modernizing the branding since its launch in 2004, it is still undeniably Facebook, and the 'like' button in itself has become a representation of the site as a whole, showing just how deep the branding goes.
When you can make changes and still remain recognizable, you've created an unbeatable brand. It is currently worth $1.25 trillion.
Whitney Wolfe-Herd - Bumble
The first-ever dating app where women have to make the first move, Bumble has become increasingly popular over the last few years. Whitney Wolfe-Herd created the app after noticing the outdated gender dynamics of modern romance, realizing that many were waiting for men to do all the asking when it came to dating.
After nearly seven years, Bumble now has over 100 million users and has expanded into both a networking and friend-finding app on top of its dating functions. It's now worth over $8 billion, and this number is only growing. 
Richard Branson - Virgin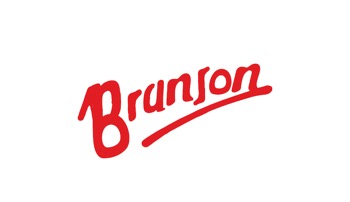 The only Englishman on this list, Richard Branson is truly a jack of all trades. His company, Virgin Group, spans travel, banking, healthcare, music, and so much more.
After seeing the logo plastered everywhere, from planes and broadband packages, the branding for the company has become extremely prevalent. The company is currently worth $22 billion.
Jeff Bezos - Amazon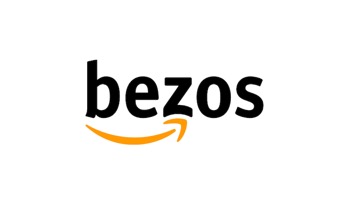 Despite recently losing his 'World's Richest Man' title to the chairman of Louis Vuitton (flying to space costs a lot of money, you know), Jeff Bezos has undeniably created one of the most recognizable modern brands in the world.
Amazon has done it all: it has become the gold standard for online shopping, created one of the biggest streaming platforms that exists, and hosts countless websites on its servers. The company is currently valued at approximately $1.7 trillion. Yep, you read that right. 
Dee Hock - Visa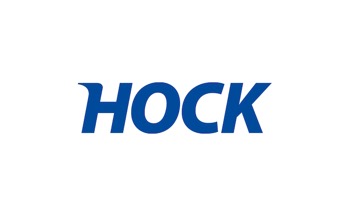 Former CEO and founder of Visa credit cards, Dee Hock, first founded the company back in 1958 when the Bank of America launched the first credit card program aimed at customers and SME businesses. 
Hock is often known as the father of fintech and also coined the phrase 'chaordic' organizations. These are companies driven by an ultimate goal or purpose and whose processes perfectly blend chaos and order. This phrase may be new to you, but many of today's high-profile and highly successful companies work as 'chaordic' organizations.
Although Hock resigned as the head of Visa some 32 years ago, his brainchild is now worth an estimated $80.92 billion. Unsurprisingly, the fintech giant is on the Fortune 500 list and consistently ranks in the Forbes, Time, and Brandwatch most valuable brands ranking.
Importance of branding for SMEs
Good branding can mean the difference between a successful venture and a distant memory. As an SME, eye-catching and memorable branding can set you aside from competitors. 
Here are some tips for where to start with branding:
Know your business, audience, and competitors. Fully. When you do, you'll understand what your customers respond best to and what proves effective in your sphere.

Pick a focus. Apple's is to create beautifully simple tech. Tesla's is to make cars for people who love video games (pretty much). Every business has a 'thing': find yours.

Create a recognizable logo. As we've discovered, the logo is a vital part of branding. It's how people identify your brand and can elicit strong emotions without using any words. Take inspiration from brands you love, and keep tweaking until you love yours, too.

Keep everything consistent. The best branding spans every aspect of your business, from the website to the business cards. Once you have created something you are happy with, put it EVERYWHERE.