15 Adorable Floral Arrangement Ideas for Decorating Your Home
Flowers, when carefully arranged, can portray outstanding beauty. They give a unique attraction to both indoor and outdoor settings.
Professional decorators usually use flower arrangement ideas to make a simple space to become the evocative environment.
The colors, textures, and scents provided by flowers together with the right arrangement promote the specific style of the house. Various floral arrangement ideas can be used for home decoration.
Here are some of the best floral arrangements you can use for your home
1. Garden buds and spring moss flower box
The use of flower boxes is an adorable floral idea that can be used to decorate a house. Flower box puts a rustic twist on the typical floral centerpiece, while still brightening the table.
The upcycled wooden box and moss usually make this decorative arrangement idea look shabby stylish, but perfect when homeowners love flowers and with no super fancy style of decoration.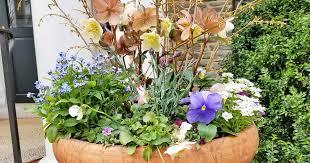 2. Entwined collections of wildflower and bud bases
It is adorable to use garden flowers for home decoration, but wildflowers bring a touch of quaintness to a home. Due to varied colors and shapes, this floral arrangement is visually appealing.
Decoration of a house using this decorative idea requires on to place a few wildflowers of the same kind into a glass bottle followed by another type of flower.
The bottles are then tied together with twine for a pastoral take on a bunch.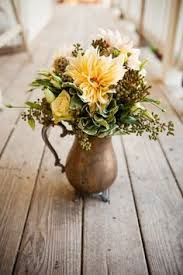 3. Metal cups of cabbage rose in the wire basket
This is an attractive floral idea that can be used for home decoration. Galvanized metal cups and chicken wire can be used. They are bucolic, but the appealing pink flowers add a complementary touch of natural beauty.
Admittedly, it is advantageous to use these flower arrangements for a 30th birthday,  thanksgiving gifts, Easter gift or something similar since it is easier to move the flowers from one room to another.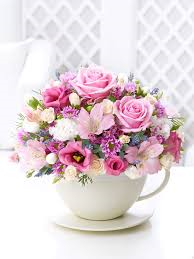 4. Steamy tree of flowers linchpin
Home floral decorations can have many arrangements in one. A combination of vases, boxes, and a tree of the same flower combination can be used.
The Use flowers on different visual levels, this arrangement brings a real attract factor. A nice-looking purple and pink color arrangement is evocative of the last light of summer sunset.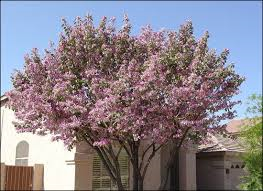 5. The bevy of ivory blooms in a bucolic container
This floral arrangement decoration involves the use of warm wood that always looks fascinating. It brings that comfy feeling in a home despite being a simple project.
The decorator has to pop a chunk of flowery froth into a wooden barrel and then add desired spring flowers. The blend of white and green, orchid, and wildflowers looks outstandingly attractive.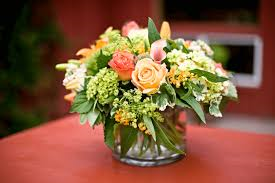 6. Long stem roses weaved into the visible vase
A nice-looking vase forms an integral part of making the right flower arrangement. This idea enables the natural beauty of the flower to sparkle without controversy.
The flowers are held upright by the invisible vase without concealing the stems. The use of white roses and white plate makes this floral arrangement look beautifully splendid.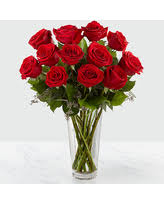 7. Intense jewel-tone arrangement in an ivory vase
It is an unusual floral arrangement for home decoration. A blend of deep reds, bright oranges, and few touches of green brings ordinary beauty in a home.
The flowers are arranged in a simple white vase allowing the blooms to take center stage.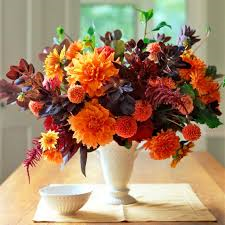 8. Dreamy orange and velvety blossoms in a tidy flowerpot
When done the right way, orange and creamy flowers give a fantastic floral arrangement idea. Arrangement of tiny flowers in a crisp wooden vase looks attractive decoration in a home.
The floral arrangement is kept on the front of the entrance making it attractive welcome to the guest.
9. Teacup of roses, mums, and alstroemeria
Old-fashioned teacups bring antique of allure to any room. With the addition of nice-looking flowers, it becomes a beautiful floral arrangement.
Use of purple, nice looking pink and white flowers against creamy white teacup, it becomes an amazingly beautiful floral arrangement.
Different flowers of varied sizes and shapes display a fantastic look to any person who stares at them.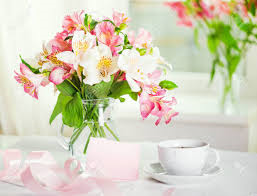 10. Crimson tulips and vibrantly painted eggs
This is a delightful floral arrangement for house decoration. It involves the use of colored tulips and decorated eggs.
The use of tall tulips in a metal bucket and colored eggs in wicker basket portrays an unusual house decoration arrangement. The two, when used together, make an elegant display.
Besides, choosing one color to highlight can make this floral arrangement consistent.
11. Three-tiered stance for mini Mason jar flowers
Using a tiered sweet display provides an unusual floral arrangement for home decoration. The glass jars are arranged on each level, and flowers are added on each of the jars.
Sticking to one family of flower colors to tie the whole display together adds beauty to this arrangement. Despite the provision looking dull, it displays the desired vision.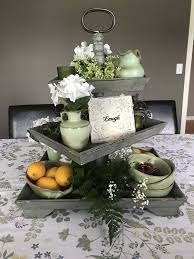 12. Baby's breath garland brightened by candles
Occasionally, a simple floral arrangement can be amazingly beautiful. A few twigs of baby's breath in a glass jar or flowerpot looks very attractive.
The pots are set on a sliced wood to give a complete display, which is bordered with white candles. The soft glowing light of the candle beautifully brightens the flowers.
13. Woodsy fallen log flower vases
The use of wood goblin ambiance can amazingly do the home decoration. This is achieved through the gathering of small logs and drilling holes at the end where flowers can be tucked.
With a soft blend of succulents, floppy, and delicate greenery, the decoration looks lovely.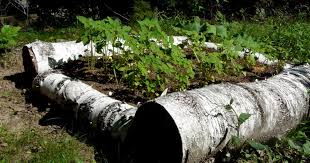 14. Southern hospitality pineapple arrangement vase.
Organic objects can be used to hold flowers. This provides a fantastic decoration idea.
A pineapple is hollowed and turned into a flower pot or container. Then it is used to hold bright flowers and greenery as a home decoration. This provides a beautiful, attractive view in a home.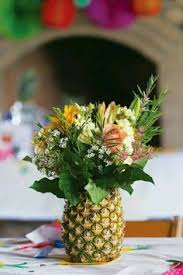 15. Citrus slices enclose lemony flowers.
This is a home decoration idea that can be quickly used when a guest is soon arriving, and decoration has to be done hurriedly. It is done by placing a smaller vase inside a bigger one.
The citrus slices are then sided in between and kept upright. Then a few flowers from the garden are added in the jar. This gives a fantastic look.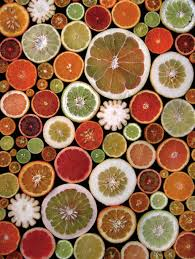 Conclusion
From the look of things, you only need to be very creative on the way you arrange the flowers to bring about a stunning look of your home. Be sure to always incorporate pleasant, attractive flowers in your home to enhance its look. A beautiful home will still make a happy and charming family.